Zucchini Pasta – The BEST Pasta Substitute EVER
If you're making the switch to eating more healthy food (instead of empty, carby "fluff" that doesn't do a body good), this is a great recipe option for you to try out!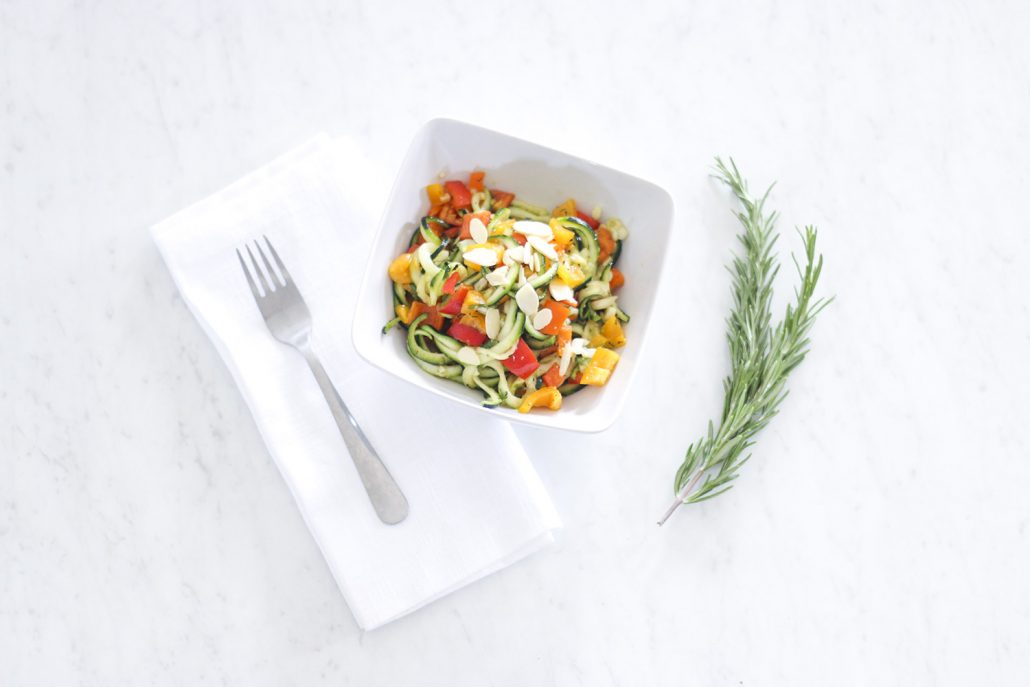 I recently whipped out the ol' spiralizer and have been keeping a tupperware container full of spiralized zucchini in my fridge for a quick side dish or salad base I can throw together in 5 mins or less using other chopped veggies and protein on the reg.
SIDE NOTE

– Don't have a spiralizer yet?

I recommend getting this spiralizer, or this one, if you want to try this recipe out! I have both, and like both for different reasons. The first one is a lot faster since it has a hand crank, but the second one is very portable and easy to use, especially for beginners.

So if you've got a lot of stuff to spiralize, go with the first one. If you're new to spiralizing, get the second one.

Okay, now back to the recipe stuff…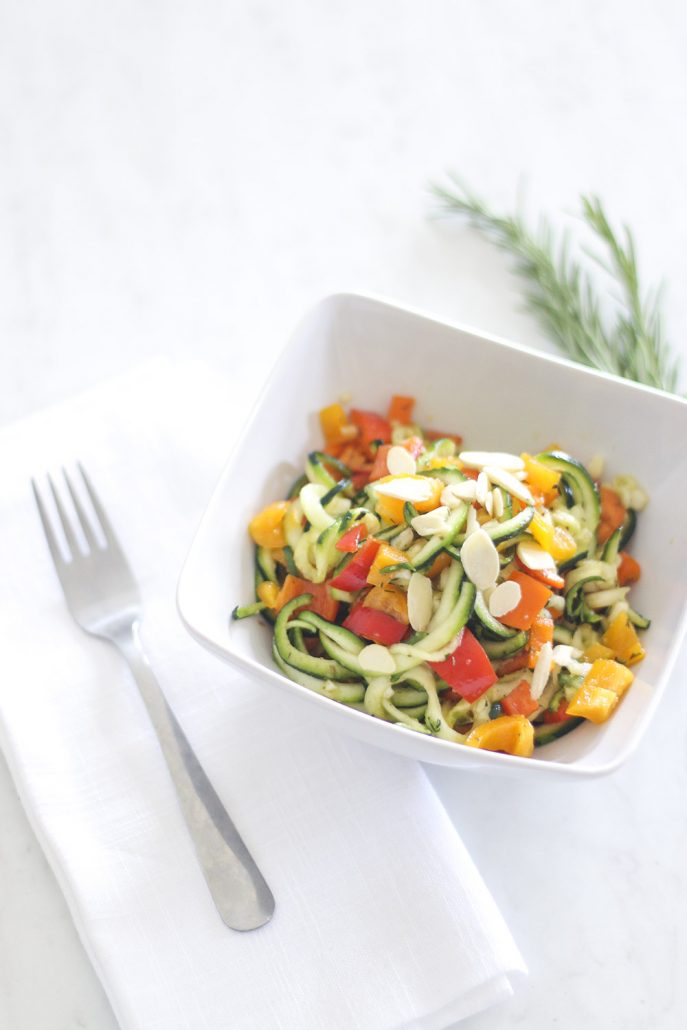 Today I made a Summer Salad out of them, and I'm sharing the recipe with you! 🙂
Keep reading this post below to see how to do it quickly (and why you should)…
NOTE – This recipe literally only took about 5 minutes to make. So if you're in a rush, I highly recommend having your zucchinis pre-spiraled – it really helps! If you don't already, it'll still only take about 10-15 mins.
Enjoy,
Liz
---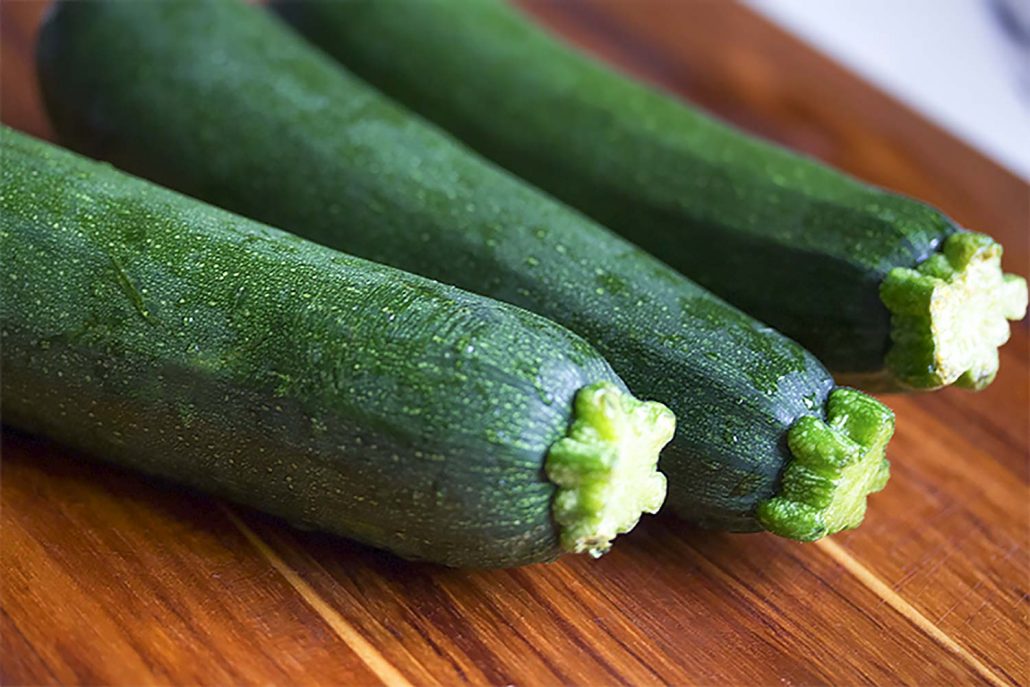 3 Benefits of Eating Zucchini
Awesome For The Heart: Zucchini contains good amounts of potassium that helps reduce blood pressure. It also contains moderate levels of folate that breaks down amino acids like homocysteine that cause heart attacks and strokes. The considerable amount of magnesium helps in keeping blood pressure at a normal rate and the heart beat at a steady rhythm.
Aids In Weight Loss: Zucchini has incredibly low calories that make it a much-preferred part of any weight loss diet. Substituting calorie rich foods with a sizable portion of zucchini helps you in reducing the number of calories that are taken in. This makes it easier to burn off calories, thereby helping you lose weight. The fibre content helps in burning the fat in the body. Zucchini also keeps the body hydrated with its 95 percent water content. This gives you more energy and fewer headaches.
Zucchini Improves Eye Health: The cousin vegetable, cucumber is beneficial for reducing the puffiness in the eyes. Similarly, zucchini when used externally helps to remove the puffy bags that develop around the eyes due to excessive water retention. The swelling around the eyes lessens due to the water-rich content. The carotenoid Beta-carotene can be converted into vitamin A in the body. The presence of Vitamin A in the squash helps in active cell development in the eyes, which enhances vision and helps in preventing age-related medical conditions affecting the eyes such as macular degeneration.
Okay, now for this delicious recipe…
---
Zucchini Pasta – Easy Summer Salad Recipe

INGREDIENTS
4-5 zucchinis
2-3 cloves fresh garlic
1/2 cup chopped bell pepper
1/4 cup oil (you can use avocado, olive, or MCT oil)
1-2 tsp sea salt
Pinch of sliced almonds (optional)
INSTRUCTIONS
Rinse your zucchini, bell peppers, and other veggies – chop everything up except the zucchinis which you will spiralize using this or this spiralizer. Once everything is ready to go, pour it all into a medium to large mixing bowl.
Add oil, sea salt and whatever other seasonings you'd like on top and mix until well covered. Sprinkle a few sliced almonds on top for some added crunch and enjoy!
---
Like this recipe?
Want more zucchini recipes?
Subscribe to our newsletter to get them sent straight to your inbox…
[ninja_form id=13]
Or check these out right here…
Just click the images below to navigate to these related recipes.
Easy Zucchini Lasagna

Zucchini Sausage Salad
Zucchini Pizza Boats
Zucchini Hash Browns
Easy Grilled Zucchini

Zesty Zucchini Fries
https://supersisterfitness.com/wp-content/uploads/2017/07/Zucchini-Pasta-closeup.jpg
1000
1500
Liz
https://supersisterfitness.com/wp-content/uploads/2017/09/SSF-logo-plain-pink.png
Liz
2017-07-24 12:34:08
2017-12-27 17:15:33
Zucchini "Pasta" - Easy Summer Salad Recipe