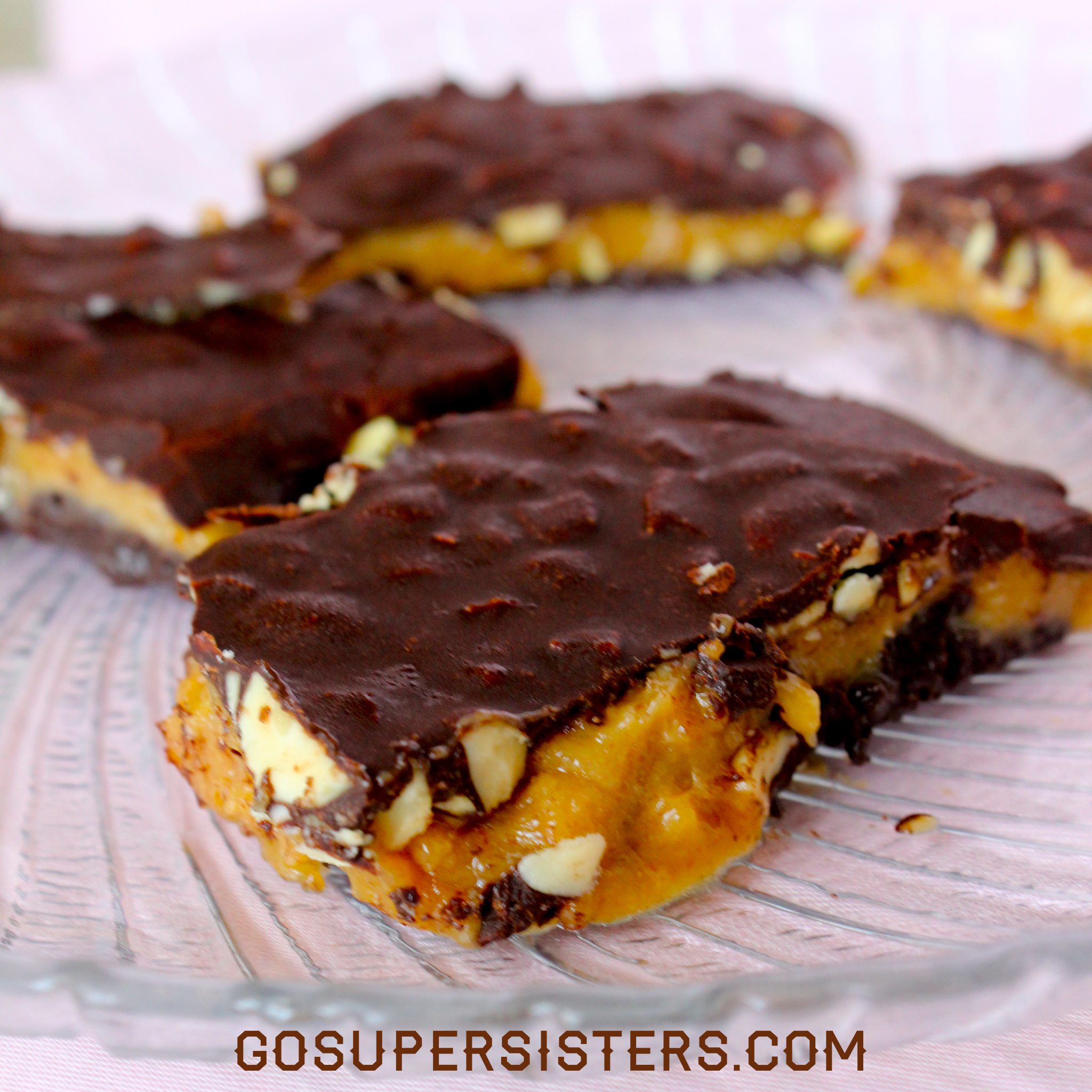 http://www.youtube.com/watch?v=-YpEJf0yHqk&feature=youtu.be
In our Butterfingers post earlier this week, we outlined our childhood love for Easter and all things candy. The past few years we've taken a different route with healthier homemade recipes and we encourage you to start this new family tradition as well. If you were a candy lover too, try making our healthy snickers bars this year instead. They're rich, chocolatey, peanut buttery pieces of heaven and each bar has 8 grams of protein sneaked in! All that gooey goodness melts right in your mouth without the associated sugar rush. They're so good we doubt you'll even miss the traditional store bought kind. Double yum! Enjoy!!
Snickers Bars
Makes 10 servings
For the bottom chocolate layer:
1 scoop chocolate protein (we used Trutein)
1.5 tbs unsweetened cocoa powder
1 packet stevia
2 tbs almond flour
1/4 cup water (you may need more or less)
For the caramel peanut layer:
1/4 cup peanut butter (or reconstituted peanut flour)
1/4 cup vanilla protein powder
1.5 tbs all natural honey
1/4 cup peanuts, chopped
1/4 tsp salt
For the chocolate topping:
1 oz unsweetened baking chocolate
1 tsp coconut oil
2 packets stevia
Line a baking sheet with parchment paper and set aside. In a small bowl, combine all ingredients for the bottom chocolate layer with just enough water to make a thick batter. Spread this over your parchment paper in a large rectangular shape.
In a small saucepan, heat honey over medium heat until boiling (be sure to constantly stir while the mixture is heating). Remove from heat and quickly add your peanut butter, vanilla protein, and salt. Stir until mixture is well combined, then pour over your parchment paper. Spread mixture out on top of your chocolate layer and sprinkle peanuts on top (work as quickly as possible!)
In another small saucepan, heat the chocolate and coconut oil until melted. Add the stevia then pour chocolate over your peanut layer. Spread and smooth the chocolate out with the back of a spoon. Place in freezer for at least 2 hours or until hardened. Remove and cut into 10 bars. Store in freezer. Enjoy!
Servings: 10
Calories (per serving): 120 / 90 (peanut flour version)
Fat: 7.6 g / 5 g
Carbs: 7 g / 6 g
Fiber: 2 g / 2 g
Protein: 8 g / 8 g
https://supersisterfitness.com/wp-content/uploads/2013/03/Image2.jpg
2048
2048
Liz
https://supersisterfitness.com/wp-content/uploads/2017/09/SSF-logo-plain-pink.png
Liz
2013-03-27 08:21:49
2016-09-13 12:46:28
Protein Snickers Bars