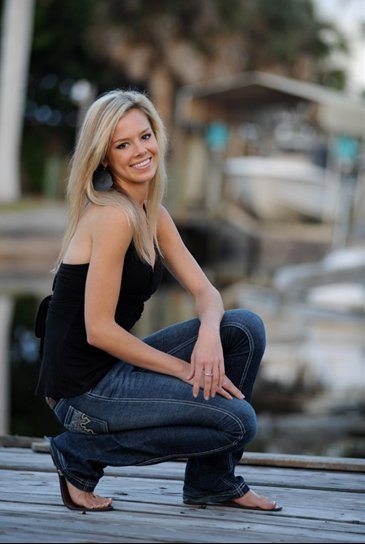 Today we have a special guest post from one of our favorite healthy foodie bloggers! Sarah Grace from Fresh Fit N Healthy is an absolute angel! She is so creative in the kitchen and is a healthy food whiz. Very athletic too, Sarah Grace has tons of resources to help you on your path to living the fit life.
If you haven't yet seen her blog, head over there now to check out all her amazing recipes. Now, a few words from Sarah herself… 🙂
********************************************
Thank you Liz and Sara for having me today!
Hi everyone, I'm Sarah Grace, also known to the blogging world as Fresh Fit N Healthy. With being a competitive runner up through my first year of college as a D1 athlete for the University of Florida, I was always very focused on living a healthy lifestyle in order to be the best athlete I could be. I am a junior in college now, and began my own blog and instagram last spring because of wanting to follow the passion God has given me for health and fitness!
Liz, Sara and I decided to write a special holiday post for each other's blogs, so I hope you enjoy the recipe I'll be sharing!
Along with being huge fan of anything pumpkin or chocolate, there is one dessert that I had often as a kid, s'mores. My family went camping at least once a year during the holidays growing up, and we would never fail to sit around the campfire each night with graham crackers, Hershey bars, and marshmallows, and make delicious s'mores as we listened to Christmas music.
But with loving this little dessert sandwich so much, it was hardly a once-a-year treat for me. So I found creative ways to make it at home! In hot, sunny Florida, fires weren't really an option, so I would either roast mini marshmallows over a candle or make the s'more and melt it in the oven. Mmmm, I can just taste the flavors all together now.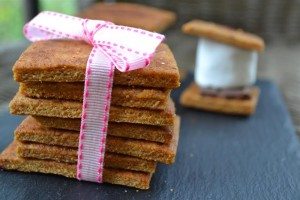 There is just something about a graham cracker that I love though. I'm not sure about you all, but I just love the sweet crunch of it. Unfortunately, when I began to focus on my health, this dessert did not exactly line up with my goals. Not that I'm a strict health police or count everything that goes into my mouth. But I knew I couldn't be having multiple of them in a night like I use to.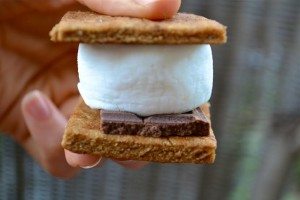 However when my doctor recently told me that I should stay away from gluten after some allergy tests, I realized that meant I couldn't have these delicious little crackers anymore. But then I thought of an idea.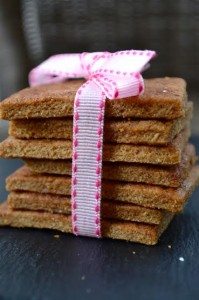 I didn't let that gluten allergy stop me. I just simply decided I would make my own…in a healthy, clean, gluten free way!
These Homemade Graham Crackers are absolutely delicious, yet low in sugar and free of wheat or gluten! A perfect holiday treat, as even my "unhealthy" family members love them! Whether you simply serve them alone as a snack, alongside of a sweet dip (like my delicious Pumpkin Dip you can find on my blog), or even go all the way and make a s'more with them, you will be happy that you made them. And so will everyone in your house!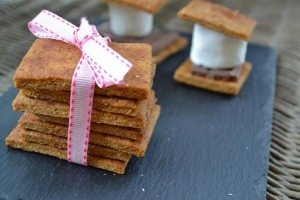 I hope you all have a wonderful holiday filled with all the people you love. And when you are craving that sweet, crunchy taste of those childhood graham crackers you once enjoyed, know that you can rely on this recipe to satisfy those cravings.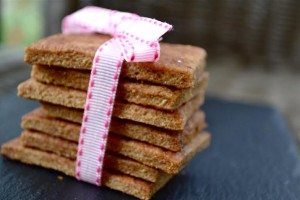 Merry Christmas everyone! Come stop by and say hi over at FreshFitNHealthy.com if you'd like!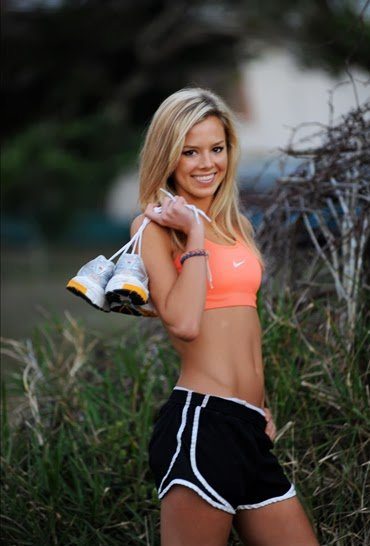 Xoxo,
Sarah Grace
FreshFitNHealthy.com
Instagram: @freshfitnhealthy
Facebook.com/freshfitnhealthy
Gluten Free Graham Crackers
Prep time:10 mins
Cook time:15 mins
Total time: 25 mins
Author: Sarah Grace @ FreshFitNHealthy.com
Serves: 8
Ingredients
1.5 cups GF Oat Flour or Almond Meal 2 tablespoons Coconut Oil, melted
4 tablespoons Monk Fruit in the Raw
1.5 tablespoons Raw Honey
1 tablespoons Molasses (can sub in more honey if you don't like molasses)
1 teaspoon Baking Powder
1 teaspoon Cinnamon
¼ teaspoon Sea Salt
2 tablespoons Water (only if needed, add at the end as needed)
Optional: Cinnamon and Sugar to sprinkle on top or honey to drizzle
Instructions
1. Preheat oven to 350 degrees F
2. Combine all ingredients except for water.
3. If needed, add water (looking for a sticky dough).
4. Dough should be sticky and be able to be rolled. Once achieving the right consistency, place on wax paper and roll as thin as you can get it.
5. Transfer to baking sheet sprayed with nonstick spray.
6. Using a pizza cutter, slice into squares and poke holes in each square using a fork.
7. Bake in oven for about 7 minutes. Remove tray, flip crackers, and bake for another 7 minutes. Check for crispness.
8. Remove from oven if done and allow crackers to cool on tray.
https://supersisterfitness.com/wp-content/uploads/2013/12/164860_10150124964417112_680867111_7869436_2522079_n.jpg
544
365
Liz
https://supersisterfitness.com/wp-content/uploads/2017/09/SSF-logo-plain-pink.png
Liz
2013-12-19 10:15:09
2014-02-11 15:49:04
Holiday Guest Post from Fresh Fit N Healthy!