Morning!!
Are you a morning person? I certainly never was….
Until this delicious beauty came into my life. Now I get excited to wake up in the morning, simply so this concoction and my lips may once meet again.
So here I am, sippin on my vegan, plant-based, gluten/dairy free breakfast smoothie. Lately it's totally become the centerpiece to my breakfast routine.
And honestly? I'm kind of blown away.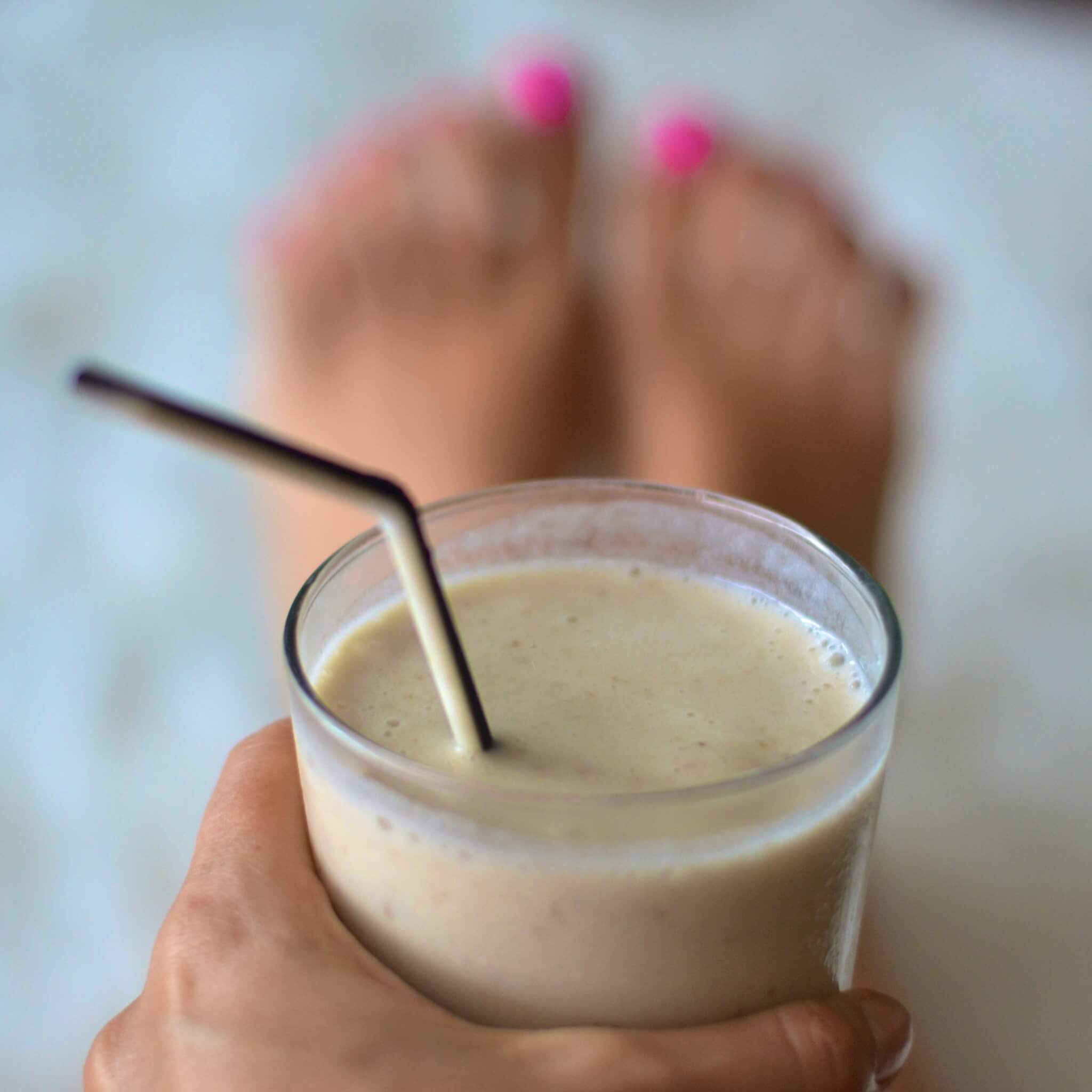 It's the simplest, thing ever… just 2 ingredients and you're done!!
I love eating this way. I feel so energized, hydrated and refreshed. If you've ever considered trying a plant-based diet and want to lose fat like nobody's business, this is the way to go!
Everyone always gets in a funk about fruit having "too much sugar" so you shouldn't eat it. That is just flat out WRONG!
No one ever got overweight by eating too much fruit, I can definitely tell you that…
So my morning routine usually involves one of these bad boys. That is, after I do a 1-2 mile walk around the neighborhood and slowly sip my morning coffee.
I like to walk first thing in the morning because it helps wake me up and get my body limber (for a whole lot of computer sitting for blog stuff). Do you do that too? I highly recommend it!
Today is a bit different though… I've got a special circumstance that's influencing my work schedule. Instead of walking, I'm researching..
What you ask? PERU! And what to bring with me for a BIG TRIP I've been planning for a while! Can't wait!!! 🙂 🙂 ___________ Insert 1 million smileys here
I leave tomorrow morning so I'm up early to crank out a ton of new blog content before I go. My favorite thing about traveling is being in airports. It feels like freedom to me. <3
If you haven't noticed yet, sis and I are redoing our website and building up our new community —
GoStrongGirls.com
!! I hope you all love it.
The plan for this community is to encourage women to be their best selves, to NOT pick themselves apart, to connect with others and to just go with the flow and get educated on how to create a body and life we all truly love!!
We have some big things in the works for you right now on this front, so stay tuned and subscribe to the newsletter for more info if you want to see what's next. You're gonna love it, I promise!
Oh ps we're getting ready for winter! ARE YOU?! We'll be hosting a FREE 12 Days of Fitness Challenge this December and the Holiday Survival Guide is almost ready to launch!More deets soon…
xo Liz
PS I hope you have the best day evarrrrrrrrrr!!!!!! <3 <3 <3 You're beautiful, don't forget it!
https://supersisterfitness.com/wp-content/uploads/2014/10/banana-smoothie.jpg
2048
2048
Liz
https://supersisterfitness.com/wp-content/uploads/2017/09/SSF-logo-plain-pink.png
Liz
2014-10-23 06:11:48
2014-10-23 06:11:48
My Breakfast Routine