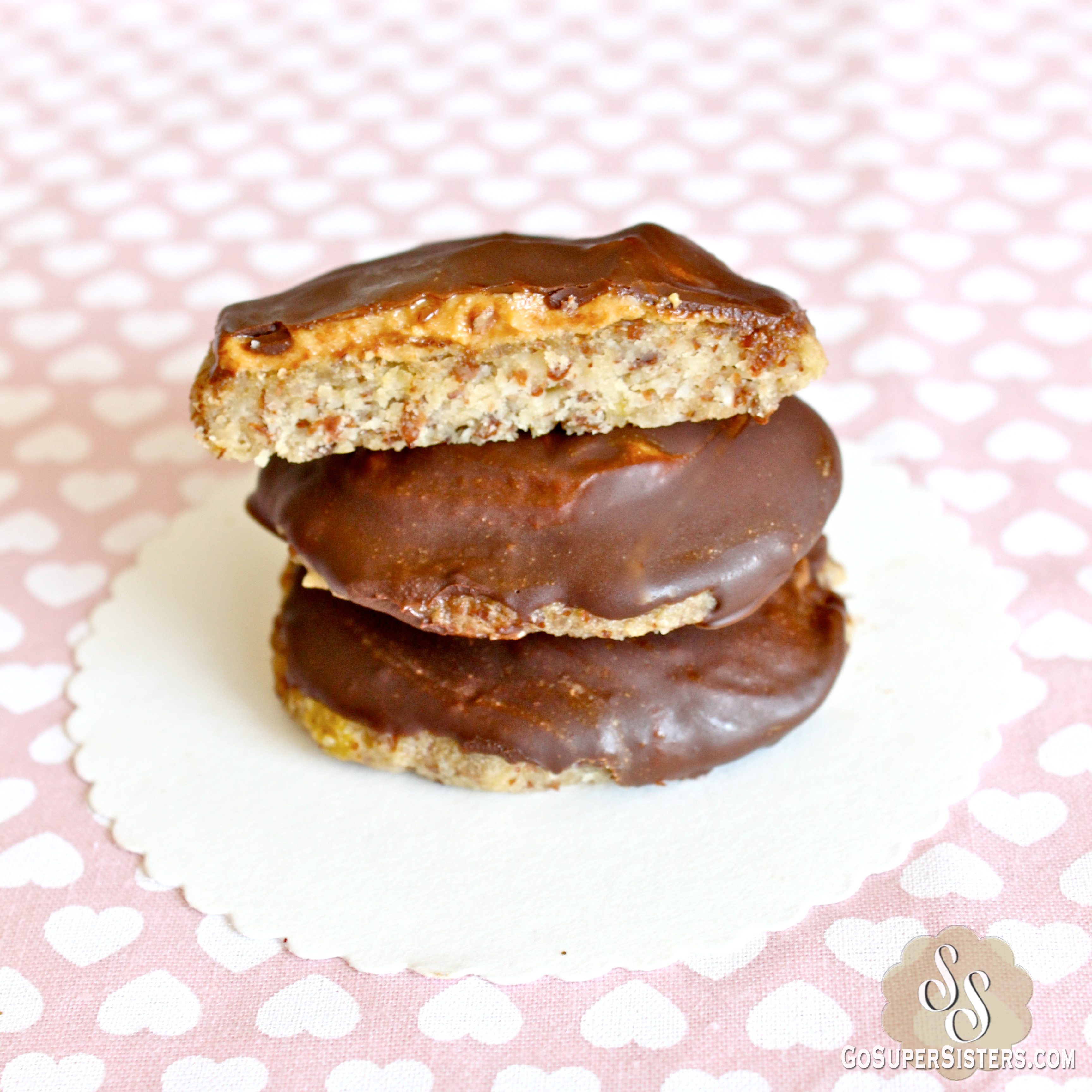 We've always had a thing for chocolate and we've always had a thing for peanut butter. The two combined make us totally melt. This is why eating the classic Tagalong, which pairs both creamy milk chocolate and smooth rich peanut butter, is a dangerous idea for us. You might say it's a recipe for diet disaster.
That's why we decided to make a healthy version of this classic treat! Our recipe still masters that chocolate peanut butter combo but without the added stomach aches and sugar crashes associated with the real deal. Try them out, we think they're even better than our healthy samoas.
Tagalongs
Makes 12 cookies
For the cookie:
1 cup almond meal
½ tbs coconut oil
1 egg yolk
1 tsp vanilla
For the peanut butter layer:
¼ cup natural peanut butter (or sub 1/4 cup reconstituted peanut flour for fewer calories)
1 tbs vanilla protein powder*
For the chocolate coating:
1 square (2 oz) bakers chocolate
½ tbs coconut oil
* this is just to add a sweet flavor to the peanut butter. Feel free to omit or to add 1 tbs truvia instead
In a medium bowl, mix all the ingredients for the cookie well until a thick dough forms (you may need to add a little bit of water). Place in refrigerator for 30 minutes.
Preheat oven to 350 degrees and line a cookie sheet with parchment paper or spray with non-stick spray. Take dough out of the refrigerator, wet your hands, and roll dough into 1 inch balls. Flatten balls between your hands and place onto cookie sheet. Bake for 8-10 minutes, and let cool. Transfer cookies to a new piece of parchment paper.
To make the peanut butter layer, place peanut butter in a small bowl and microwave for approximately 30 seconds or until peanut butter is very soft. Stir in protein powder and mix until smooth. Spoon about 1 teaspoon on top of each cookie and spread evenly.
For the chocolate coating, place the chocolate and coconut oil in a small saucepan and melt on low heat. Quickly spoon over the tops of each cookie and spread out so chocolate covers the peanut butter mixture. Place cookies in freezer for at least 1 hour before consuming. Best kept in the freezer. Enjoy!
Servings: 12
Calories (per serving): 120
Fat: 9.8 g
Carbs: 4 g
Fiber: 1.5 g
Protein: 4 g
WW Points +: 3 pts
https://supersisterfitness.com/wp-content/uploads/2013/03/tagalongs.jpg
3456
3456
Liz
https://supersisterfitness.com/wp-content/uploads/2017/09/SSF-logo-plain-pink.png
Liz
2013-03-19 06:24:53
2016-03-08 09:02:57
Healthy Tagalong Girl Scout Cookies