Welcome to Fitness Fashion Finds
We're starting this new series to share our favorite looks and items with you! We also wanted to start giving you a more intimate sneak peek into our daily fitness lives. As trainers and teachers, let's just say, you are in the gym a lot.
And nobody likes busted down old frumpy workout attire.
At the same time, we ain't rollin' in cash dollar dollar bills either. So as part of our new #fitfashionfinds series, we're sharing all our trainer secrets for how to find fitness deals and steals to make you squeal.
Hey, I totally squeal when I find a cute workout shirt in the bargain racks. I know you do too, don't lie.
No judgement here.
Okay so first, let's go over this month's favsies! Read all the way to the bottom for discount codes and a few extra tips for how to look cute at the gym, even on a shoestring budget.
This season we've been loving pinky oranges and baby blues! You may have noticed on our Instagram feed. 😉
We've refined our style a bit, incorporating more classic blacks, whites and greys. Pairing these items with pops of color is one of THE best ways to save money. You can recycle staple pieces over and over, switching out the color you add to it for fun.
Hopefully you can find some new inspiration from this series and save a bit of money along the way!
Alright, time to show ya the goods.
ABSOLUTE FAV – Fabletics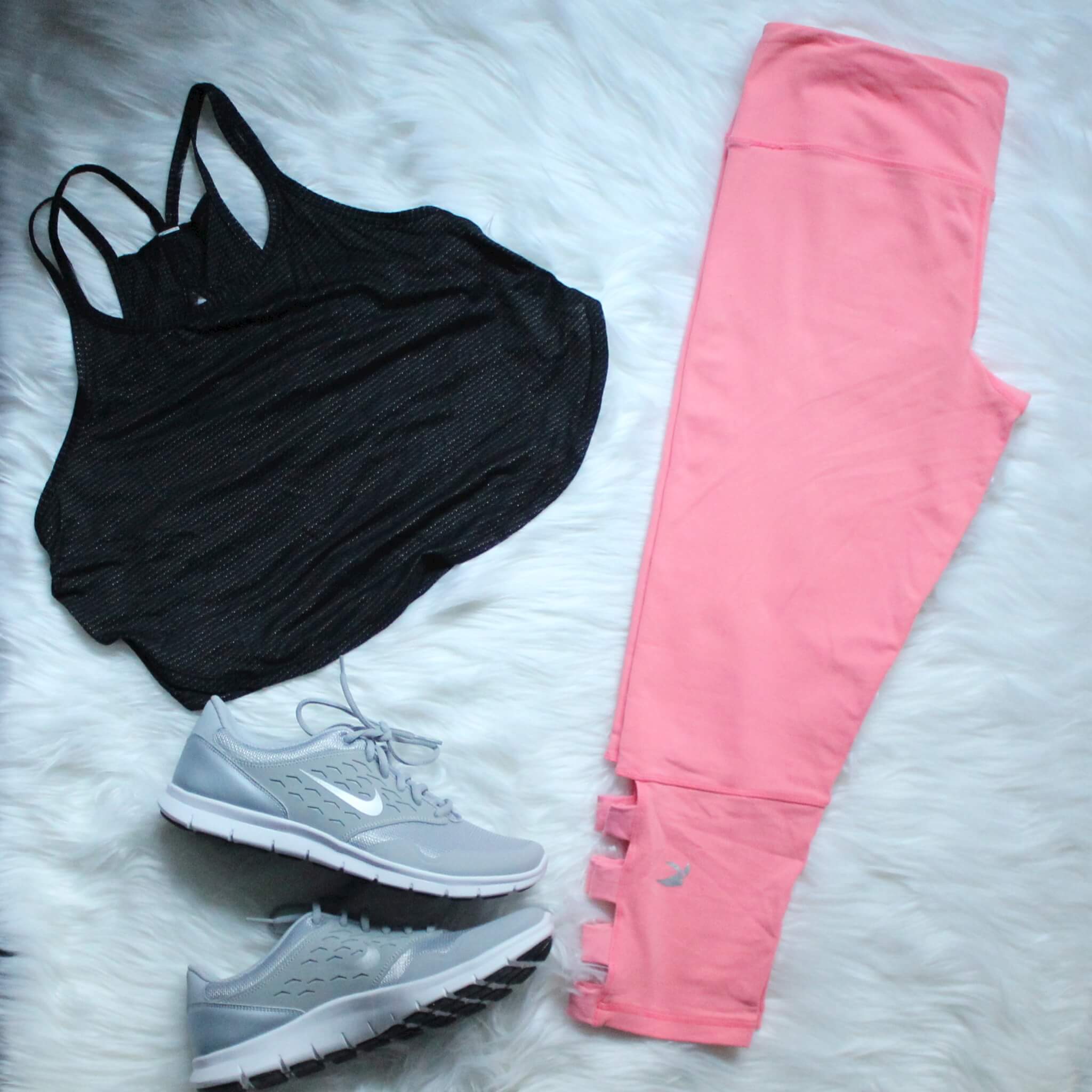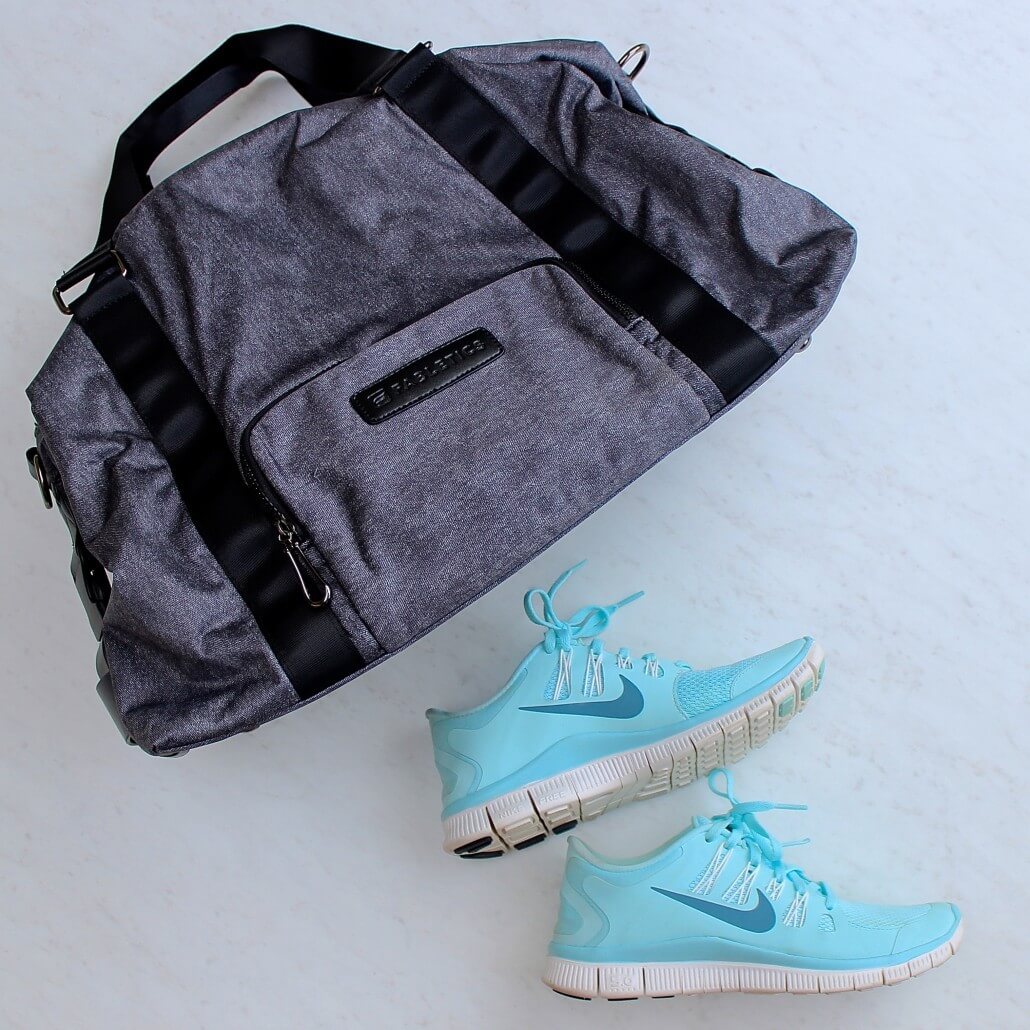 This bag right here! <3 <3 <3 #omg
Last week we went to the YouTube Space in LA, it's kinda like the YouTube headquarters for content creators. They were hosting a #fitfluence panel of YouTube experts including Cassey Ho from Blogilates, Tony Horton from P90X, Natalie Jill from NatalieJillFit.com, and Scott Herman from ScottHermanFitness.com.
We learned quite a few things from these YouTube wizards, but the highlight of the event for us was this awesome Fabletics bag we got at the end. It's the first Fabletics item we've owned, but we are already fully obsessed. It's SO SOOOO cute and soft and we are in love.
Love at first sight. It does exist, people.
Will be shopping for more later… 😉 Stay tuned for updates.
GLYDER APPAREL
If you've followed us for a while, you already know we are in love with Glyder Apparel. They're a newer, up and coming athletic wear line for women and here are 3 reasons we love them:
Affordable – Unlike most Lululemons or Lorna Janes of the world, Glyder's stuff is super affordable for the average person who doesn't want to spend $200 on one pair of pants.
Cute Colors – They're constantly rotating through seasonal colors and patterns. We've never been bored with Glyder stuff.
Flattering Styles – If you have the dreaded muffin top, dread no more. We love their pants specifically because they have a very flattering waistline. It doesn't pinch, prod or poke any of your "less flattering" features.
The Glitter Bird – I know I said 3 reasons, but I had to throw in there that I am fully in LOVE with their glittery logo. It's a flying bird and it looks so pretty. When it's glittery, it adds the perfect pop of glam to your workout gear. #love
Below is one of our favorite looks from Glyder this month.
You've seen these hot tangerine Ninja Crop leggings in just about EVERY video we've done because that's how much we love them.
If you wanna snag a pair of your own, use discount code "gosupersisters" at checkout to save.
We are also loving their new fall line of darker colors, like the black and white Elongate Leggings in "Smoke Space Dye" pictured below.
Still, even after hundreds of wears, there are no little balls (you know, those cotton ball thingies that stick to your pants if you wear them too often), no loose threads and no rips or tears either. And they're definitely flattering to the waistline, that ain't no joke!
Love these looks for fall:
NIKE WOMEN
Okay so you may have also noticed…
We have been completely, completely in love with Nike. It's hard not to be.
It's actually our favorite shoe brand (how could it not be?) and we still wonder how Nike seems to be the only shoe company that has figured out how to make women's athletic shoes look cute.
But… Nike is not cheap.
However, there are ways to get discounts on super cute Nike items that we've found which allows us to keep our Nike wardrobe fresh.
One of the best ways to get Nike shoes or gear is to get them from big outlets. Prices are cheaper and quality is exactly the same at outlet stores.
If you don't have an outlet near you, try going to DSW shoe warehouse instead. Typically they have lots of choices for around $60-70 instead of $90-100. That's what we do. 🙂
Reasons we love Nike? There are too many reasons to list. So instead, we'll just share some of our favorite Nike inspired looks this month: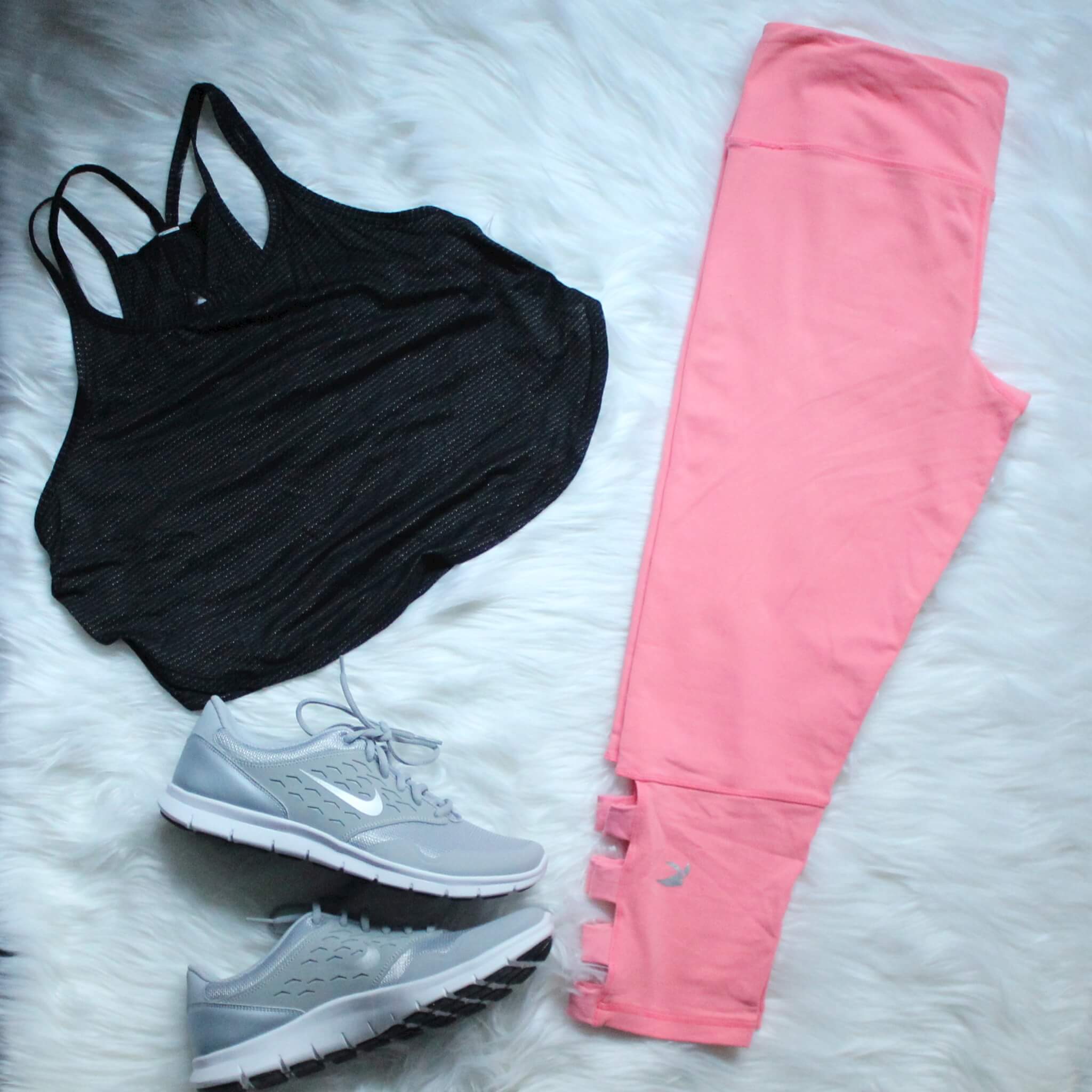 Moving right along… Like we said, to keep it fresh, just pair different pieces with new, different pops of color. No one will notice you're repeating the same outfit items, as long as you make sure you definitely wash your workout clothes between wears. #lol #ew #duh #hopefullyyoualreadyknewthis
STRONG GIRLS APPAREL
Last but not least… this month we are totes loving our ice blue Just Another Day at the Bar Tank!
Tiffany blue definitely brings on a very cool wintery feel. With seasons changing fast, this month we are completely obsessed with this top and have worn the blue and the black version of it multiple times already.
Want one too? Get it here for just $23.
Things to know about this shirt — it's cotton, thin and kinda loose fitting. That's perfect if you wanna look cute but not feel uncomfortable in your own skin at the gym.
It also runs a little on the bigger side, so if you're normally a Medium you should order a Small.
Pictured below is definitely an indoor gym outfit. Definitely not to be worn outside, that's for sure! But pair it up with a warm, cozy black zip up jacket and you'd be good to go, at least in getting from the parking lot to the gym.
Hope you love it! Show us your favorite #fitfashionfinds on Instagram or Pinterest. We're always looking for new, creative, glam ideas.
Can't wait to see what you're loving too.
Your trainers,
Liz & Sara xx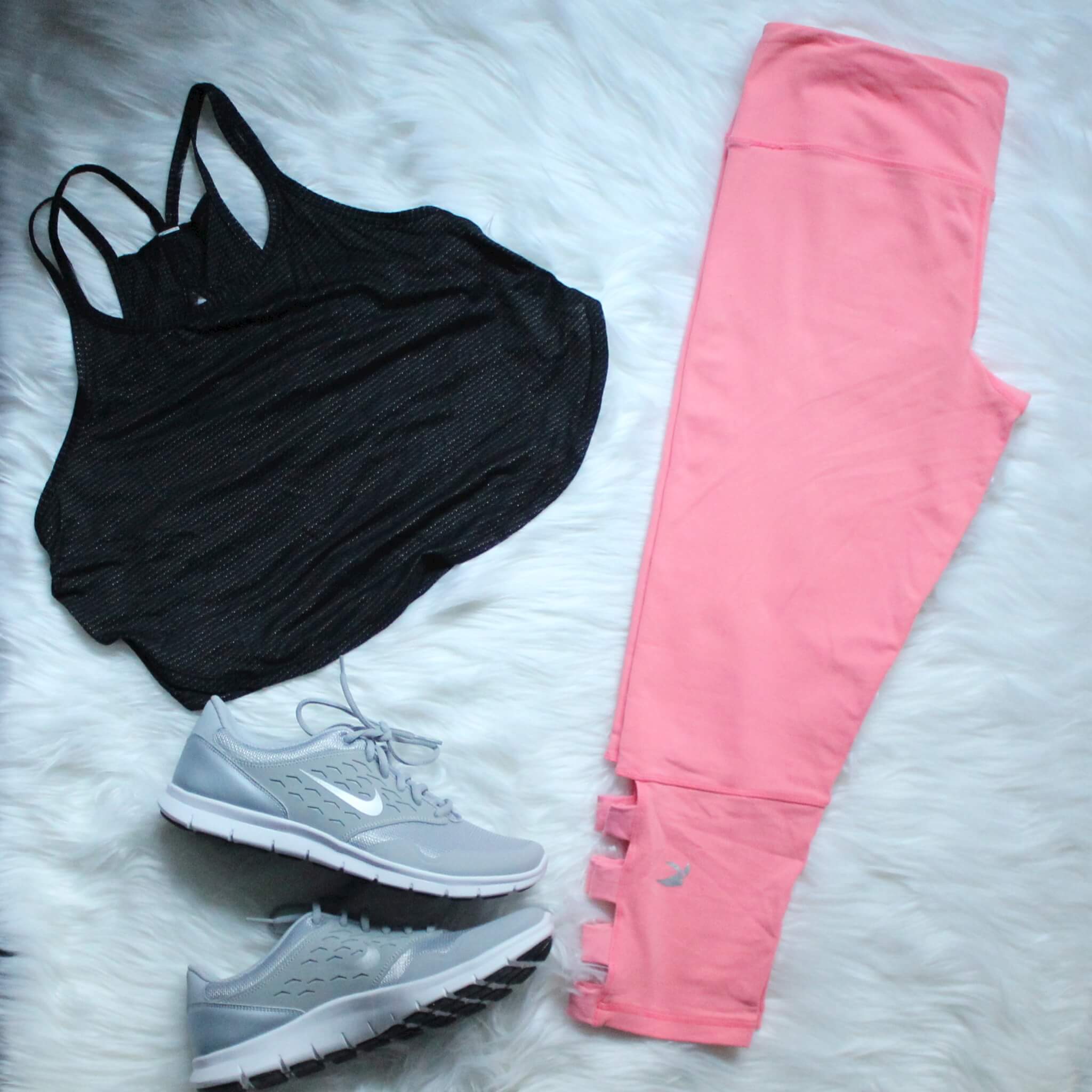 https://supersisterfitness.com/wp-content/uploads/2014/11/fitnessfashionfinds.png
768
1024
Liz
https://supersisterfitness.com/wp-content/uploads/2017/09/SSF-logo-plain-pink.png
Liz
2014-11-17 08:43:11
2015-03-02 22:06:26
Fitness Fashion Finds - November Haul