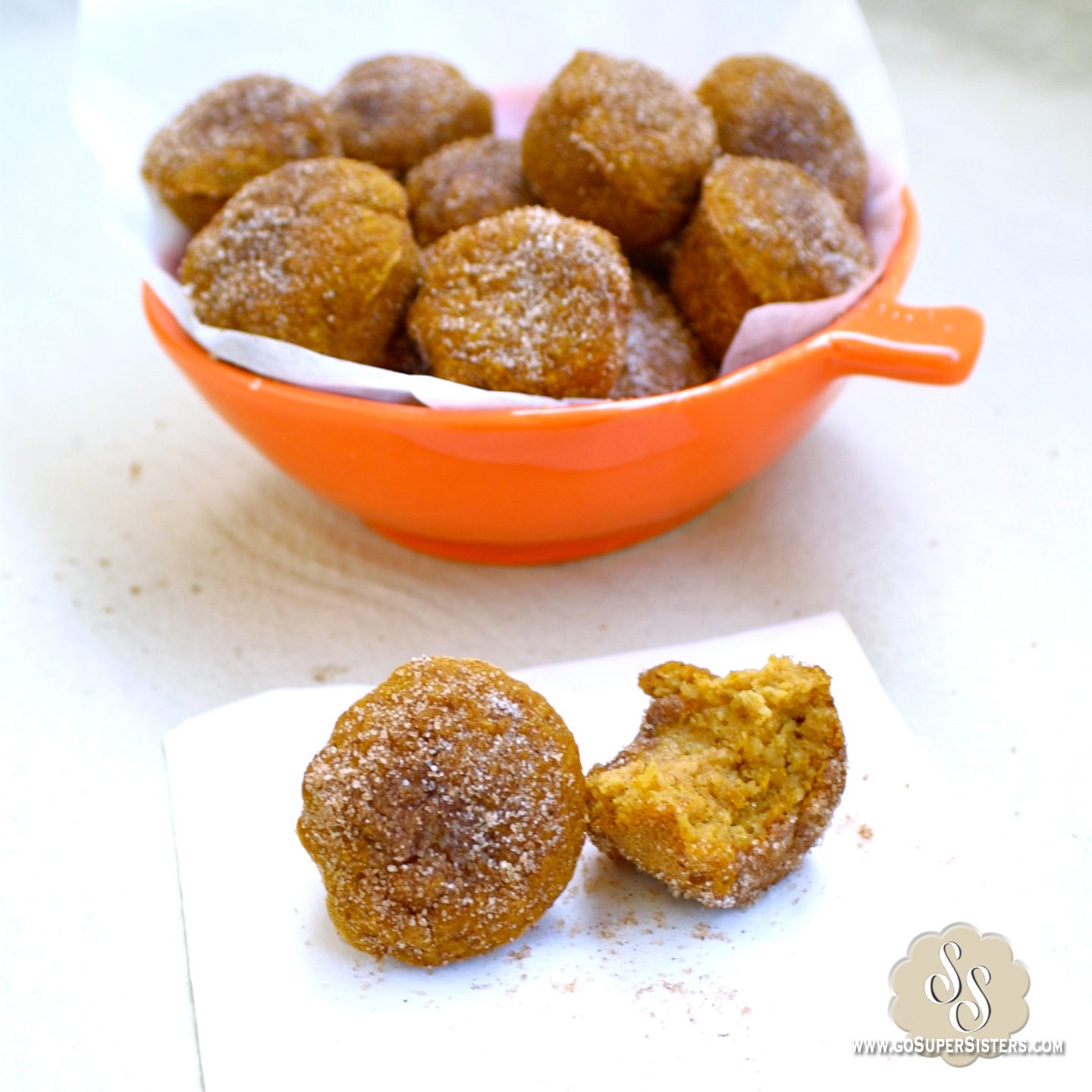 We don't know about you, but nothing reminds us more of fall than a warm donut with a cinnamon sugar topping! Growing up in Michigan, we have fond memories of going to the pumpkin patch every fall with our parents, and one of our favorite parts was getting donuts coated in cinnamon sugar and a cup of hot apple cider. Now we can relieve these memories with our healthy Pumpkin Spice Donut Holes and be completely guilt-free! Not only are these delicious, they are so cute and have portion control built right in! They are completely refined sugar free, and are made with wholesome slow digesting carbohydrates such as oat flour. Plus each one has almost 2 grams of fiber, so rest assured these little poppers will keep you full for longer and give your little ones a great start to their day! These won't be around for long, so feel free to double the recipe!
Pumpkin Spice Donut Holes
Makes 24 donut holes (nutrition facts per donut hole)
1 cup oat flour
1/4 cup coconut flour
10-15 drops of liquid stevia or stevia to taste (approximately 1/2 cup baking stevia)
1 tbs pumpkin pie spice
1/2 tsp cinnamon
1/2 tsp salt
1/2 tsp baking soda
1/2 tsp baking powder
1 tsp vanilla extract
2 egg whites
3/4 cup pumpkin puree
1 cup unsweetened almond milk
For the cinnamon "sugar" topping
spray butter*
1/3 cup baking stevia (such as Truvia)
1/2 tbs cinnamon
*we know this isn't the healthiest thing but we believe all things in moderation! Feel free to substitute something else such as real butter, this is just so your cinnamon sugar topping sticks! 🙂
Preheat oven to 350 and spray a mini muffin pan with nonstick spray. In a medium bowl, combine all dry ingredients and mix well, set aside. In a small bowl, combine pumpkin, egg whites, vanilla extract and almond milk and mix well. Slowly add your wet ingredients to your dry and mix until well combined. Spoon batter into prepared mini-muffin pan and bake at 350 for 15-20 minutes or until toothpick comes out clean. Let the donut holes cool, and run a knife around the edge of each donut hole to remove them from the pan. In a small bowl combine stevia and cinnamon for the topping. Spray each side of a donut hole with spray butter and then roll in your cinnamon "sugar" topping. Enjoy with a glass of milk or hot apple cider!
Calories: 27
Fat: 0.7 g
Carbs: 4.4 g
Fiber: 1.8 g
Protein: 1.7 g
WW Points +: 1 pt
https://supersisterfitness.com/wp-content/uploads/2012/10/pumpkinpoppers.jpg
1440
1440
Liz
https://supersisterfitness.com/wp-content/uploads/2017/09/SSF-logo-plain-pink.png
Liz
2012-10-01 06:42:19
2014-09-22 10:07:08
Pumpkin Spice Donut Holes