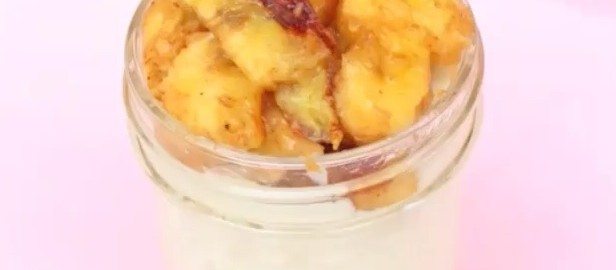 Being healthy is about finding a balance – no restriction, no starvation, no obsessive calorie counting. All of those "weight-loss" tactics will usually end up backfiring… You can only restrict or calorie count before you get fed up, blow it all out the window and throw your hands up in the air & give up.
Then you reach for anything and everything you can get your hands on, and eat til you're completely stuffed. Remorse sets in a few minutes later while you find yourself surrounded by the food slaughter that just occurred.
Immediately, your first thought is that you have to start all over on some "diet" where you can only eat healthy – no bread, no sugar, no processed food and definitely NO DESSERT.
Sound familiar? Trust me, Liz and I have been there too. A mistake people often make when making a transition to a healthy lifestyle is thinking they can never eat dessert or _____ [insert food here] again. Let's all be realistic – that's NEVER going to happen! We all love to eat, and eating should be something you enjoy. Try to control it too much, and it ends up controlling you. That's one of the reasons we don't believe in completely cutting out food groups or saying you'll never eat dessert again. Instead, we recommend finding healthy versions of all the foods you love.
I am through and through a sweet-tooth and dessert addict for life. I know that, so instead of telling myself I can't have dessert, I find healthy options that make me feel good and still allow me to progress towards my goals. Hands down, this is one of the easiest desserts ever and it makes the whole house smell fantastic!
Though we don't recommend loading up on fruit for dessert on the regular, this is a great dessert you can have 1-2 times per week. On the other hand, Greek yogurt makes a great night-time dessert or snack due to casein, a slow-digesting protein.
Don't like bananas? Try substituting them for apple slices.
---
Caramelized Bananas and Yogurt
Serves: 2
Prep Time: 5 min | Cook Time: 5 min | Total Time: 10 min
Ingredients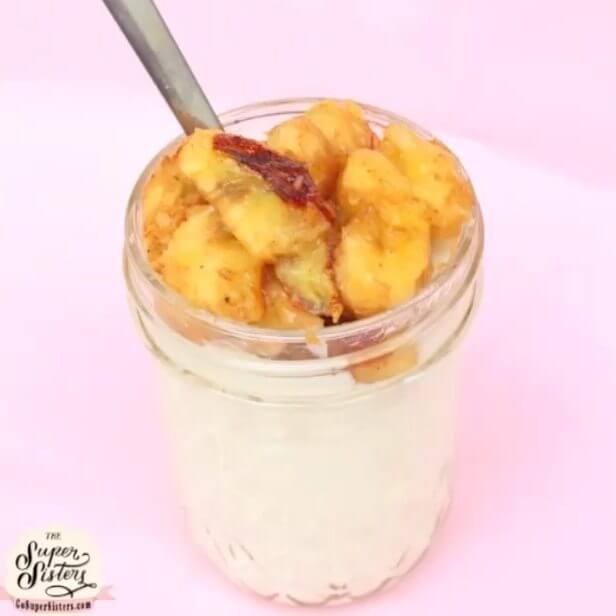 1 large banana, liced
1/2 tbs coconut oil
dash of cinnamon
1.5 cups greek yogurt
3/4 tsp vanilla extract
stevia, to taste
Instructions
In a small pan over medium heat, saute bananas in coconut oil.
Season with cinnamon and cook until golden brown.
Meanwhile, mix greek yogurt with vanilla and stevia.
Spoon into two small bowls or parfait glasses and top with warm, caramelized bananas.
Optional: top with cacao nibs, almond butter or crushed nuts!
Notes
Servings: 2
Calories: 190
Fat: 3.5 g
Carbs: 22 g
Fiber: 2 g
Protein: 18 g
[yumprint-recipe id='31']
https://supersisterfitness.com/wp-content/uploads/2014/03/photo-1.jpg
616
616
Liz
https://supersisterfitness.com/wp-content/uploads/2017/09/SSF-logo-plain-pink.png
Liz
2014-03-02 15:40:12
2016-09-25 13:09:59
Caramelized Bananas with Greek Yogurt