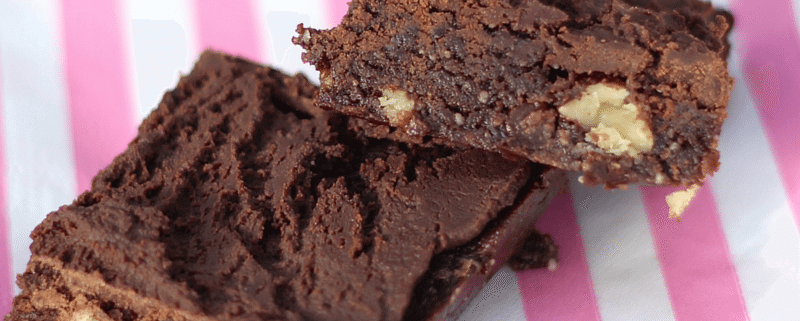 Looking for a no bake brownie recipe? The other day, Liz asked me to help her make a dessert she could take with her camping.
I was like, "okay great! I have a good idea"
Liz didn't believe me at all. She saw I was using dates and was like "ummm I don't like dates."
What a skeptic and a hater. I said, "trust me, these are good." 
(side note: she didn't trust me at all) 
But I proceeded on making my healthy dessert anyway because I knew everyone would rave about. If Liz wanted my help, I was gonna make whatever I wanted 😉
The real secret about this recipe is that this is the world's easiest dessert to make and I did NOT want to actually bake something.
Enter: No Bake Raw Brownies
These bad boys are vegan, gluten free, refined sugar free, rich, chocolately and literally to die for.
Even better is the optional chocolate ganache frosting, which we highly recommend for a fudgy, decadent finish.
Oh man, soooo good. Instead of using butter, the ganache utilizes coconut oil for an extra creamy finish. AND it's a no bake brownie recipe? It doesn't get much better than that!
Nom.
If you're craving chocolate, this is the recipe to make. We promise, you won't regret it!
Oh, and for the record, Liz LOVED these. Yep, I was totally right 😉
---
Raw Chocolate Brownies
Easy, no bake raw vegan (and gluten free) brownies with a fudgy, rich chocolate ganache frosting. A healthier decadent dessert
Yields: 16
Prep Time: 10 min | Cook Time: 1 min | Total Time: 11 min
Ingredients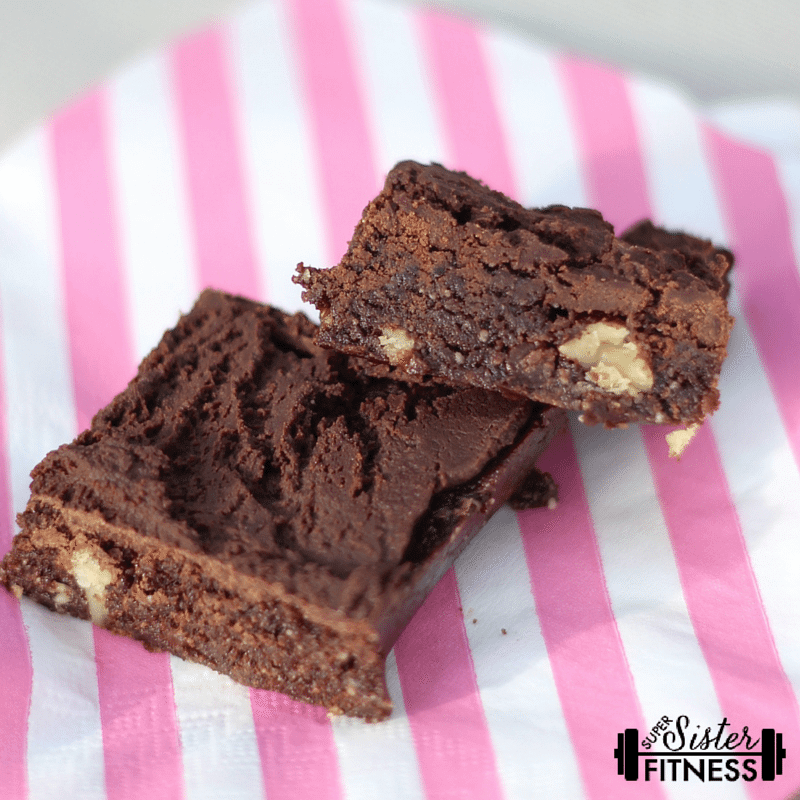 2 cups raw walnuts
1 cup raw almonds
3 cups pitted dates
1 cup cacao powder or unsweetened cocoa powder
1/2 tsp sea salt
1/2 cup roughly chopped walnuts
1/2 tsp vanilla extract
GANACHE FROSTING
1 cup dairy-free dark chocolate chips
2 Tbsp coconut oil
1/4 tsp sea salt
Instructions
Place a piece of parchment paper in a 8 x 8 pan and set aside.
Place dates and vanilla extract in a food processor until a thick paste is formed. Remove and set aside.
Then place 1 cup walnuts and almonds as well as cacao powder and sea salt in food processor and process until finely ground.
Slowly add date mixture to the food processor until a dough consistency is reached.
Mix in 1/2 cup remaining chopped walnuts and stir well.
Spoon batter into your prepared pan and press down with the back of a spatula until flat.
Place in freezer or fridge to chill for 10-15 minutes before cutting into 16 even squares (If adding ganache, slice afterwards).
FOR THE GANACHE:
Place coconut oil and chocolate chips in a small saucepan over medium heat.
Stir continuously and add sea salt to mixture.
Keep stirring until chocolate mixture is smooth.
Quickly spread chocolate ganache on top of chilled brownies.
Enjoy immediately or store brownies in an airtight container in the fridge. Will keep for 4-5 days.
https://supersisterfitness.com/wp-content/uploads/2015/06/Raw-Brownie-Recipe.png
800
800
Liz
https://supersisterfitness.com/wp-content/uploads/2017/09/SSF-logo-plain-pink.png
Liz
2015-06-10 09:40:17
2017-04-20 18:56:32
Easy No Bake Brownie Recipe | Vegan, Gluten Free Brownies