Chipotle Lime Pumpkin Seeds?
YES PLEASE! Every year around this time, I end up Googling how to roast pumpkin seeds.
I'm always looking for new roasted pumpkin seeds recipes or tips and tricks to make the seeds taste good. I've had them sweet, I've had them salty, and this year I got a little loco and added some spicy chipotle & lime seasonings to the mix!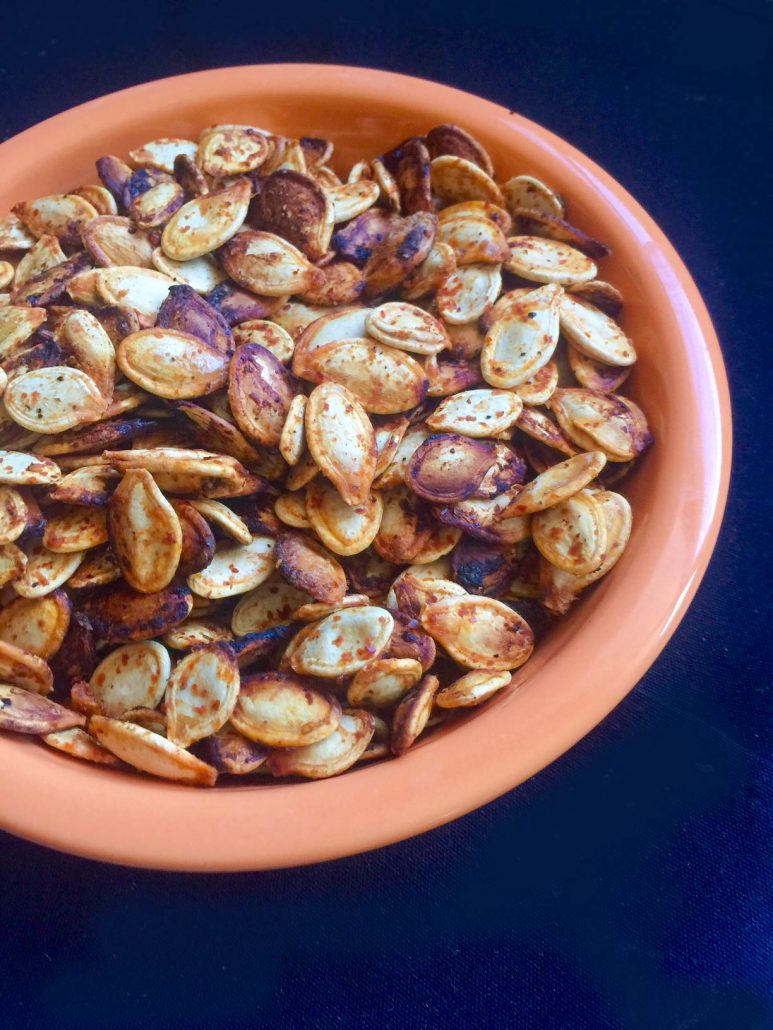 Here is everything I know about how to cook pumpkin seeds.
The reason I love this fall snack is because pumpkin seeds are delicious and packed with good-for-you plant-based protein and minerals. Roasting them after carving your pumpkin is a fun fall activity that the whole family can enjoy, and our bodies love it too!
Pack these seeds in your lunches as easy snacks or keep them on hand any time for an on-the-go crunch this season. You can even throw them on top of soups and salads for an extra healthy boost.
They're not only tasty, they help fill you up with quality nutrition. Don't believe me? Check out the following benefits of eating pumpkin seeds.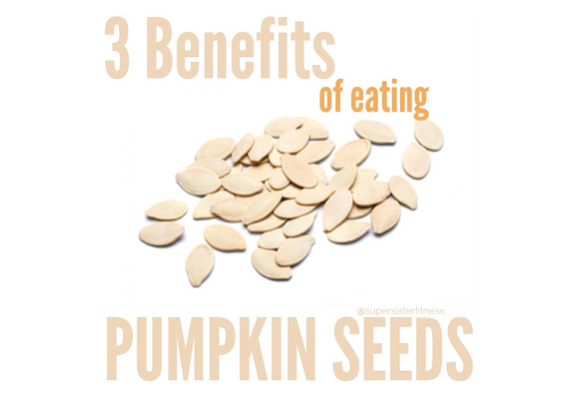 3 Benefits of Eating Pumpkin Seeds
Pumpkin Seeds contain beta-sitosterol, a phytosterol that helps lower cholesterol and helps treat benign prostate hyperplasia (BPH).

Pumpkin Seeds contain chemicals called cucurbitacins, which are believed to interfere with the production of a metabolic by-product of testosterone known as DHT (dihydrotestosterone). DHT is responsible for hair loss and benign prostate hyperplasia.

Pumpkin Seeds are a rich source of minerals, especially magnesium, potassium, and phosphorus. They also contain zinc, fiber, selenium, and manganese, which is essential for growth, reproduction, wound healing, brain function, and proper metabolism (Source: The 150 Healthiest Foods on Earth, Jonny Bowden, PhD, CNS).

---
So, do you like pumpkin seeds as much as I do How do you eat them? Tell me in the comments below!
I prefer mine savory or spicy. But if you're having a sweets craving, try adding cinnamon & sugar to the mix — you will not be disappointed. Now I hope you enjoy this pumpkin seed recipe as much as I enjoyed making it.
And if you're looking for more Healthy Halloween recipes to try, check out this mega post including tons more easy recipes for drinks, snacks, meals and desserts.
Your trainer,
Liz
PS – Little life update… we carved our pumpkins finally! Yay!
I have been carving the same pumpkin face now for like 4 years. I'm not even kidding. I just love Jack Skellington so much! It's so easy, so cute, and you really can't go wrong with this face. It always impresses people.
Why change a classic? lol
This year my partner Jordan added his rendition of the Pumpkin King from Nightmare Before Christmas. And of course, his dog Biggie added a little extra cuteness into the mix!
I love how they both turned out this year. Here's a picture of the final result.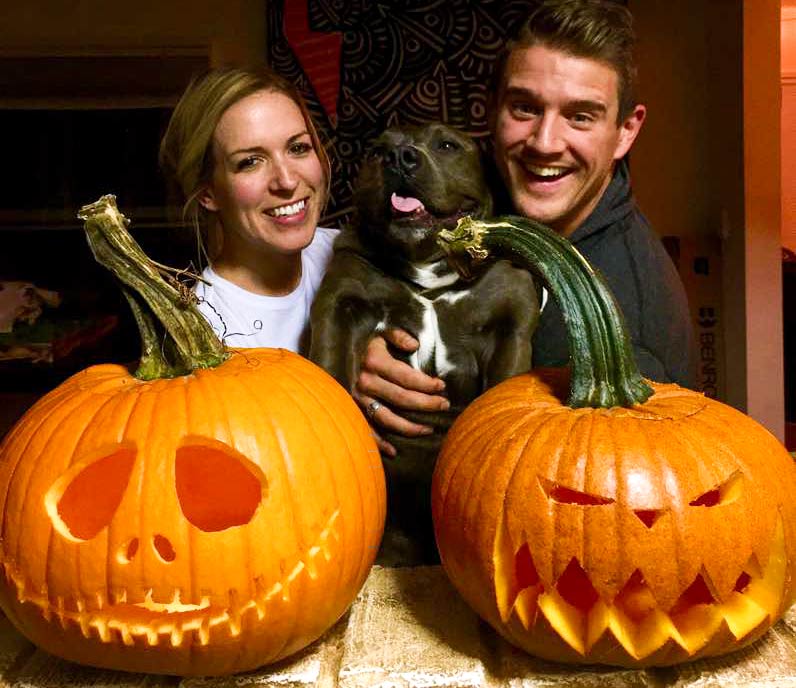 Once we were all done carving these, then I set out on my mission to make some tasty pumpkin seeds come to life. I snacked on them for the next couple days and even took a small bag of them to Japan with me to have on the plane instead of the nasty dry buns and shrimp mix they gave us on the flight over there.
I am so glad I did!
Without further ado, here is the best recipe instructions I've come up with yet. I like mine on the crispier side, so if you don't, just skip the broiling option at the end.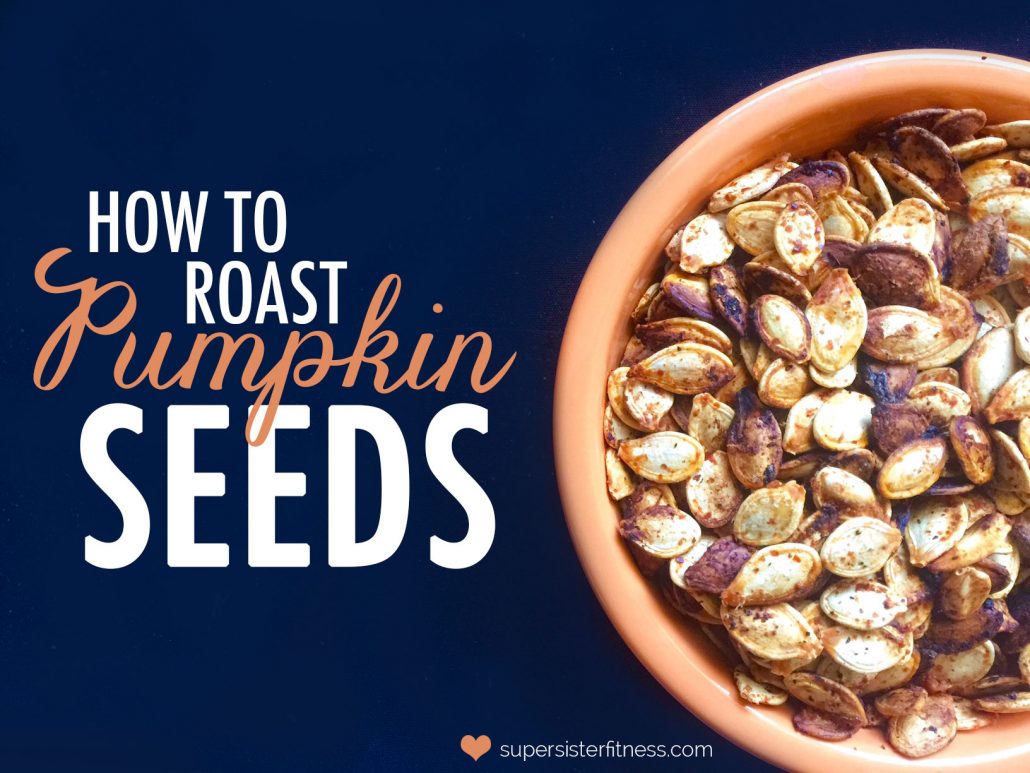 ---
Roasted Pumpkin Seeds Recipe
A delicious, healthy way to cook pumpkin seeds.
Prep Time: 10 mins | Cook Time: 15-20 mins | Total Time: 30 mins
Ingredients
Pumpkin seeds
1-2 Tbsp oil or butter
For savory: Himalayan sea salt, pepper
For sweet: Cinnamon, sugar
For spicy: Marinate in BBQ/hot sauce or add 1 tsp cayenne pepper and a splash of lime juice!
Instructions
Preheat your oven to 350 degrees.
After carving the pumpkin, separate out the seeds from the pulp and fiber. I like to immerse the seeds in a bowl of water while I do this as it helps the pulp slide off of the seed easier.
Dry out the seeds by removing them from the water and laying them on a paper towel. Use another paper towel to pat them dry, soaking up as much of the water as you can. The dryer the seeds are the better and more evenly they will cook, but don't worry — they don't need to be bone dry.
Once seeds are dried off, now it's time to season them. Coat them evenly in butter or oil, then add whatever seasonings you like! If you want a sweet treat, use cinnamon and sugar. If you're looking for more of a savory taste, try adding sea salt, pepper, or truffle oil instead.
If you like spicy, you can marinate the seeds in hot sauce or add a dash of cayenne pepper to the salt and pepper as well. It's up to you! Play around with different flavors to find one you like. This year I even added in a zesty lime flavor to my chipotle seasonings.
Place seeds on a baking sheet in one even layer. DO NOT stack the seeds up or load up the pan as they will not cook evenly. They must be in a single layer to cook correctly. Place in the oven for 10-20 mins (cooking times vary based on oven strengths).
Keep an eye on the seeds as they roast, stirring them and flipping them over halfway through. If you like extra crunch, feel free to put them under a medium-high broiler after fully baked for an additional 1 minute.
Let cool for 5-10 mins before serving. Enjoy!
https://supersisterfitness.com/wp-content/uploads/2016/10/how-to-roast-pumpkin-seeds.jpg
1224
1632
Liz
https://supersisterfitness.com/wp-content/uploads/2017/09/SSF-logo-plain-pink.png
Liz
2016-10-26 11:11:43
2016-10-28 10:55:40
How to Roast Pumpkin Seeds | Easy Roasted Pumpkin Seed Recipe