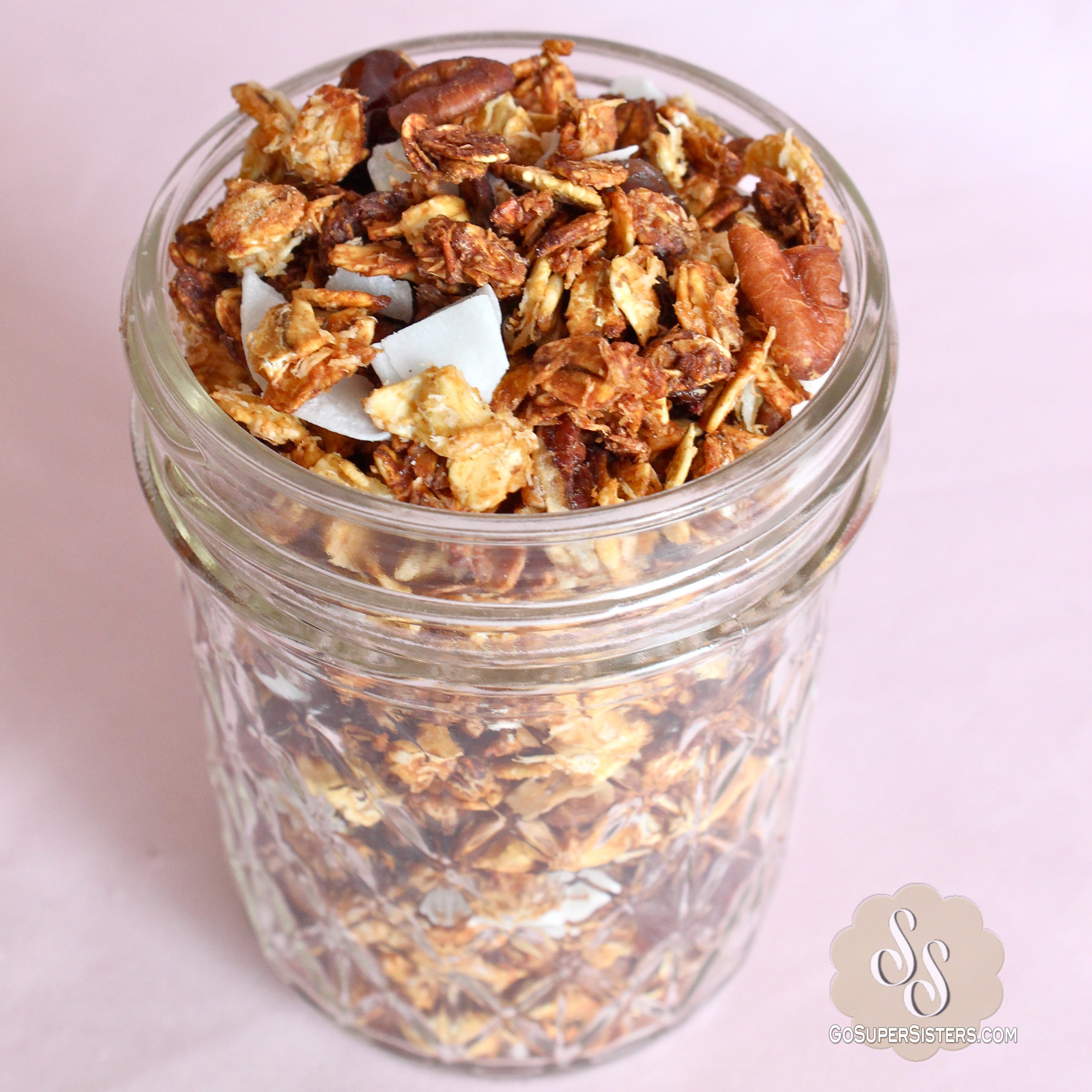 Oh granola! How we love you so. Back when we first transitioned into clean eating, we made the common mistake of assuming granola was good for you. Commercials and ads everywhere proclaim how "healthy" granola is, and like millions of Americans we too fell into their tricky little trap.
What those ads don't tell you is how much sugar content most granola contains. Granola bars included, most are so sugary they almost as bad as eating a box of Hostess donettes, which by the way used to be a common part of our after-school routine. Sara liked the white powdered donuts, Liz went for the chocolate covered ones. We'd beg our parents to buy them and since we didn't like the same flavor, we'd each get our own box. Sara always had the most ridiculous white powdered sugar film over her face after an after-school donut chow down.
Anyway, back to granola. We made this homemade version because granola does taste really good and can add a nice crunch topping for yogurt, oatmeal or with fruit. Try our version out, it's way better for you than anything you'd buy in a package at the store. Also you can store it in jars and use it for weeks ~ that is, if it lasts!
Honey Coconut Pecan Granola
Makes 8 servings
2 cups oatmeal
1/2 cup shredded or flaked unsweetened coconut
1/2 cup chopped pecans
3 tbs honey
2 egg whites
optional: 1 scoop vanilla protein powder
Preheat oven to 325 degrees and line a baking sheet with parchment paper. In a large bowl, mix all ingredients well. Lay out flat on your prepared baking sheet and bake for 15 minutes. Remove from oven and mix around, then return to oven for another 10-15 minutes. Store in airtight container. Enjoy!
Servings: 8 (1/4 cup)
Calories: 160
Fat: 8 g
Carbs: 18 g
Fiber: 3 g
Protein: 4 g
https://supersisterfitness.com/wp-content/uploads/2013/04/Granola.jpg
3456
3456
Liz
https://supersisterfitness.com/wp-content/uploads/2017/09/SSF-logo-plain-pink.png
Liz
2013-04-11 09:14:53
2016-03-15 11:51:37
Honey Coconut Pecan Granola