How to Make Cinnamon Apple Spice Cake
Looking for some easy, healthy recipes for Thanksgiving?
This recipe for Cinnamon Apple Spice Cake is gonna make your day!
The holidays can often be a time of complete overwhelm when it comes to nutrition – you don't want to miss out on all the holiday goodies but you also don't want to go overboard because you know that often leads you down a one-way spiral to holiday fat-town.
Look no further, we've got you covered. Try our Healthy Stuffing recipe or Guiltless Pumpkin pie too.
One of the reasons Liz and I love this recipe is because we LOVE cinnamon.
Our love for cinnamon started when we were little girls… my sweet tooth always led me straight to cinnamon rolls and Little Debbie Pecan Spinwheels ( um, does anyone remember how amazing those were?!).
Now, we find healthier ways to incorporate cinnamon into our diet by putting in our oatmeal or baked goods.
3 Benefits of Cinnamon:
Cinnamon contains two phytochemicals, eugenol and geraniol, which can help digestion and combat candida (the overgrowth of yeast) by stopping the growth of bacteria and fungi. Cinnamon also functions as a carminative (gas reliever) and helps relieve nausea.

Cinnamon can reduce blood sugar and "bad" cholesterol. The active ingredient in Cinnamon, methylhydroxychalcone (MHCP), seems to mimic insulin function, increasing glucose uptake by cells and signaling certain kinds of cells to turn to glucose into glycogen (the storage form of sugar).

Cinnamon contains anti-inflammatory compounds that can help reduce blood pressure and can help with pain/stiffness in muscles & joints (Source: The 150 Healthiest Foods on Earth, Jonny Bowden, PhD, CNS).

So, tell us… Do you like cinnamon? How do you incorporate it into your diet?!
---
Apple Spice Cake
A delicious, gluten-free treat! This Apple Spice cake is a great edition to any family gathering or holiday celebration.
Serves: 9
Ingredients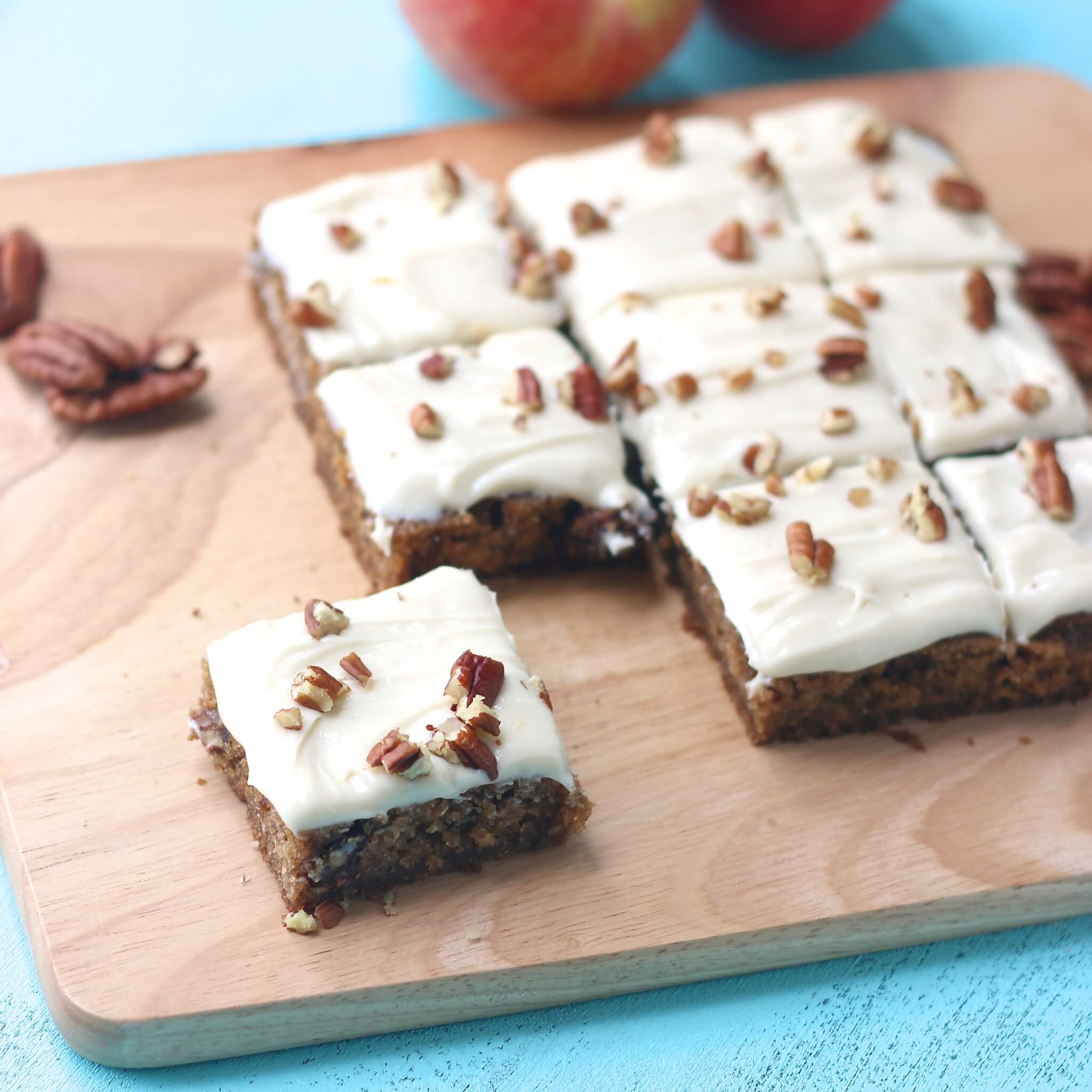 1 cup applesauce
3 tbs coconut oil
1 large egg
1/2 teaspoon vanilla extract
1 teaspoon baking soda
1 teaspoon cinnamon
1/4 teaspoon baking powder
1/4 teaspoon salt
1/4 teaspoon allspice
1/8 teaspoon nutmeg
1 cup oat flour
1/3 cup coconut sugar
optional: 1/4 cup chopped pecans or walnuts
Instructions
Preheat the oven to 350 degrees. Line an 8 x 8 baking pan with parchment paper.
In a large bowl, stir together the applesauce, coconut oil, egg, and vanilla extract.
Then add in baking soda, cinnamon, baking powder, salt, allspice, and nutmeg, coconut sugar and oat flow, and stir until combined. If desired add in the chopped pecans or walnuts.
Bake for 30-35 minutes or until a fork comes out clean.
Top with cream cheese frosting or other frosting of your choice if desired.
[yumprint-recipe id='85']
https://supersisterfitness.com/wp-content/uploads/2015/11/IMG_0680.jpg
2048
2048
Liz
https://supersisterfitness.com/wp-content/uploads/2017/09/SSF-logo-plain-pink.png
Liz
2015-11-22 16:26:59
2016-09-24 07:43:18
Cinnamon Apple Spice Cake | Healthy Holiday Recipes