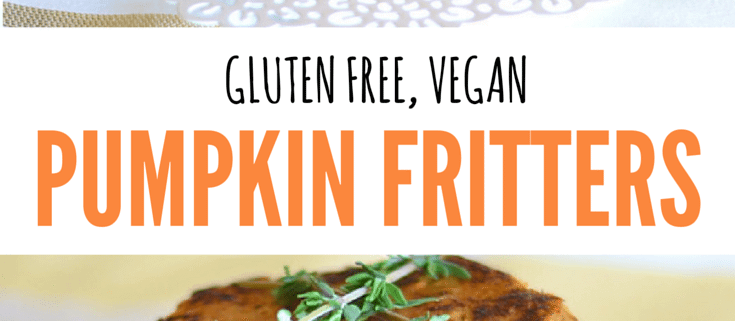 Gluten-free, Vegan Pumpkin Fritters
Well, well, well, what do we have here?
More PUMPKIN you say?
Mmmm, that's right.
Okay, so we might be going on pumpkin overload for fall, but we want to show you how easy it is to get creative in the kitchen to make healthy holiday recipes, like these pumpkin fritters.
Really though the holidays aren't about restricting or depriving yourself, it's about find a balance where you can enjoy healthier treats and then sneak in a couple of not-so-healthy treats.
I'm sure you've heard of the 80/20 rule before, and that's because it totally works!
80% of the time focus on fresh (organic, if possible) fruits, vegetables, leafy greens, legumes and healthy fats. Then the other 20% of the time you can indulge in some of your favorite treats.
Really though, pumpkin is so overlooked as a health food, even though it's super low in calories, packed full of nutrition and absolutely delicious.
3 Benefits of Pumpkin
Pumpkin is very high in potassium – for a measly 49 calories per cup of mashed pumpkin, it has 564mg of potassium (about 33% more than a medium banana). The balance between potassium & sodium in the body is critical to our health in order to maintain the body's water balance. Why should you care? Studies have shown that individuals with high dietary potassium intake have lower blood pressure & a decreased risk of stroke!
One cup of Pumpkin contains more than 5,000 mcg of beta-carotene, 853 mcg of alpha-carotene, and more than 3,500 mcg of beta-cryptoxanthin. Beta-cryptoxanthin, a member of the carotenoid family, reduces the risk of lung & colon cancer by up to 30% and has been shown to reduce the risk for rheumatoid arthritis as much as 41%!
Pumpkin contains more than 2,400 mcg of the carotenoids lutein and zeaxanthin, which are known for promoting eye health. Pumpkin also contains vitamin A, calcium, iron, magnesium, phosphorus, and is ridiculously low in calories and contains 3 grams of fiber per cup (Source: The 150 Healthiest Foods on Earth, Jonny Bowden, PhD, CNS)!
Alright, so are you even more excited about pumpkin now?!
Try this gluten free pumpkin fritter recipe and let us know what you think!
---
Vegan Pumpkin Fritters
Ingredients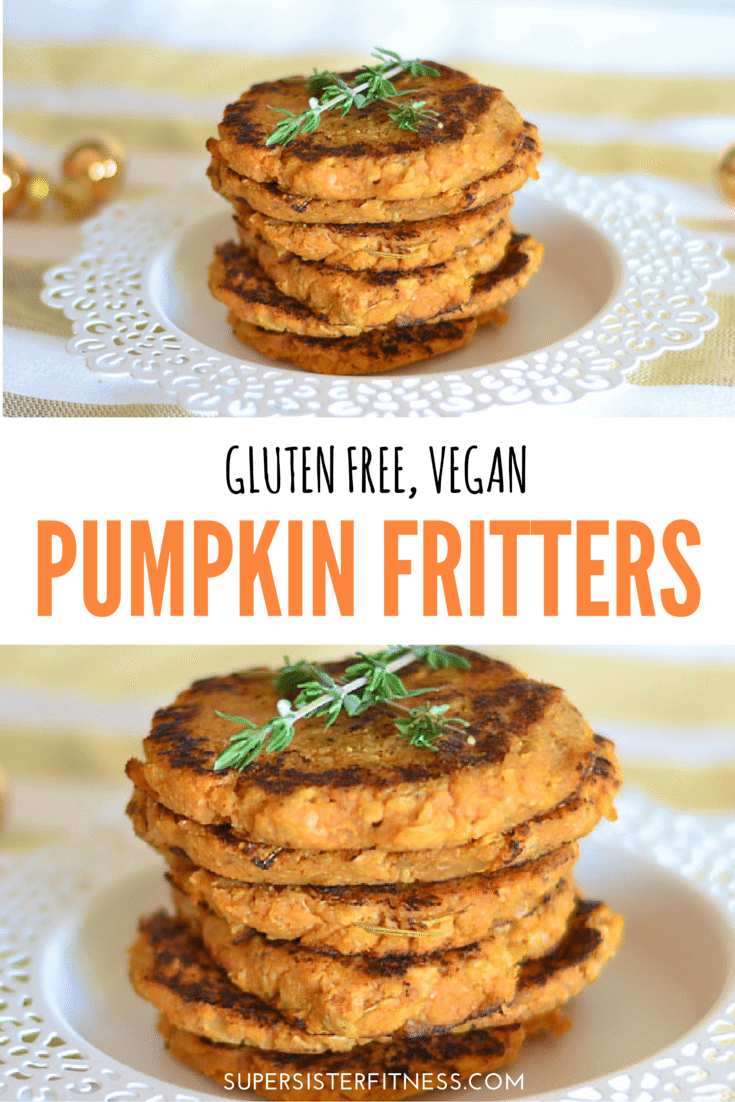 1 (15 oz) can garbanzo beans, drained & rinsed
1 cup pumpkin puree
1 flax egg (1 tbs ground flaxseed + 3 tbs water)
1 tsp salt
½ tsp pepper
½ tsp rosemary
½ – 1 tsp garlic powder
1 tbs coconut or avocado oil
Instructions
Preheat a large skillet over medium heat.
In a large bowl, mash garbanzo beans then add all remaining ingredients and combine well. Feel free to add a tablespoon or two of flour to make mixture thick.
Then spoon mixture to form patties on your skillet using the coconut oil to "fry" the fritters and cook until golden, flipping halfway.
You can also coat patties with panko bread crumbs for a crunch crust 🙂
[yumprint-recipe id='82']
https://supersisterfitness.com/wp-content/uploads/2015/11/Gluten-free-pumpkin-fritters.png
1102
735
Liz
https://supersisterfitness.com/wp-content/uploads/2017/09/SSF-logo-plain-pink.png
Liz
2015-11-25 14:09:04
2016-09-24 07:33:08
Pumpkin Fritters | Healthy Holiday Recipes