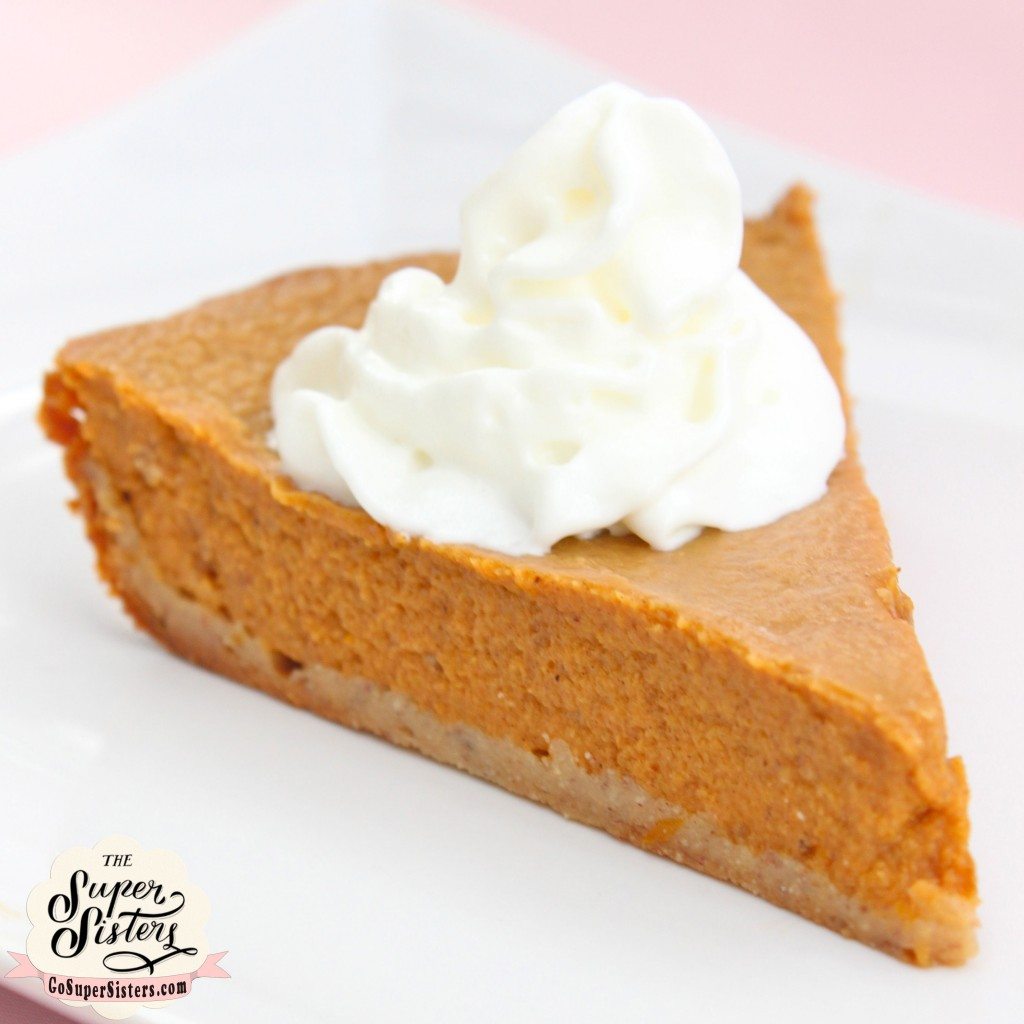 We aren't sure about you, but hands down our favorite holiday dessert is Pumpkin Pie. Growing up, it's the only pie Sara would eat, and we both would usually go back for seconds or even sneak a piece for breakfast. Not much has changed since we've gotten older; we could eat it every single day over the holiday months. In fact, when we make a pumpkin pie it's usually gone within a matter of a day at our house.
This recipe is included in our
Holiday Survival Guide
, along with over 30 others. The good news for you? We love pumpkin pie so much, we couldn't hold back on sharing this recipe.
Guiltless Pumpkin Pie
For graham cracker crust:
4 full graham cracker sheets
3/4 cup mashed banana OR 1/4 cup melted butter
1/4 cup protein powder (we used Trutein Cinnabun) OR 1/4 baking stevia
1/4 tsp cinnamon
1/4 tsp salt
Preheat oven to 425 degrees and spray a 8 or 9″ pie pan with nonstick spray. To make your crust, in a medium bowl, crush graham crackers and mix with banana (or butter) and protein powder (you may need to add a little bit of water to get this to mix, but you want a very thick "dough"). Press "dough" into pie pan to form your crust. Bake for 5-6 minutes, then remove from oven to cool.
1 cup old fashioned oats
1/4 cup oat flour
1 tbs coconut oil or unsalted butter
1/4 cup warm water
1/4 tsp cinnamon
1/4 tsp salt
1/4 cup baking stevia
Preheat oven to 425 degrees and spray a 8 or 9″ pie pan with nonstick spray. In a small bowl, combine all dry ingredients for the crust and mix well. In another small bowl, combine the warm water and coconut oil, and beat well. Slowly add the oil and water mixture to the dry ingredients and stir until well combine. Press crust into the bottom of your pan and bake for 5-6 minutes. Remove from oven and let cool.
1 (15 oz) can pumpkin puree
2 egg whites
1/4 cup sugar-free or low sugar syrup
1.25 cups unsweetened almond milk
1/2 cup baking stevia or sweetener that measures like sugar
1 tbs pumpkin pie spice
3/4 tsp salt
3/4 tsp vanilla
Combine all ingredients and mix until well combined. Pour into prepared crust pan and cook at 425 degrees for 15 minutes. Then reduce temperature to 325 degrees and continue to bake for another 35-40 minutes. Remove pie and let cool, then place in the refrigerator overnight or for at least 4 hours.
For pie w/ graham cracker crust:
Servings: 8
Calories: 100
Fat: 1.5 g
Carbs: 19 g
Fiber: 3.5 g
Protein: 6 g
For pie w/ oatmeal crust:
Servings: 8
Calories: 90
Fat: 3 g
Carbs: 14 g
Fiber: 3.5 g
Protein: 3.5 g
https://supersisterfitness.com/wp-content/uploads/2013/11/pumpkinpie-1024x10241.jpg
1024
1024
Liz
https://supersisterfitness.com/wp-content/uploads/2017/09/SSF-logo-plain-pink.png
Liz
2013-11-12 06:23:48
2014-02-11 16:09:08
Guiltless Pumpkin Pie