Have you heard of aerial yoga?
If not, it's time to give it a try… I'm always switching things up in my fitness routine so I don't get bored, and especially around the time for New Year resolutions! I find that without self improvement challenges or taking on new goals, it's easy to get bored and want to give up…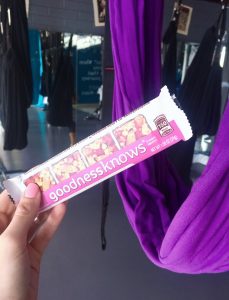 So to battle my inner lazy girl, I went out to take my first class this week and was so blown away by how cool and accessible this practice is for everyone! My friends over at goodnessknows challenged me to commit to the path to greatness this year by choosing something I've wanted to do for the first time and try it within the first thirty days of 2017.
So that's exactly what I did!
This rising new yoga trend is sort of a mix between aerial silks and traditional vinyasa yoga. You get to go a little deeper into backbends and stretches because of the gentle support of the hammock there to assist you.
After just one class, I am now completely obsessed! I was definitely intimidated to go for my first time, but I'm so glad I did. I'm sharing this challenge to help inspire you to get outside of your comfort zone too.
Don't let your challenges or fears get the best of you! Keep going and stay strong. Is there something on your goals list for 2017 that you really want to try? I say GO FOR IT! Even if it's just to live a more active lifestyle this year, all goals are good goals, and I love that we can work together as a community to support one another in becoming the best versions of ourselves.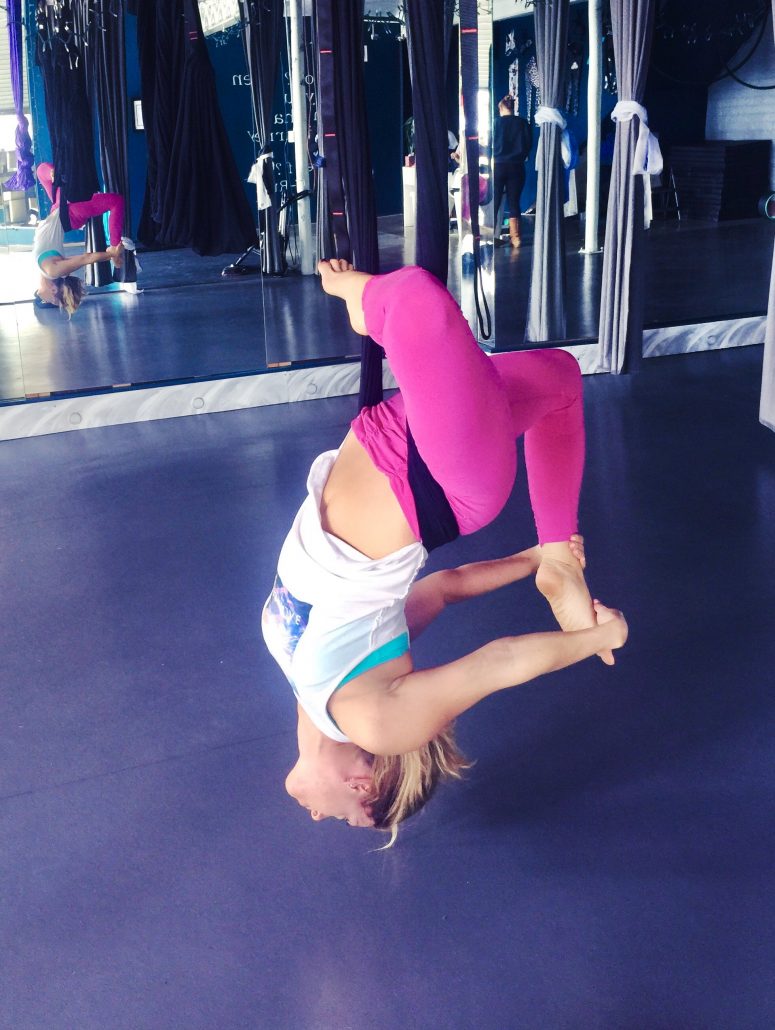 It can be tough to make a lifestyle change, but part of the process is believing in yourself and challenging your mind and body in new ways. I was so happy when my friends at goodnessknows reached out to not only encourage and celebrate ALL attempts on the path to greatness – no matter how small or imperfect – because it was a great reminder to me that every try is a step closer to being your best.
It might be scary to try something new, but remember — that's a key part of the journey to learning, growing and improving! In my very first class, I got to get into all kinds of funky poses, including one I really liked called the "flying squirrel." I can't even explain how good this feels for your hips and back. It felt like I was literally flying.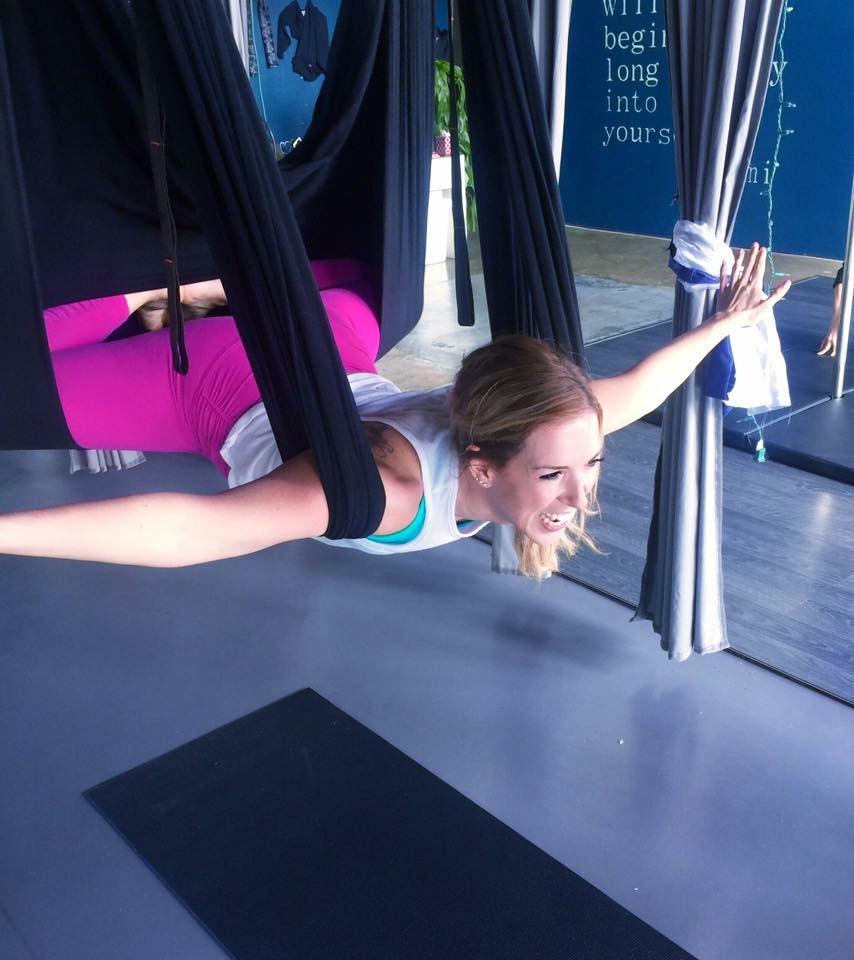 I also brought my goodnessknows snack squares to refuel after the class. I love that they're portable, bite sized (hello, portion control built in!), filled with good ingredients and gluten free. I'm always on the lookout for to-go snacks that don't have any artificial colors, sweeteners or ingredients which is really important to me. If it is to you too, you have to try these!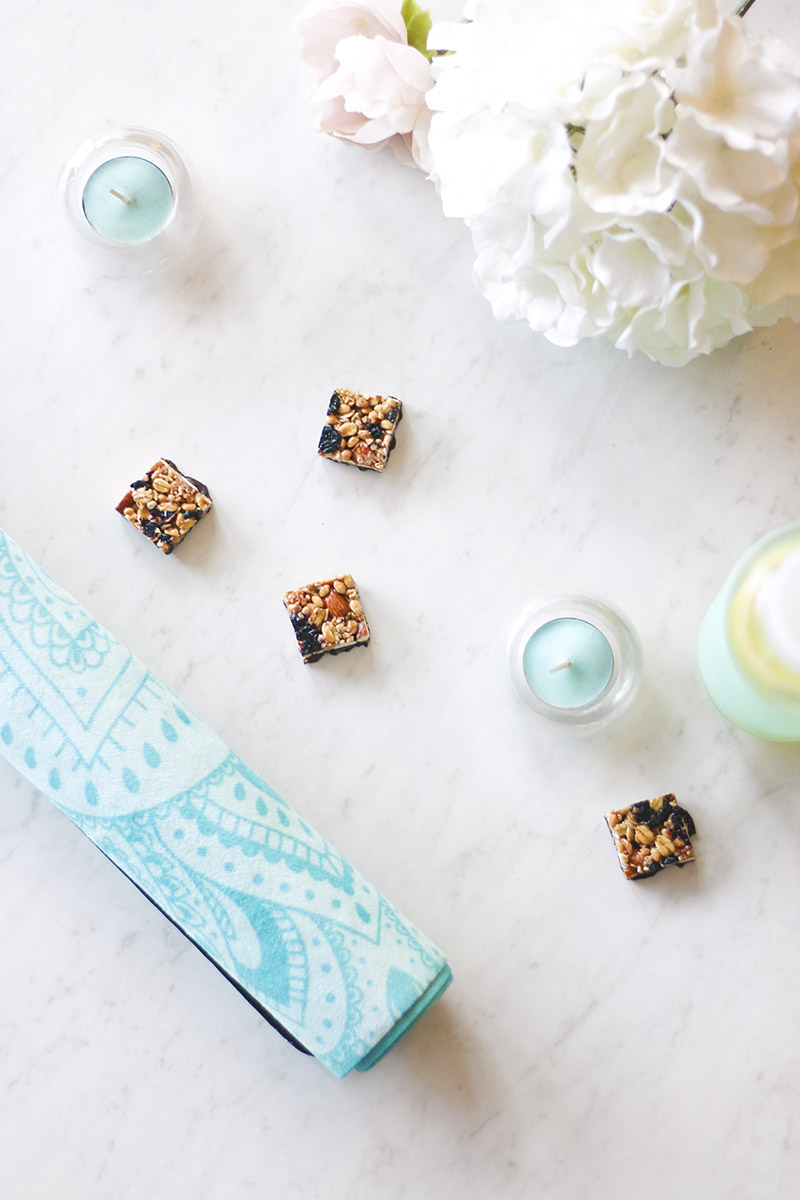 Even my dad loved them. You can find where to get some here. 🙂
My friend Brittany and I walked down to a local smoothie spot and got post-workout smoothies for lunch, and the goodnessknows squares were so good dipped in to them as an added crunch. I always make sure to rehydrate and get some good nutrition in after every workout and with only 40 calories per square we were easily able to split them in half for a little added crunch to our smoothies.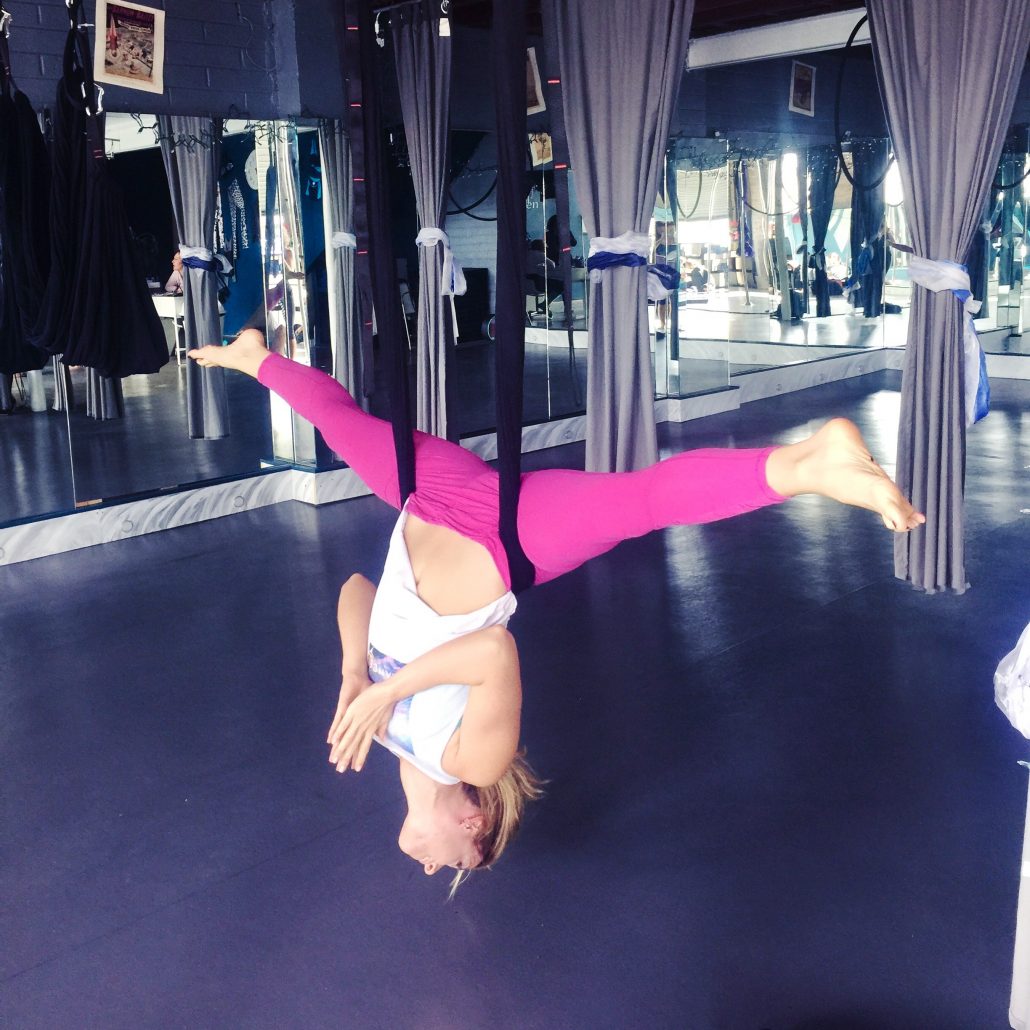 I had the new blueberry, almond, dark chocolate ones with me which are definitely my fav, but I also got to try the strawberry, peanut, dark chocolate (pictured below and also new in 2017) and even though I'm not normally a fan of peanuts, the dark chocolate took it there for me.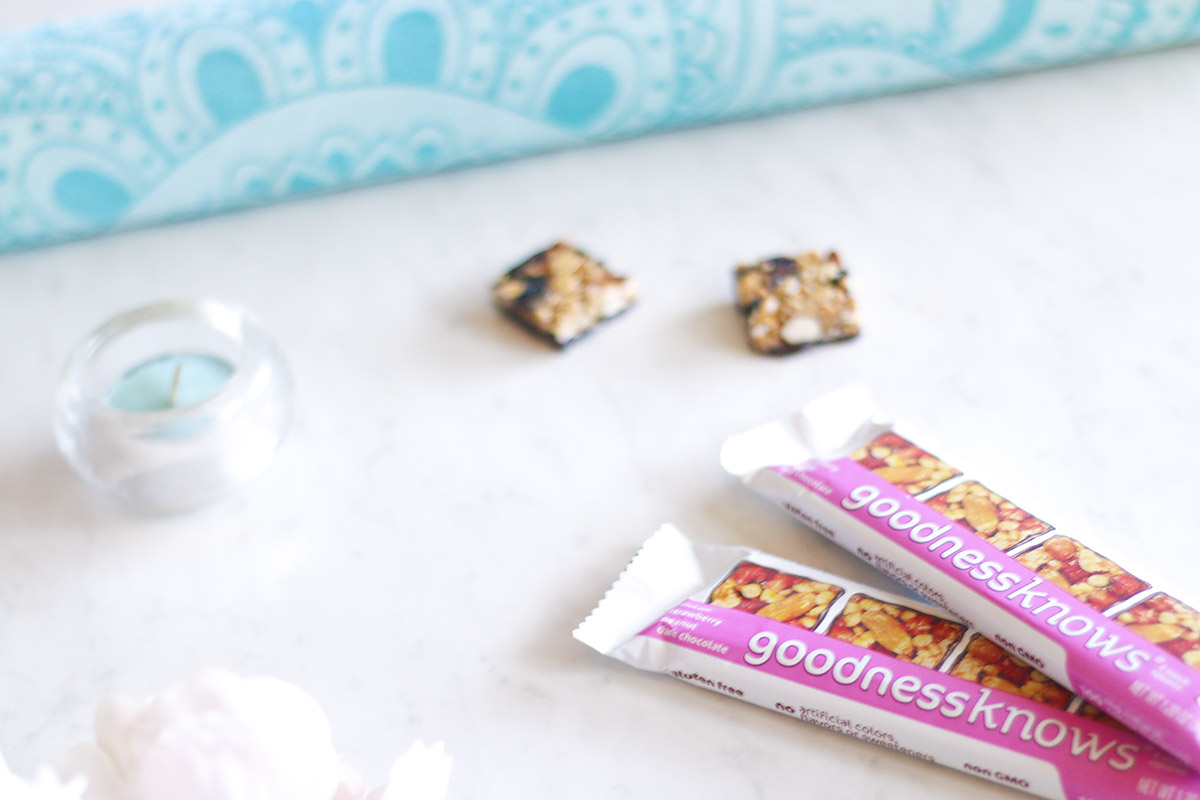 Anyway, back to the class… At first, especially when we started wrapping ourselves up into crazy shapes, I was definitely intimidated! I fell back a few times but the instructor did a great job of keeping us really safe and comfortable while challenging our physical limits.
It reminded me that trying new things or doing any sort of self improvement is never a "perfect" process. After a few practice tries and some reassuring encouragement from her, I was able to master each pose we attempted, and let me tell you … once I got into them fully, they felt incredible! I've never felt such a great back stretch which is saying a LOT, because I've been practicing yoga for years now and have been in fitness for a long, long time.
So what's been on your list for a while? Has this post inspired you to #TryALittleGoodness too?! I really hope so.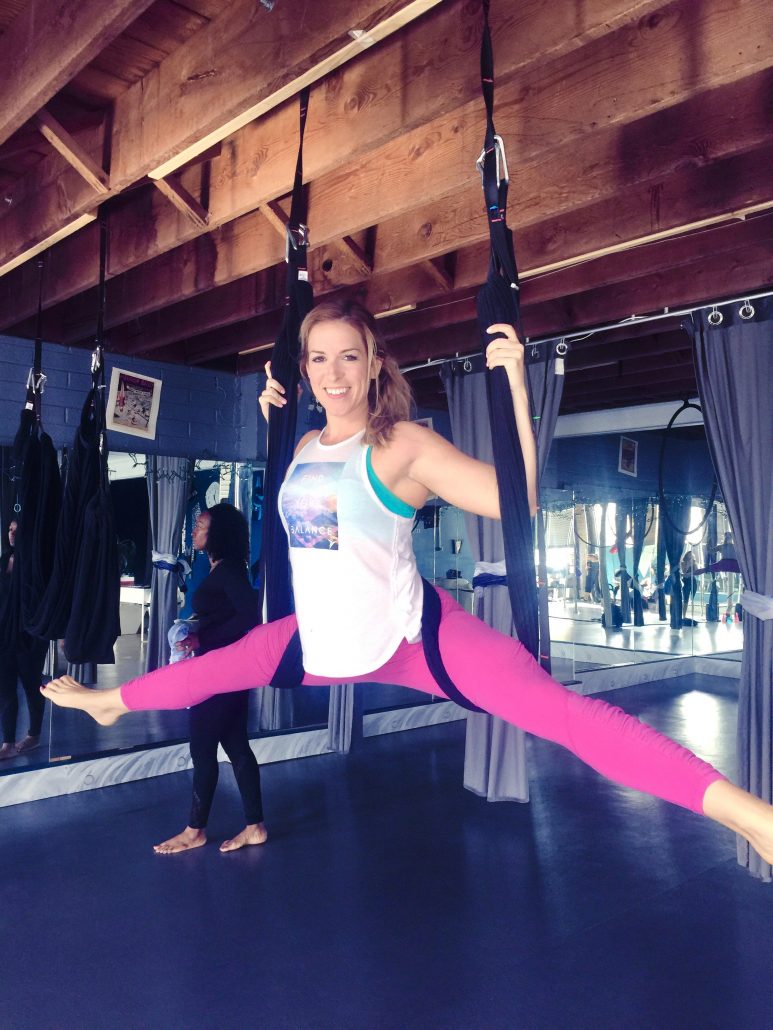 Share your thoughts in the comments below! What will you try in 2017 that you are excited about? Have you tried aerial yoga before, and if so, did you like it?
I want to hear from you! Tell me what you've got going for yourself this year… Can't wait to read your responses!
Stay strong,
Liz
PS – To find out more about goodnessknows, visit them on Instagram, Twitter, Facebook or the web!
---
This is a sponsored conversation written by me on behalf of goodnessknows. The opinions and text are all mine.
https://supersisterfitness.com/wp-content/uploads/2017/01/IMG_4717.jpg
960
854
Liz
https://supersisterfitness.com/wp-content/uploads/2017/09/SSF-logo-plain-pink.png
Liz
2017-01-08 17:11:32
2017-01-29 11:51:42
Trying Out Aerial Yoga | My Latest Yoga Addiction!