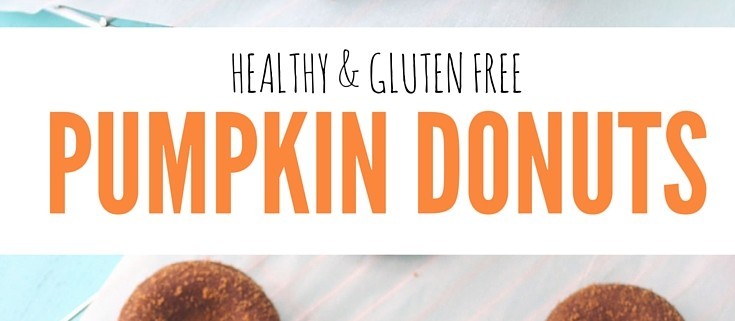 Did you know yesterday was the first day of fall?
It sure doesn't feel like it in San Diego – it's been 80 degrees all week long!
But that didn't stop me from getting festive in the kitchen this week creating new healthy fall recipes.
Since our Pumpkin Spice Donut Holes were such a hit on Facebook & Instagram last week I decided to revamp the recipe and make full on DONUTS!
I mean, come on who DOESN'T like donuts?!
If you don't – I have no idea why. They are absolutely delicious.
My finace has a serious donut obsession. Like he can't even go one week (yeah ONE week) without stopping somewhere for donuts.
So, enter healthy baked pumpkin donuts – not the deep fried stuff.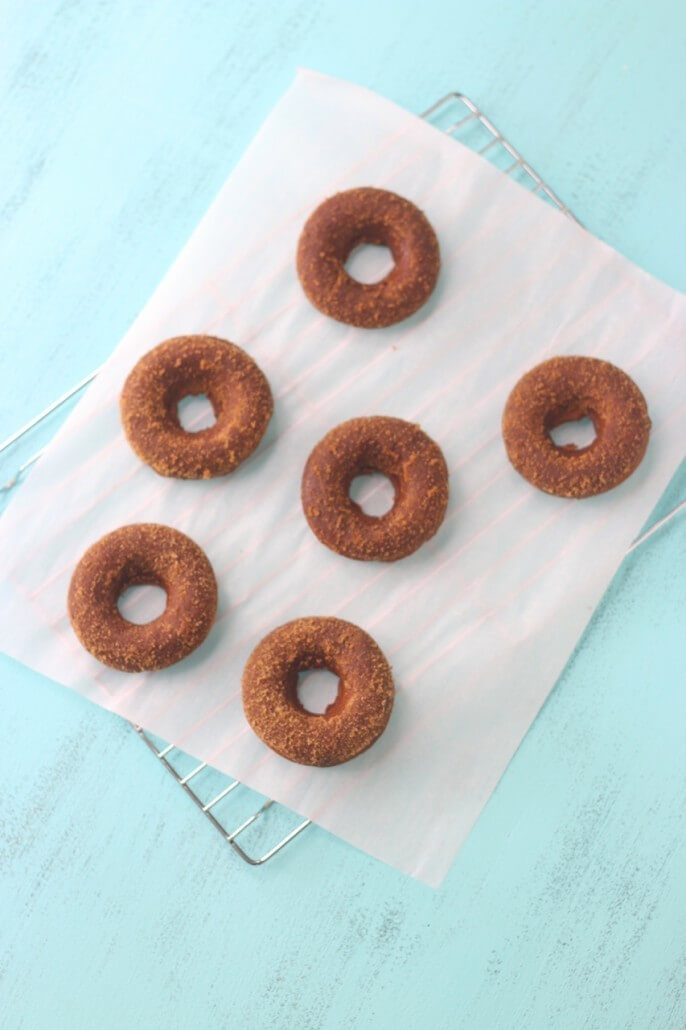 Of course, all things in moderation including donuts. I'm not sayin' to never eat 'em, but I am sayin' you should not be eating donuts every day…
Unless you make these 😉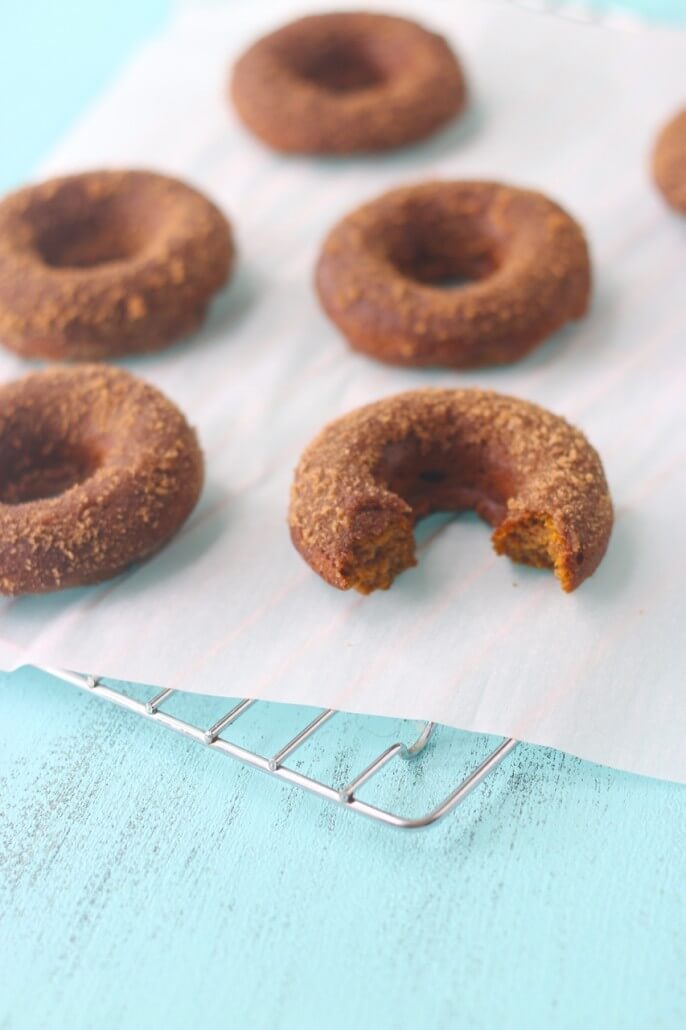 I'm not sure you can really even get pumpkin donuts anywhere – at least I've never seen them anywhere. Does anyone know where you can get pumpkin donuts?
Not that it really matters because these donuts are so good I'd probably just make these instead.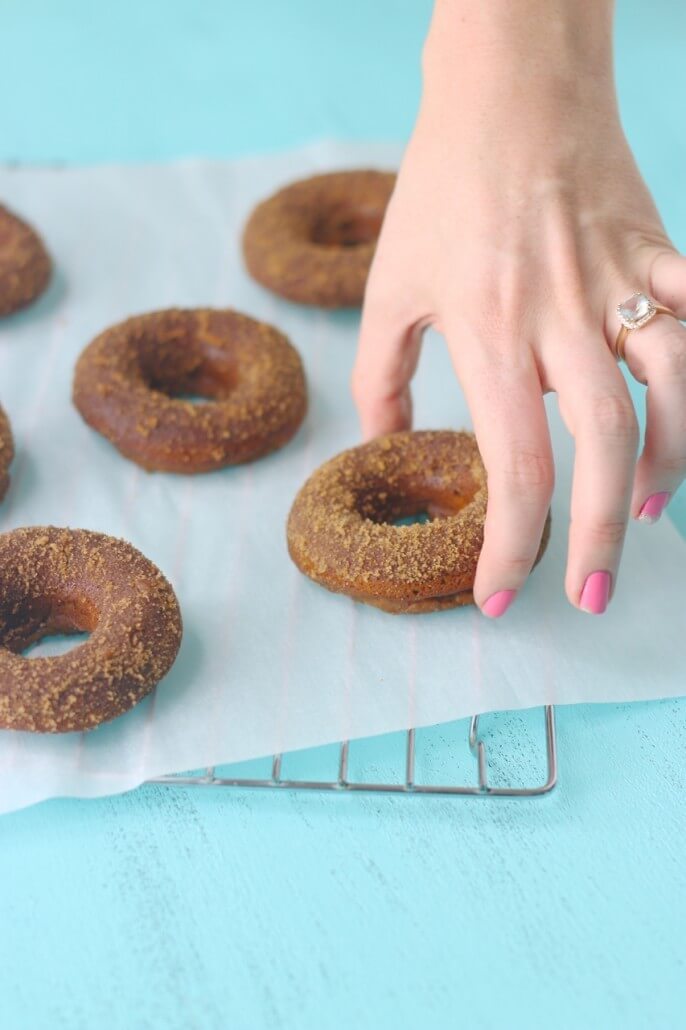 Speaking of making these, the batter is really thick. So thick that you're probably going to have a hard time getting it into your donut pan without making a total mess.
So I suggest using a large ziploc bag and cutting off the bottom corner to use as a "piping bag" to fill your donut pan with the batter. Also, make sure you spray your pan very well with nonstick spray to make sure you can easily pop the donuts out when they're done baking.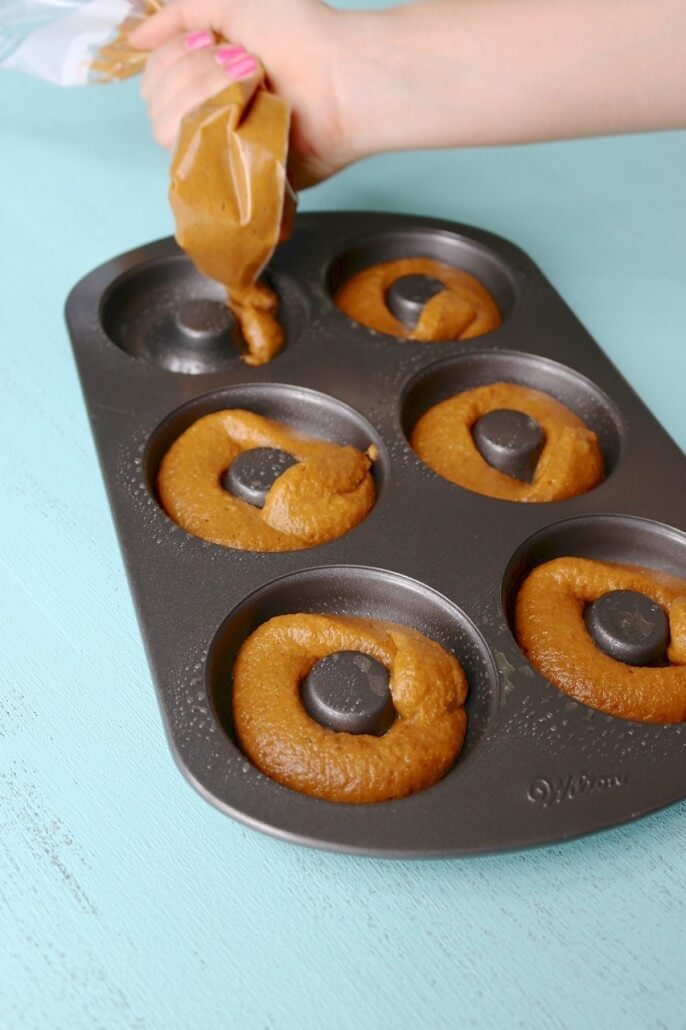 Enjoy!
PS – If you're looking for even more healthy fall recipes, check this post out at 131 Method where we share more of our favorite healthy fall tips!
---
Baked Pumpkin Spice Donuts
An easy, gluten-free pumpkin donut recipe that's baked, not fried!
Serves: 6
Prep Time: 5 min | Cook Time: 15 min | Total Time: 20 min
Ingredients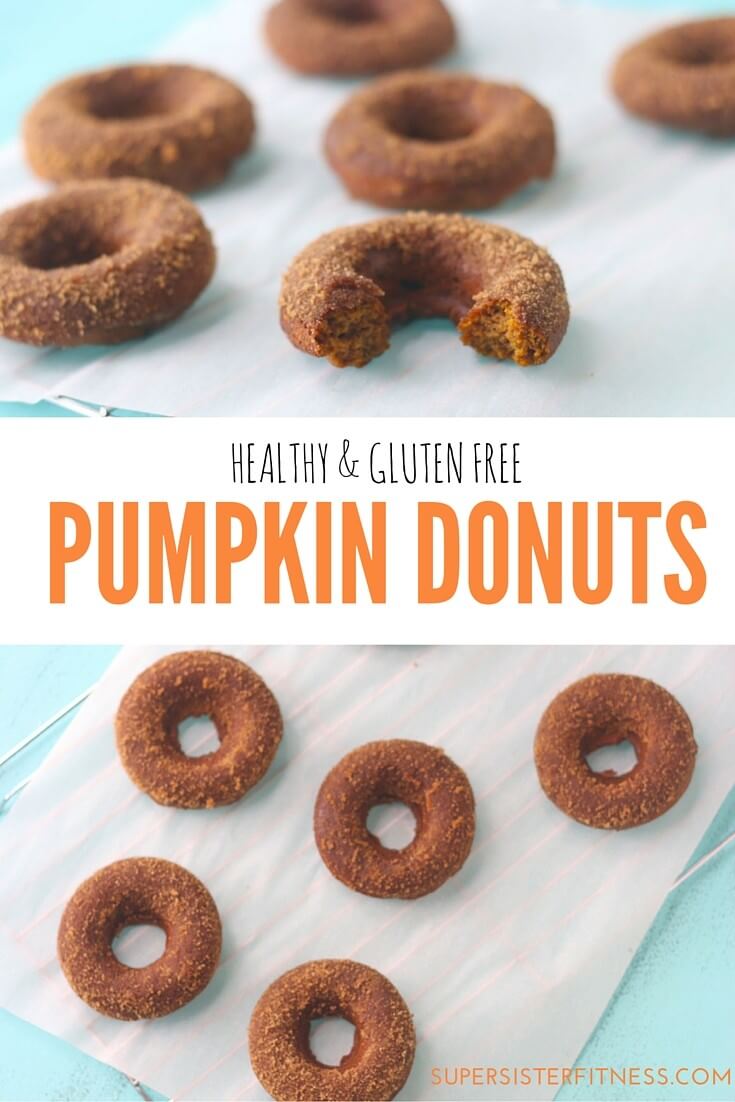 1 cup pumpkin puree (not pumpkin pie filling)
2 tbs coconut oil
1 large egg
1/2 teaspoon vanilla extract
1 tsp pumpkin spice
3/4 teaspoon cinnamon
1/4 teaspoon baking powder
1 teaspoon baking soda
1/4 teaspoon salt
1 cup oat flour (blend regular oats and measure after)
1/3 cup lightly packed brown sugar
For the cinnamon sugar topping:
1/4 cup butter
1/4 cup coconut or cane sugar
1 tsp cinnamon
Instructions
Preheat the oven to 350 degrees. Spray a donut pan very well with nonstick spray.
In a large bowl, stir together the pumpkin, coconut oil (measured when completely melted), large egg, and vanilla extract until completely combined.
Add in the baking soda, cinnamon, baking powder, salt, and pumpkin pie spice (we get this at Trader Joe's in the baking section). Stir until completely combined. If you really like spice, you can add a little more pumpkin spice.
Stir in the brown sugar and oat flour (blend regular old fashioned oats or quick oats in a blender or food processor until they resemble flour. Measure AFTER blending, not before).
Place thick batter in a large ziploc bag. Seal the bag well and cut the tip off of one bottom corner.
Pipe the batter into your prepared pan and bake for 12-15 minutes or until a toothpick comes out clean.
Once donuts are baked, remove from the oven and melt butter. In a small bowl, combine sugar with cinnamon.
Dip donuts in the butter and quick roll into your cinnamon sugar mixture. Set aside and let cool.
[yumprint-recipe id='64']xoxo,
Sara
P.S. Registration for our free 30 Day Lean Halloween Fitness challenge is now open. Sign up here for 30 days of free workouts, healthy fall recipes, support, prizes, fun & more.
https://supersisterfitness.com/wp-content/uploads/2015/09/baked-pumpkin-donuts.jpg
1102
735
Liz
https://supersisterfitness.com/wp-content/uploads/2017/09/SSF-logo-plain-pink.png
Liz
2015-09-24 14:32:19
2019-09-21 16:41:52
Pumpkin Spice Donuts | Baked Pumpkin Donuts