Healthy Pancakes From Scratch?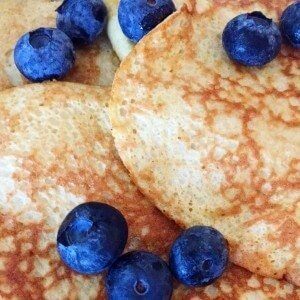 No easy-squeeze. No Bisquick mix. Just two ingredients, and they're both ULTRA healthy.
Sound too good to be true?
Well have a seat. You're about to be blown away by this super simple healthy recipe, which uses just 2 ingredients — eggs & banana.
Shocker? Yes. Delicious? DOUBLE YES.
Healthy Pancake Recipe
Who would've ever guessed these two all-natural whole foods could bind together in holy matrimony to birth one of the most beautiful, delicious, healthy pancake babies ever?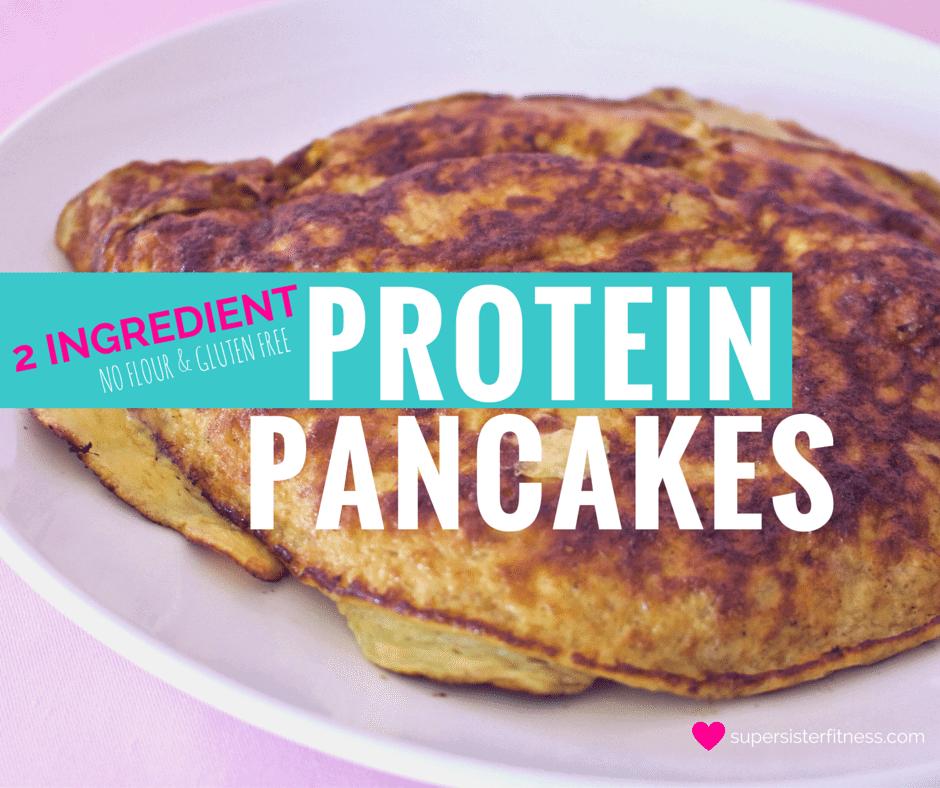 Whoever originally came up with this healthy pancake recipe idea is a complete genius. No, we can't take full credit.
This recipe has been creepin' around the internet now for a few months, so we decided to help spread the word even further by bringing our own version to the SSF community.
If you're looking for a simple, fast, filling & easy breakfast idea — this protein pancakes recipe is for you.
---
Want even more easy, healthy recipes that use ONLY Real Food ingredients? Start your 7-Day Real Food Reset today and get 7 days of fully planned Real Food menus, designed to help:
Kickstart your fat-burning metabolism
Cut bloating & drop inches fast
Detox your body naturally to accelerate your results
---
So who's already going bananas for these banana-rama pancakes?!
Why are bananas so good for us? Well, here are 3 Health Benefits of Eating Bananas:
Bananas contain potassium, about 422mg per medium Banana, which plays a major role in the body to help maintain cell integrity, fluid & electrolyte balance, and a steady heartbeat. In fact, studies have shown that potassium rich foods help lower blood pressure! A drop in potassium levels can make you weak & tired, and often causes muscle cramps.
Bananas contain fructoogliosaccharides, a prebiotic which is the food probiotics (good bacteria) eat. These beneficial bacteria produce vitamins and digestive enzymes that improve the body's ability to absorb nutrients, plus compounds that protect us against unfriendly microorganisms. This is one of the reasons why bananas are a great choice for upset stomachs!
Bananas contain 3-4 grams of fiber, vitamin B6, vitamin C, manganese, and only about 100 calories per medium banana. (Source: The 150 Healthiest Foods on Earth, Jonny Bowden, PhD, CNS)
And how about eggs? Feast your eyes on these 3 Health Benefits of Eating Eggs:
Choline, found in egg yolks, actually helps prevent accumulation of cholesterol & fat in the liver.
Eggs contain lutein and zeaxanthin, nutrients that are great for eye health!
The high sulfur content of eggs promotes healthy hair and nails. 💅
Eggs are a higher quality protein source than most other proteins, and we love eating the whole darn thing (although we've also been known to nom on a big ol' egg white omelette on occasion too).
Last but not least…
Try to always buy your eggs from local farmer's markets and help support local agriculture! They're much better for you, for the animals and for the environment.
---
2 Ingredient Protein Pancakes
A delicious, easy alternative to flour-based pancakes that uses just 2 ingredients – eggs and banana.
Serves: 1
Yields: 4
Prep Time: 5 min | Cook Time: 5 min | Total Time: 10 min
Ingredients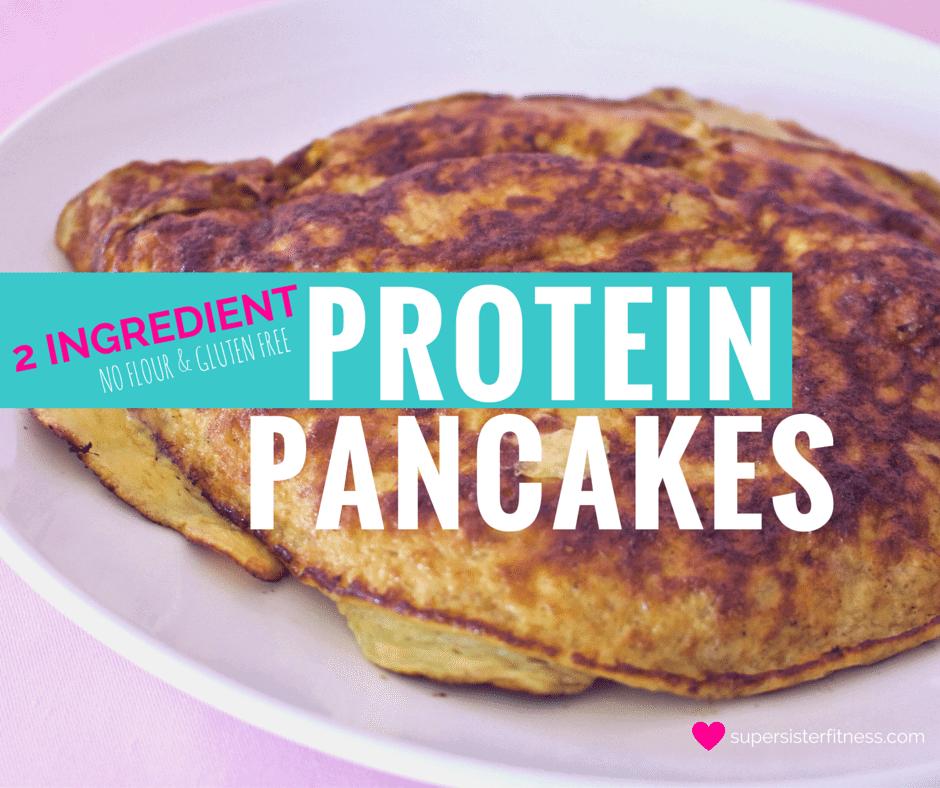 Instructions
Preheat a large pan on medium-low heat and lightly coat it with coconut oil cooking spray once hot.
In a small bowl, combine eggs and banana and mix well. We suggest using an immersion blender for this to really get a smooth "batter," but if you don't have one, you can also use a fork to mash the banana first, then whisk it all together.
Pour your batter on the pan making approx. 4″ pancakes and wait until the edges look done, then flip to do the other side.
Optional: Top with blueberries, strawberries, unsweetened coconut flakes, nuts, or whatever else you'd like then drizzle with light syrup or honey.
[yumprint-recipe id='89']
https://supersisterfitness.com/wp-content/uploads/2016/02/2-INGREDIENTPROTEINPANCAKES.png
788
940
Liz
https://supersisterfitness.com/wp-content/uploads/2017/09/SSF-logo-plain-pink.png
Liz
2016-02-17 09:55:48
2016-09-22 11:56:52
This Healthy Pancake Recipe Uses Just 2 Ingredients! Healthy Pancakes From Scratch