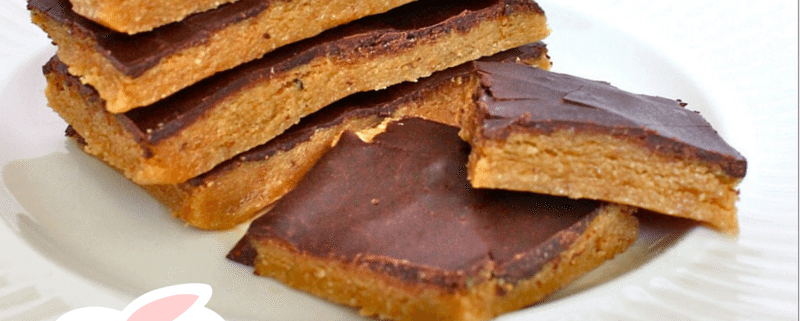 Growing up, we adored Easter. Our love for the holiday didn't stem from tradition but rather from the burning desire to eat candy for breakfast.
We couldn't wait to hunt for Easter eggs and open each one up to find more and more candy, but the best part was scouring through baskets full of every kind of sugar and chocolate from Peeps to peanut butter eggs to big chocolate bunnies.
Needless to say, we were in candy overload and though our parents tried to minimize our sugar consumption, our sweet tooths got the best of us every time.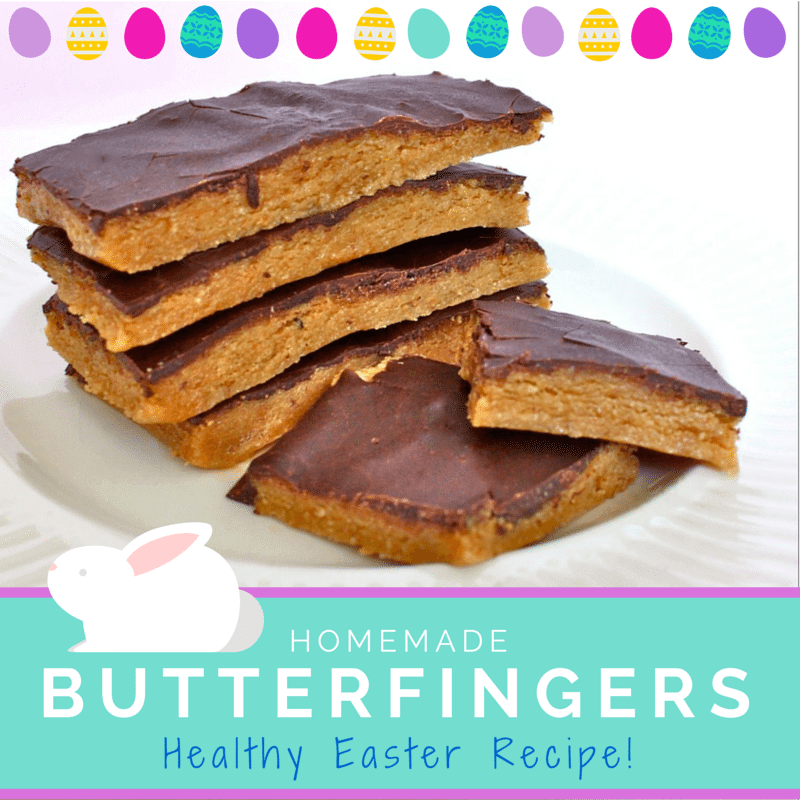 That's where we got the inspiration for this recipe. One of our favorite candy bars was Butterfingers growing up; we used to watch The Simpsons all the time so it was even better that the old commercials for Butterfingers featured Bart Simpson front and center.
This may be reaching too far back for some of you, but we bring this up to illustrate how powerful advertising sugary foods to children is. Those ads always make eating sugar look so fun!
What they neglect to tell you though, is how terrible you'll feel afterwards. Though we don't have a commercial ad for our version, you're much better off feeding your kids (or yourself) our homemade recipe this year!
Full of more natural ingredients with an added boost of protein, instead of heading to the store to stock up on packaged Easter candy this year, try this version instead.
Though not as flaky as packaged Butterfingers, they'll still satisfy your sweet tooth without the added guilt. Enjoy!
Homemade Butterfingers
Makes 10 servings
For the Butterfinger layer:
1/3 cup pure maple syrup
2 tbs honey
1/2 cup peanut butter (or 1/2 cup reconstituted peanut flour or PB2)
1/4 cup vanilla whey protein powder
1/2 tsp salt
2 tbs wheat germ (we used Bob's Red Mill -feel free to substitute with oat bran or bran flakes)
For the chocolate layer:
1 oz unsweetened chocolate
1 tsp coconut oil
2 packets stevia
Line a baking sheet with parchment paper and set aside. In a small saucepan, heat maple syrup and honey over medium heat until boiling (be sure to constantly stir while the mixture is heating). Remove from heat and quickly add your peanut butter, whey, wheat germ and salt. Stir until mixture is well combined, then pour over your parchment paper. Spread mixture out into a rectangular shape with a spoon, and set aside. In another small saucepan, heat the chocolate and coconut oil until melted. Add the stevia then pour chocolate over your butterfinger layer. Spread and smooth the chocolate out with the back of a spoon. Place in freezer for at least 2 hours or until hardened. Remove and cut into 10 bars. Best kept in freezer. Enjoy!
Servings: 10
Calories (per serving): 150 / 100 (peanut flour version)
Fat: 8 g / 1.5 g
Carbs: 16 g / 13 g
Fiber: 1.6 g / 1.4 g
Protein: 7 g / 6 g
https://supersisterfitness.com/wp-content/uploads/2013/03/BUTTERFINGERS.png
800
800
Liz
https://supersisterfitness.com/wp-content/uploads/2017/09/SSF-logo-plain-pink.png
Liz
2013-03-25 06:04:50
2015-03-31 14:57:50
Healthy Homemade Butterfinger Recipe