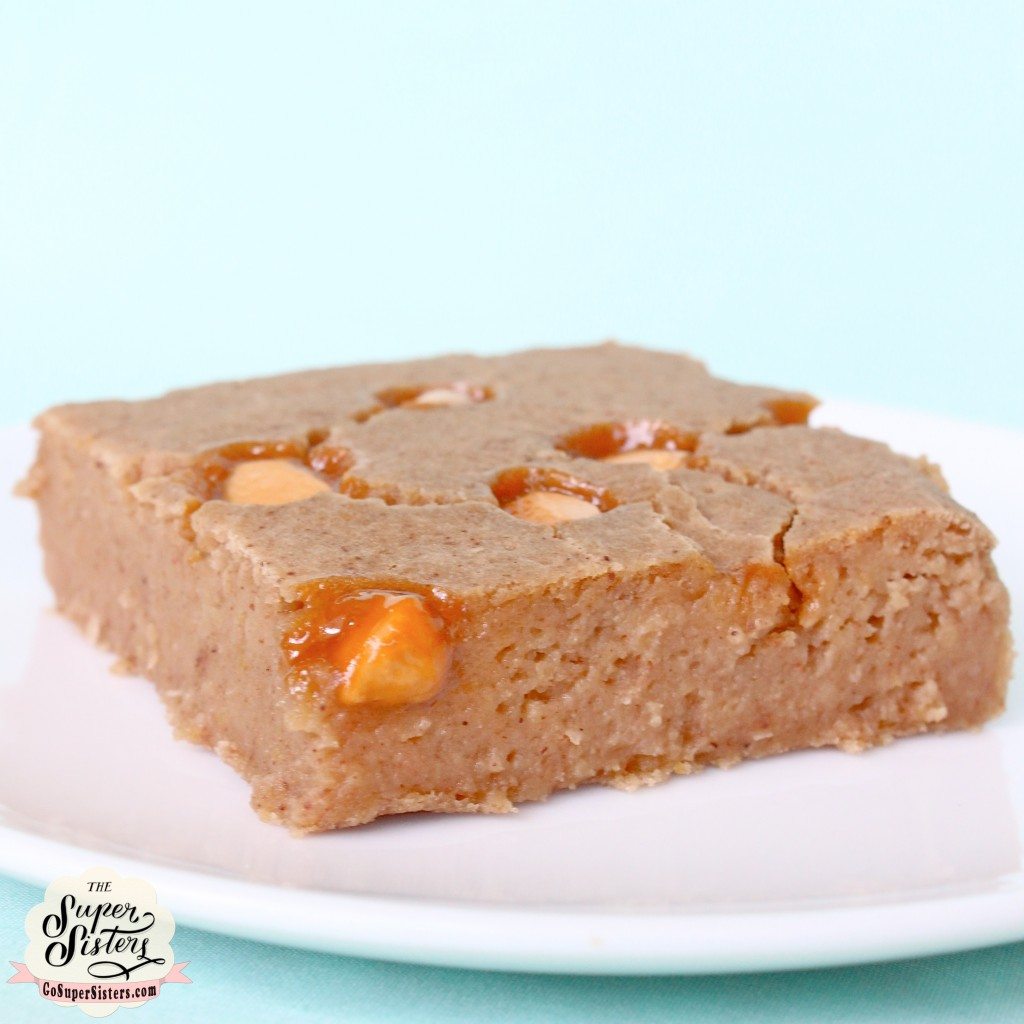 What more can we say about these besides the fact they are absolutely delicious? Let's start with the inspiration behind them…
A long time ago, we got into a phase where we couldn't stop eating butterscotch candies. We would use Sugar-Free Werther's as a way to satisfy our sweet tooth cravings, but the problem was that instead of just the intended "single candy," we'd end up eating handfuls at a time. Plus, our friends would make fun of us for eating the grandma candies anyway, so we just ditched them altogether.
Recently, we decided to add a little modern twist to the old school butterscotch treat because (though we won't admit it to our friends who already make fun of us for being in bed by 9pm every night) we still have that butterscotch-craving granny tucked away inside us.
We've made blondies with beans before but we could always kind of taste the beans (ew). After a few tweaks, these Butterscotch Blondies could just about fool anyone and we promise there will is no "beany" aftertaste.
Let's be honest – no one wants to eat a dessert that tastes like beans. And let's be real, granny candy or not, anything butterscotch tastes amazing. Enjoy!
Butterscotch Blondies
Makes 9 servings
1 (15 oz) can garbanzo beans, drained and rinsed
3 tbs nut butter (we used almond butter)
2 egg whites
1/3 cup oat flour
1/3 cup baking stevia (we use Truvia)
1/2 cup unsweetened almond milk
3/4 tsp instant coffee granules
3/4 tsp vanilla
1/4 tsp cinnamon
1/2 tsp salt
1 1/4 tsp baking powder
2 tbs butterscotch chips
Preheat oven to 325 degrees and spray a 9 x 9 pan with nonstick spray. Place beans, nut butter, egg whites and almond milk in a food processor or high powered blender and mix until smooth. Add all other ingredients except the butterscotch chips and blend until thoroughly combined. Pour batter into prepared pan and top with butterscotch chips. Bake for 45-50 minutes or until a toothpick comes out clean. Let cool before cutting in 9 pieces, and store in refrigerator. Enjoy!
Servings: 9
Calories: 120
Fat: 4.8 g
Carbs: 15 g
Fiber: 3 g
Protein: 4.5 g
https://supersisterfitness.com/wp-content/uploads/2013/11/blondie-bars-1024x1024.jpg
1024
1024
Liz
https://supersisterfitness.com/wp-content/uploads/2017/09/SSF-logo-plain-pink.png
Liz
2013-05-30 09:01:13
2014-02-12 12:45:39
Butterscotch Blondies