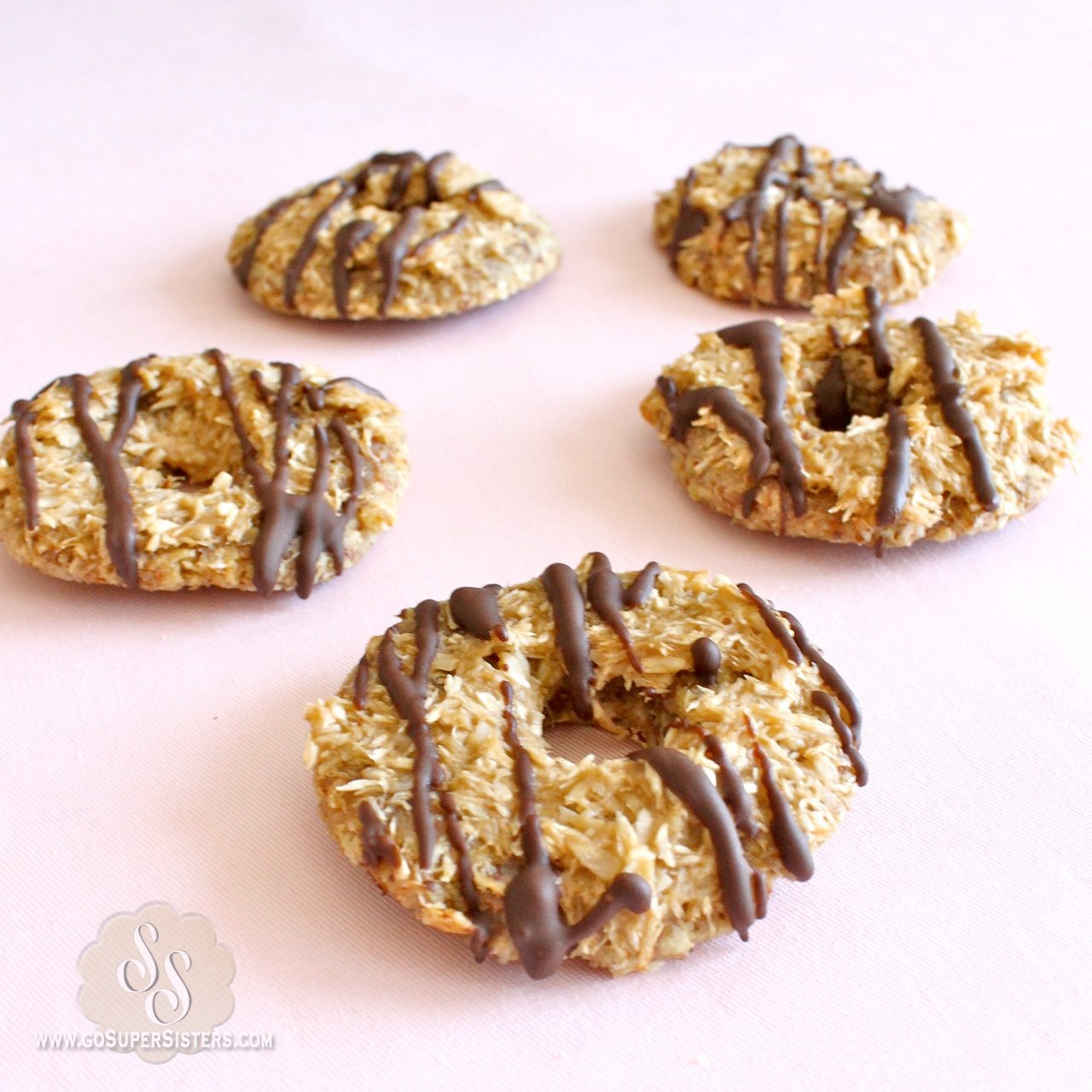 We don't know about you, but we've been seeing girl scout cookies pop up at what feels like every corner.
Our coworkers bring them to work, our friends have them at home, and our family is trying hard to resist.
What is it about these little cookies that are so irresistible?!
Growing up, we were both girl scouts so of course we'd have boxes of every flavor lying around.
These samoas were always the first ones to go; we'd usually have the whole box eaten in a matter of a day or two.
Little did we know (or care) that these cookies are loaded with multiple kinds of sugars, trans fats, and artificial ingredients! Yuck!
Now, enter our healthy girl scout cookies!
Our recipe has no artificial ingredients, no flour (yay for gluten-free), and no added sugar.
We use only all-natural, good-for-you ingredients so you can enjoy them completely guilt-free and know you're giving your body (and your family) the best nutrition possible in the shape of this classic little cookie.
If you like this recipe and want to receive more delivered right to your inbox, just tell us where to send it!
[gravityform id="1″ name="START THE 10-DAY FITNESS CHALLENGE" title="false" description="false"]
Healthy Samoas
For the cookie
1 cup almond meal
2 tbs mashed banana
1 tbs unsweetened applesauce
1 tbs coconut oil
1 egg yolk
1/4 cup unsweetened shredded coconut (we used Let's Do Organic which is also reduced fat)
4 packets stevia
1 tsp vanilla
pinch of salt
For the coconut caramel
1/4 cup unsweetened almond (or coconut) milk
1 tbs baking stevia (we used Truvia) OR 1-2 packets of stevia
1 tsp maple extract
3/4 tsp cornstartch
1/3 cup unsweetened shredded coconut
For the chocolate drizzle
1 full sqaure (2 0z) semi-sweet Baker's chocolate
1/2 tbs coconut oil
In a medium bowl, combine all ingredients and mix well until a thick dough forms. Refrigerate for 30 minutes. Preheat oven to 350 degrees and line baking sheet with parchment paper. Take dough out of the fridge, lightly wet your hands and roll dough into 1 inch balls, then flatten between your palms. Take a piping tip to cut the center out of each cookie, and place on your cookie sheet. Bake for 12-15 minutes or until golden. In a small saucepan, heat the almond milk, truvia, maple extract and cornstarch (it helps to mix the cornstarch with a little water to make a paste before to reduce clumps). Cook on medium heat until a thick "caramel" forms. Remove from heat and add 1/3 c unsweetened coconut. Spread this mixture over each cookie. For the chocolate topping, in a small saucepan melt chocolate with the coconut oil until smooth. Drizzle over cookies. Place cookies in freezer for at least 1 hour before eating. Best kept frozen. Enjoy!
Servings: 12
Calories: 90
Fat: 8 g
Carbs: 3 g
Fiber: 1.5 g
Protein: 3 g
WW Points +: 3 pts
https://supersisterfitness.com/wp-content/uploads/2013/03/samoas.jpg
1280
1280
Liz
https://supersisterfitness.com/wp-content/uploads/2017/09/SSF-logo-plain-pink.png
Liz
2013-03-14 08:45:40
2015-02-05 11:58:22
Healthy Girl Scout Cookies ~ Samoas!