The World's Easiest Healthy Dessert
Okay… I've been kinda holding out on the best recipe ever.
Last year when my boyfriend, Alex, moved in we went into a full blown cook at-home routine. Every night after eating a healthy plant based dinner, I was left wanting something sweet but didn't want to go crazy baking. Plus, I always wanted to do something sweet for Alex because he grew up with home cookin' and lots of baked goods around.
Side note: I have a massive sweet tooth and I used to struggle with binge eating until I learned how to overcome my disordered eating. More on that later if you guys are interested in how I overcame a 3 year struggle with food. Leave a comment below if you want to hear more 🙂
So, I got creative in the kitchen and came up with this easy healthy dessert with only 5 ingredients – Almond Butter Cookies!
Seriously, it's so easy I bet you could teach a 2 year old to do it (just don't let them do the whole hot oven thing 😉 ).
Liz and my mom are #obsessed with this cooke recipe, and they always ask me for the recipe so here you guys go! Completely flour-free, these cookies are great for anyone who can't eat gluten.
---
Benefits of Almond Butter
Now I know you're already excited about this healthy dessert recipe, but I always love sharing the benefits of eating whole, natural, unprocessed foods.
Among nuts, almonds are the most nutritionally dense. That means for every calorie you eat of almond butter, you receive more vitamins & minerals than any other nut.
Here are a few more benefits of almond butter:
1 tablespoon of almond butter contains 25% of your daily requirement of Vitamin E, which protects your body from oxidative damage.
Almond butter contains both calcium and copper, which play a role in brain cell communication and keep your nervous system functional. Calcium also helps increase bone density and aids in muscle function.
Almonds help reduce the amount of "bad" (LDL) cholesterol in your body as well as help to control blood pressure.
1 tablespoon of almond butter contains as much protein as you get from the same quantity of meat.
Almond butter contains over 10% of your daily require of Magnesium, which contributes to the function of your nervous system, facilitates muscle contraction, makes up a component of healthy bone tissue and helps support your metabolism.
xoxo,
Sara
P.S. If you thought that naughty treats like cookies and brownies were out of bounds when "dieting" … think again.
---
Almond Butter Cookes
An easy, healthy dessert recipe. These gluten- & grain-free almond butter cookies are the perfect treat to end your day and completely family friendly.
Yields: 12
Prep Time: 2 min | Cook Time: 10 min | Total Time: 12 min
Ingredients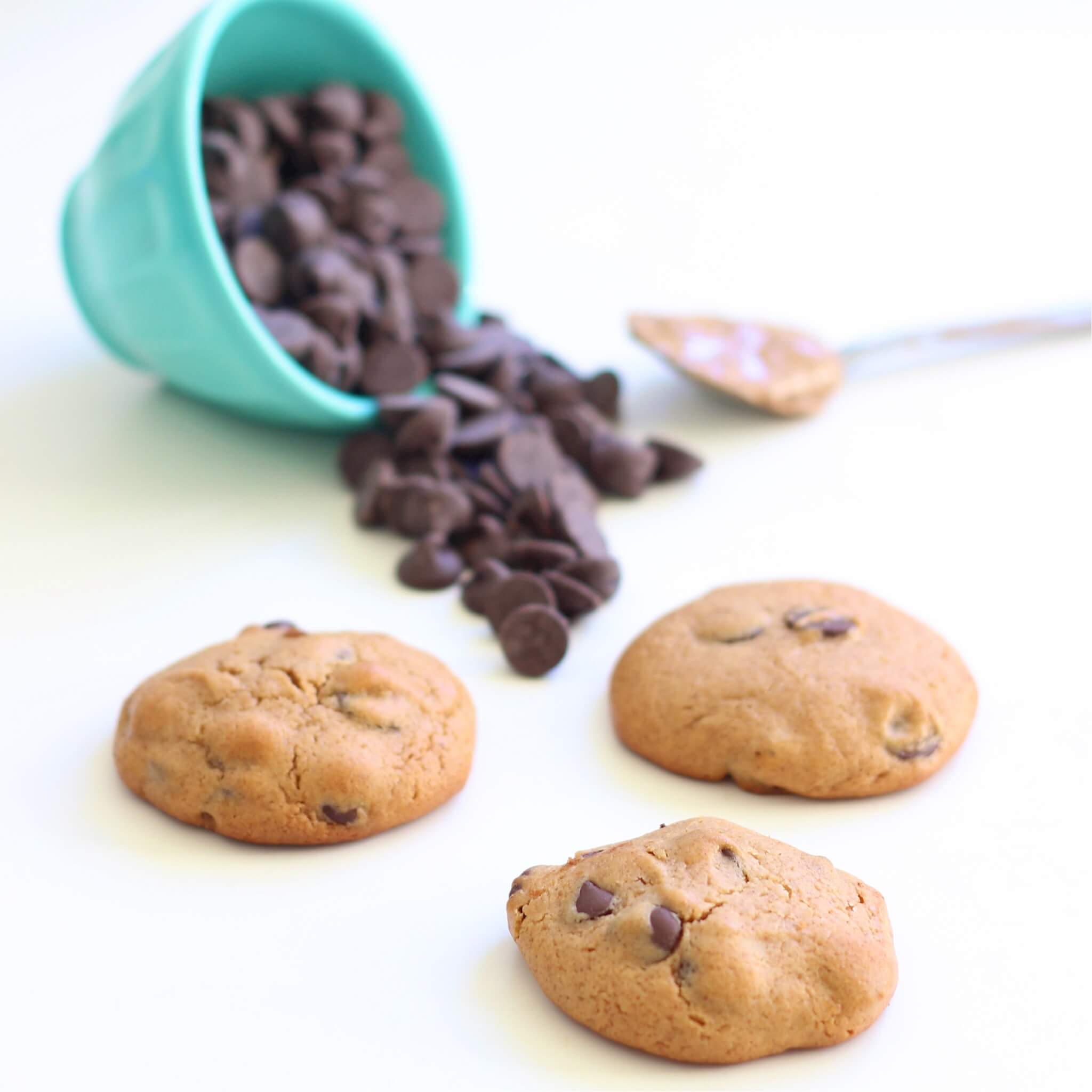 1 cup natural almond butter
1/4 cup coconut sugar
1 egg
1 tsp baking powder
1 tsp vanilla extract
dash of sea salt
1/4 cup dark chocolate chips
Instructions
Preheat oven to 350 degrees and line a baking sheet with parchment paper.
In a mixing bowl, combine baking powder, sea salt, coconut sugar.
Add almond butter, egg, and vanilla extract, and mix until smooth.
Fold in chocolate chips.
Using a tablespoon or a cookie dough scoop, drop cookie dough onto your prepared pan.
Bake for 10-12 minutes or until golden. Enjoy!
[yumprint-recipe id='62']
https://supersisterfitness.com/wp-content/uploads/2015/07/chocolatechipcookies.jpg
2048
2048
Liz
https://supersisterfitness.com/wp-content/uploads/2017/09/SSF-logo-plain-pink.png
Liz
2015-07-06 16:10:36
2016-09-25 06:16:55
Almond Butter Cookie Recipe | Easy Healthy Dessert