This post is sponsored by Mighties Kiwi. All text and opinions are my own. 
The Green Goddess Smoothie Bowl
I've been asked a lot lately what the best natural preworkout snack or meal would be, so today I'm sharing a simple favorite of mine! This is one of my go-to recipes when it comes to optimal nutrition, hydration and energy!
With only a few simple all-natural ingredients, this recipe will leave your skin glowing, your tummy full (but not too full) and your body energized and ready to rock your workout.
With delicious nutrient-packed simple carbs and healthy fats to satiate your appetite, if you're ready for an endurance workout, this smoothie bowl is for you.
Today's recipe uses a couple of base ingredients and I've outlined their amazing nutritional benefits for you below!
---
1/2 Frozen Banana
One of the best bases for healthy all-natural smoothies is using 1/2 a frozen banana! This means you won't have to add ice since the frozen banana chills the smoothie and gives it an incredible creamy thickness all on its own.
Bananas are a great preworkout snack because they're loaded with potassium. They are also packed with tons of other nutrients and some fiber, so they're great for digestion! Since bananas are primarily composed of water and carbohydrates, they'll help add an extra energy boost to your workout too.
1-2 Mighties Kiwis
I use Mighties because they're the #1 kiwi brand and always come ripe and ready to eat. They can be a great option on their own (just cut in half and dig in with a spoon!) or thrown into salads, smoothies or as a topper.
These kiwis have more potassium per serving than a banana and more vitamins E & K than an avocado. Not sure where to get your Mighties? You can find them using their local storefinder here.
1-2 cups Liquid – Unsweetened nut milks OR water
Obviously we need a liquid to mix all these delicious ingredients together, but just in case you're not aware, here are some of the benefits of staying ultra hydrated with unsweetened nut milks or just regular ol' water.
Lots of people aren't getting enough healthy fats in their diets, so using unsweetened nut milks instead is a great way to include some extra protein and fat to keep you feeling more satiated for longer. Just make sure you look for options that do not include artificial sweeteners of any kind, and avoid any brands that use the ingredient carageenan, a known carcinogen.
If you prefer a lower calorie option (around 50-80 calories per cup for most unsweetened nut milks), just stick with water.
Lots of Leafy Greens – Spinach, kale, arugula, mixed greens
I take any and all opportunities to add leafy greens to every single meal I can. Throwing them into a smoothie is one of the easiest ways to get that added nutritional boost. Today I used baby spinach, and I packed as much of it as I could into the blender!
Low in fat and even lower in cholesterol, spinach is high in niacin and zinc, as well as protein, fiber, vitamins A, C, E and K, thiamin, vitamin B6, folate, calcium, iron, magnesium, phosphorus, potassium, copper, and manganese. Toss as much as you can in to your smoothies, you won't even be able to taste it because the sweetness of the banana and kiwis will counterbalance it.
It's a great nutrition hack!
Optional – Squeeze of Lemon Juice
I love citrus fruits like lemon and lime because they're great natural detoxifiers that help your skin glow and your body stay in an alkaline state. Besides adding lemon to my water every day, I like to also put it in every recipe I can!
Lemon juice has relatively high levels vitamin C, vitamin B6, vitamin A, vitamin E, folate, niacin thiamin, riboflavin, pantothenic acid, copper, calcium, iron, magnesium, potassium, zinc, phosphorus and even some protein. Add it in if you like a tangy kick! I highly recommend it.
This finishes off your base ingredients, and once you're done blending it all up, feel free to add whatever toppings you like! Today I went with strawberries, blueberries, coconut flakes and hemp seeds. This would be a normal full breakfast for me, but if I were just looking for a preworkout on the go, I'd skip the toppings and just pop a straw into my blender cup!
Enjoy,
Liz
PS – For more delicious healthy kiwi-based recipes, check out the Mighties Instagram feed and follow for delicious healthy all natural preworkout recipes! #ad
---
Green Goddess Smoothie Bowl Recipe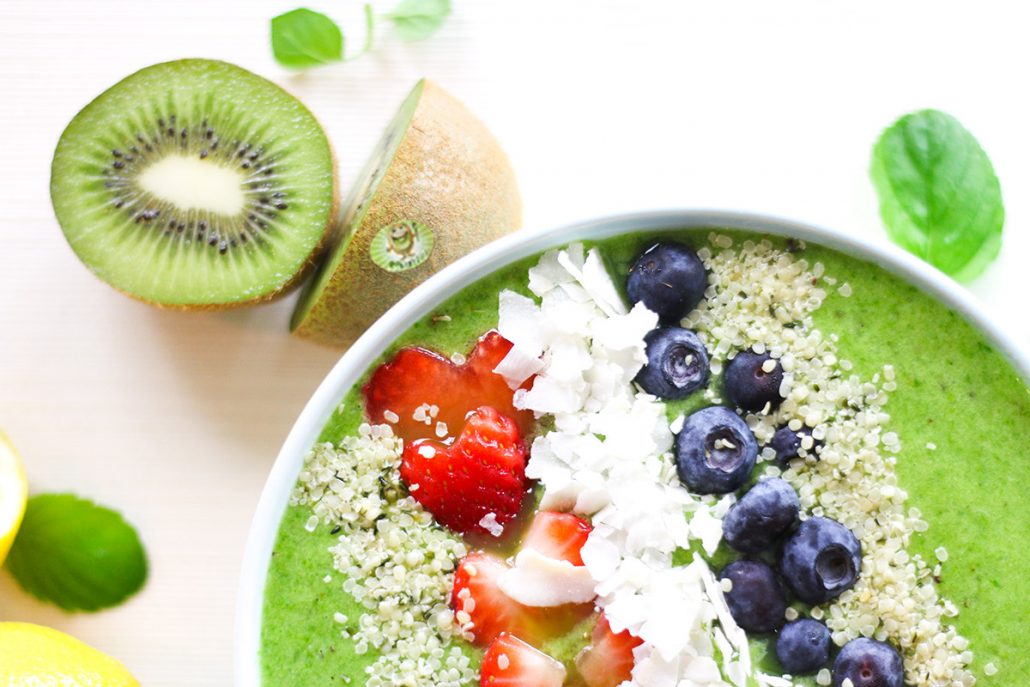 ---
Ingredients
1/2 frozen banana
1-2 Mighties kiwis
1-2 cups water or unsweetened nut milk
1-2 handfuls of leafy green of your choice (I used baby spinach)
1 squeeze lemon juice
Toppings – Try strawberries, blueberries, melon, mango, pineapple, coconut flakes, coconut shreds, hemp seeds, chia seeds, cacao nibs, etc!
Instructions
Mix everything together in a blender, adding the heavy ingredients first. Make sure you cover the ice and/or frozen banana with enough water to blend. Pour into a cup or bowl and top with your favorite healthy all natural toppings! Enjoy!
https://supersisterfitness.com/wp-content/uploads/2017/01/Green-Goddess-Smoothie-Bowl-Mighties-Kiwi.jpg
800
1200
Liz
https://supersisterfitness.com/wp-content/uploads/2017/09/SSF-logo-plain-pink.png
Liz
2017-01-11 10:00:22
2017-01-25 22:34:15
Green Goddess Smoothie Bowl | The Best Pre-Workout Snack!