This post is sponsored by Danskin Now. All text and opinions are my own.
Fitness Fashion on a Budget
A couple months ago, I shared a vlog on our YouTube channel sharing just a few of the ways I stay fashionable in the gym without breaking the bank. As a fitness instructor, I like to stay #FitForEverything but I go through fitness clothes like nobody's business! And over the last couple years, I've learned a few tricks for saving money on fitness clothes.
The feedback on that video haul was awesome, so today I'm going to dive deeper into one of the brands I have really come to love. Sara and I are big proponents of the money-saving mindset, and we're no strangers to shopping at more affordable stores like Walmart to find cute basics.
Whether you spend $5 or $50, good fashion is good fashion.
And recently I have stumbled upon a brand has been a total game changer in our fitness fashion.  If you haven't heard of them yet, Danskin Now is a HIDDEN GEM. Their clothes are ultra affordable and still look cute so you can emulate more expensive styles of clothing without putting a strain on your pocketbook.
Save your money, and no one will be the wiser because trust me — I've tried tons of fitness fashions over the years and I really can't even tell the difference here.
Let's run through just a few of the fall items I've gotten this season.
---
Leggings

Legs legs legs! As you know, when you work hard for long, lean legs, of course you want to show them off in comfy cute leggings. And now that fall is in full swing, leggings aren't just a fitness endeavor anymore. They're a full blown way of life.
These leggings are SO cute and comfy I seriously cannot. I've pretty much been wearing them every day, and believe it or not, I'm wearing them right now as I type these words. (lol) I got this style in 2 colors, a grey herringbone and black combo and also a brighter, more bold orange and light grey combo.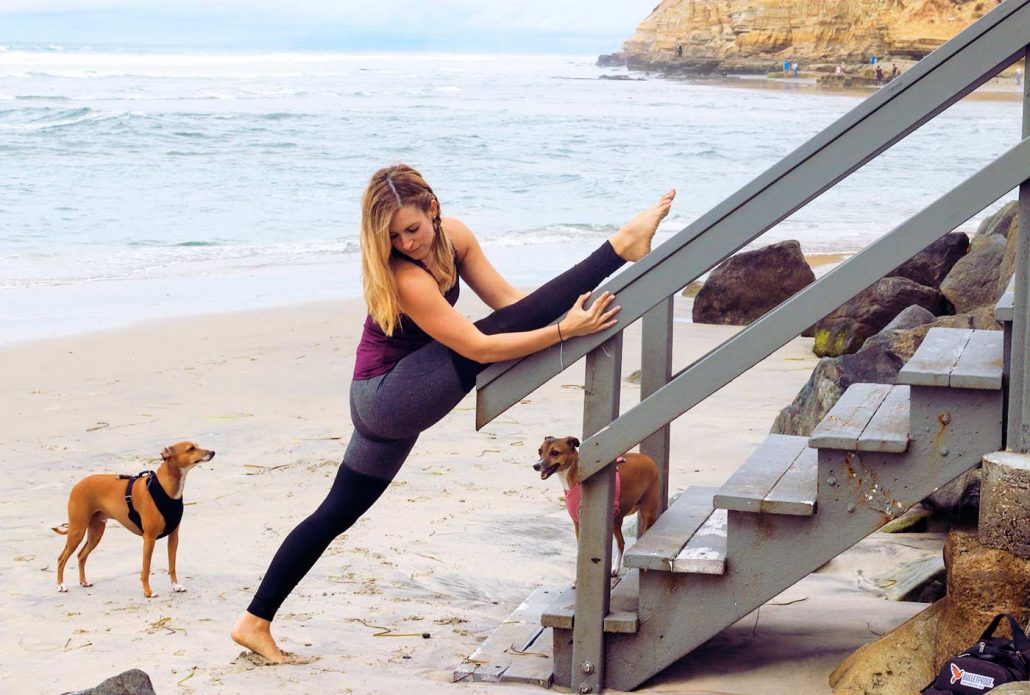 (I think my dogs like them too, can you tell?)
I like how the split leg colors add length and height to your legs, making them look longer and leaner. I've bought very similar pants to this in the past but spent over $100 on them, so these similar leggings are such a great deal.
Why get one pair when you can get like 6 for the same price? 🙂 Click here to shop Danskin leggings.
---
Tops & Graphic Tanks
For tops, this season I've been digging loose, comfy, soft workout tanks. I'm at the gym 5-6 days of the week, so being comfortable is a big priority for me, especially when I'm teaching.
Here are the two tops I got from Danskin this season! Let me know what you think! Would you wear these?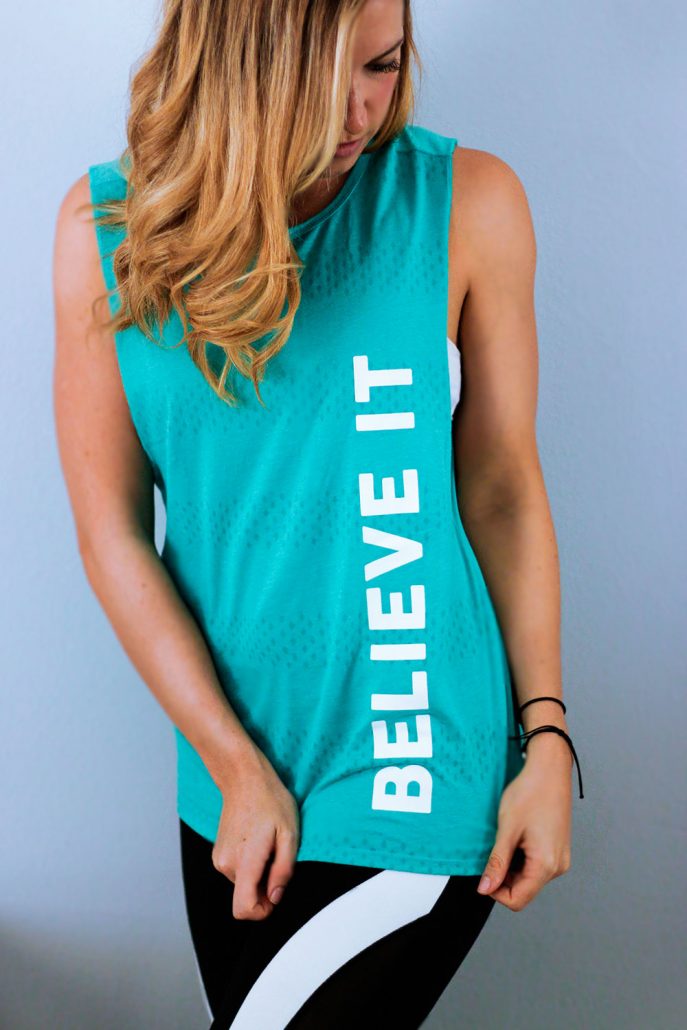 Turquoise "Believe It" tank — Click here to shop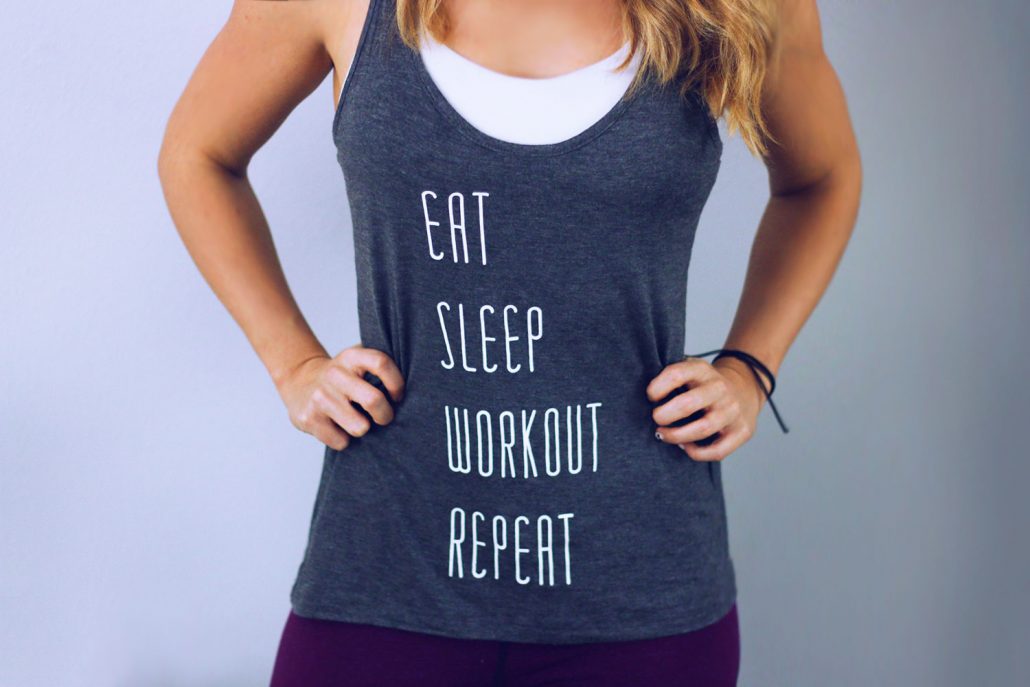 Grey "Eat Sleep Workout" tank — Click here to shop
This bottom one tells the story of my life!!
I am also digging the neutral grey tones right now. This top looks great with a burgundy legging or the grey & black herringbone leggings I mentioned above.
Plus for me, these shirts also double really nicely as casual athleisure tops for when I'm just home working or out grocery shopping or whatever. These would be a great gift idea for any fitness lover too, so keep that in mind as you start your holiday shopping!
I'd love to hear from you which look is your favorite! Comment below to share your opinions, or feel free to share your own "fitness fashion on a budget" tips with me today. I look forward to incorporating even more fun fitgirl fashion like this into the SSF community, so your feedback is important!
Talk soon ladies!
Liz
https://supersisterfitness.com/wp-content/uploads/2016/11/Liz-Danskin-workout-tank.jpg
1000
1500
Liz
https://supersisterfitness.com/wp-content/uploads/2017/09/SSF-logo-plain-pink.png
Liz
2016-11-22 10:36:33
2016-11-22 15:06:52
Fitness Fashion On A Budget