Thanksgiving is coming!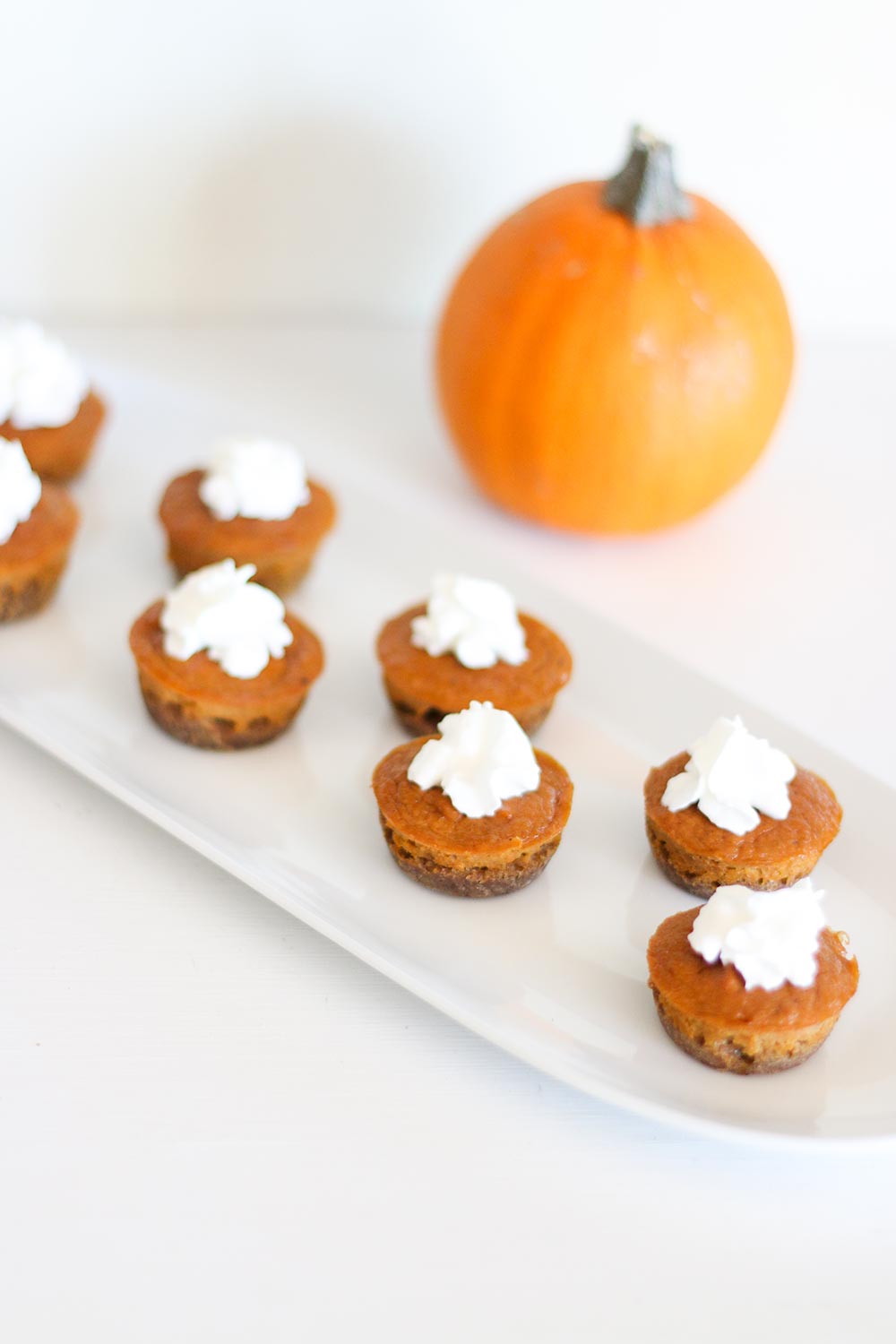 I hope you're sitting down. Because if not, this recipe is about to knock you right over.
Anyone who knows me knows I love the holidays, but I especially love Friendsgiving. It's like Thanksgiving… but with your friends. Perfect combo, anyone?
If you said yes, or even if you didn't, this recipe is daaaa bomb! And it's not just for Friendsgiving, it's the perfect dessert to bring to any Thanksgiving or holiday celebration because A) it has portion control built in, B) it's made with only healthy, nutrient-packed ingredients, and C) they're just so darned cute and no one can resist them!
I made these pumpkin pie bites with a little paleo twist this year because the Friendsgiving I went to included a bunch of people who work for Bulletproof coffee (which is bomb too if you've never had it before — try it). This group is typically full of quintessential healthy nutrition addicts, so you can rest assured it's ultra healthy.
Let's just say they gobbled them right up.
Okay, all puns aside, let's get into the nitty gritty deets on these Paleo Pumpkin Pie Bites. These are definitely going to be a staple in all of our holiday celebrations from now on.
Get all the recipe instructions below and don't forget to pin this so you can save it too!
Your friend,
Liz
---
Paleo Pumpkin Pie Bites
The perfect way to celebrate Thanksgiving, the healthy way!
Makes 24 | Prep Time: 5 mins | Bake Time: 20-25 mins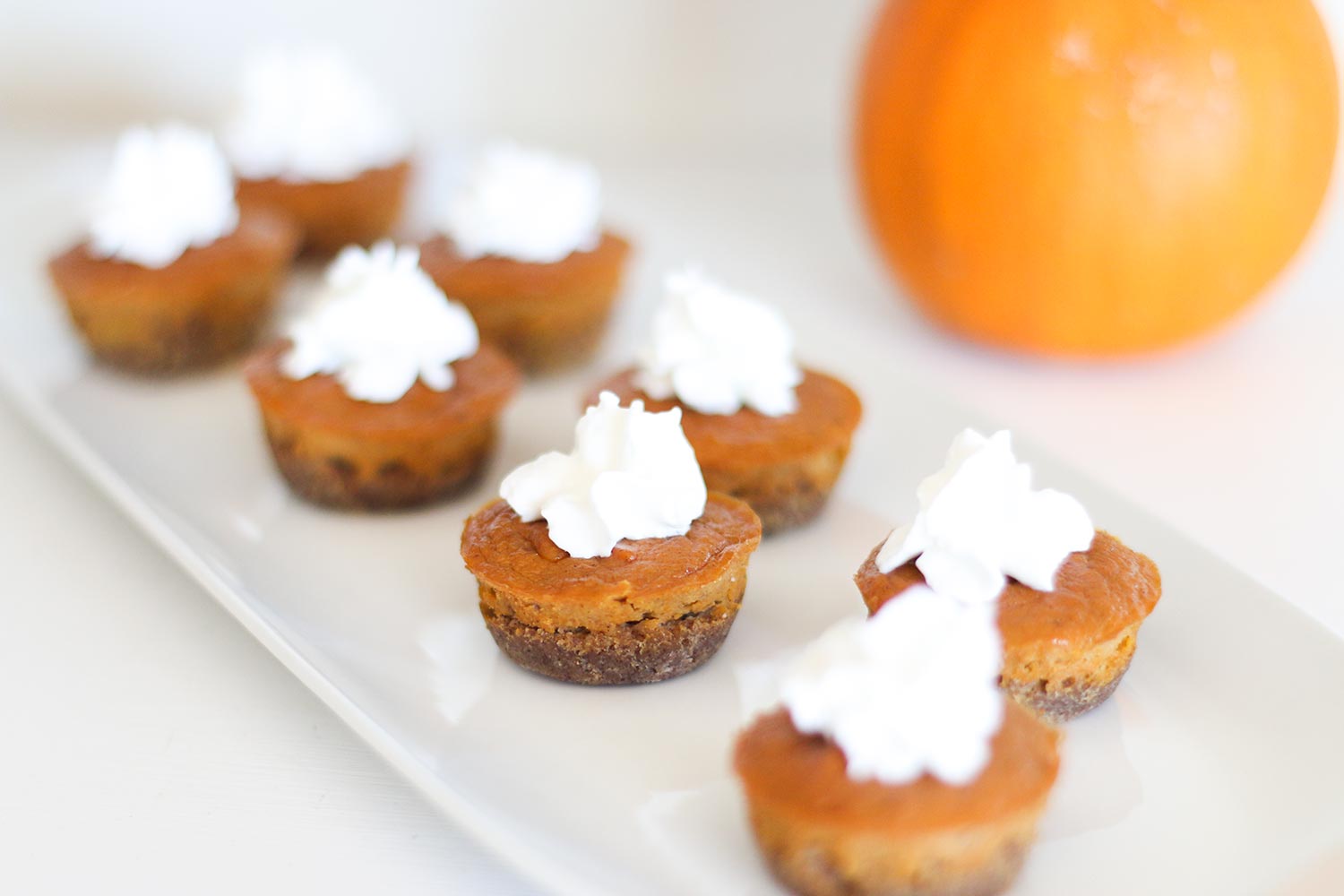 INGREDIENTS
Pie Crust
2 cups almond flour
1 tablespoon cinnamon
1/4 teaspoon ground nutmeg
1/4 teaspoon Himalayan sea salt
2 tablespoons Bulletproof brain octane oil (or sub coconut oil if you don't have that), room temperature
1 egg, lightly beaten
Pie Filling
1 cup canned pumpkin (not pie filling)
1/3 cup evaporated milk (if you prefer making your own substitute, you can use 1 can coconut milk & 1/4 cup honey here – see below for instructions and allow yourself an additional 30 mins prior to baking to prep***)
1/4 cup coconut sugar
2  eggs
1/2 tsp ground cinnamon
1/2 tsp pumpkin pie spice
INSTRUCTIONS
Preheat oven to 350 degrees and grease a mini muffin tin with oil, set aside. In a large bowl whisk together the dry ingredients. Add in the coconut oil and egg and work them into the mixture until a ball of dough forms.
Place 1/2 tablespoon of the dough mix into the bottom of each mini muffin cup and press it firmly into the bottom of each cup, making sure it's evenly distributed across the bottom. In a medium mixing bowl, whisk together the pumpkin, evaporated milk***, coconut sugar, eggs, cinnamon and pumpkin pie spice. Evenly distribute the filling among the mini muffin cups using a spoon or piping bag.
Bake for 20–25 minutes, or until a toothpick inserted into the filling comes out clean. Let pan cool for 5 mins before you carefully remove the pies from the pan to finish cooling on a wire rack. Wait about 10 mins until cooled completely, then top the pies with whipped cream and serve.
Enjoy!
*** OPTIONAL: If making an evaporated milk substitute, you'll need to bring 1 can of full fat coconut cream to a boil. Reduce to a slow simmer and add 1/4 cup raw honey. Simmer for 30 mins, stirring occasionally, until liquid is reduced to half.
---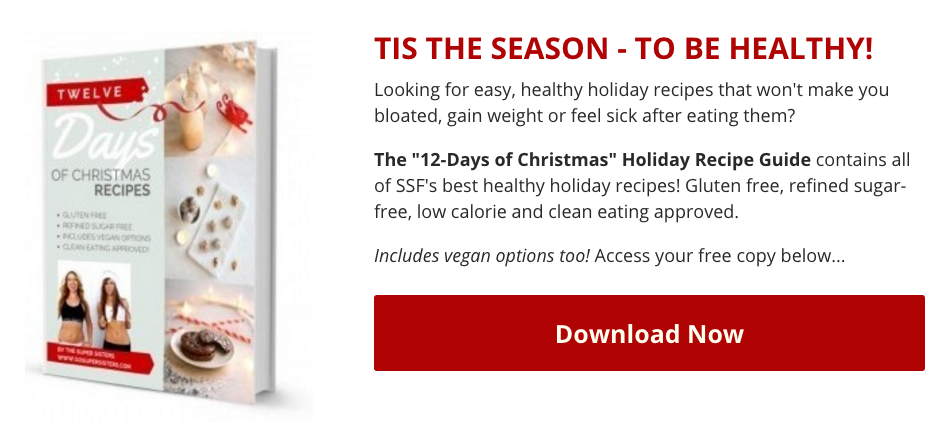 https://supersisterfitness.com/wp-content/uploads/2016/11/paleo-pumpkin-pie-bites.jpg
788
940
Liz
https://supersisterfitness.com/wp-content/uploads/2017/09/SSF-logo-plain-pink.png
Liz
2016-11-21 10:37:59
2016-11-21 10:47:13
Paleo Pumpkin Pie Bites