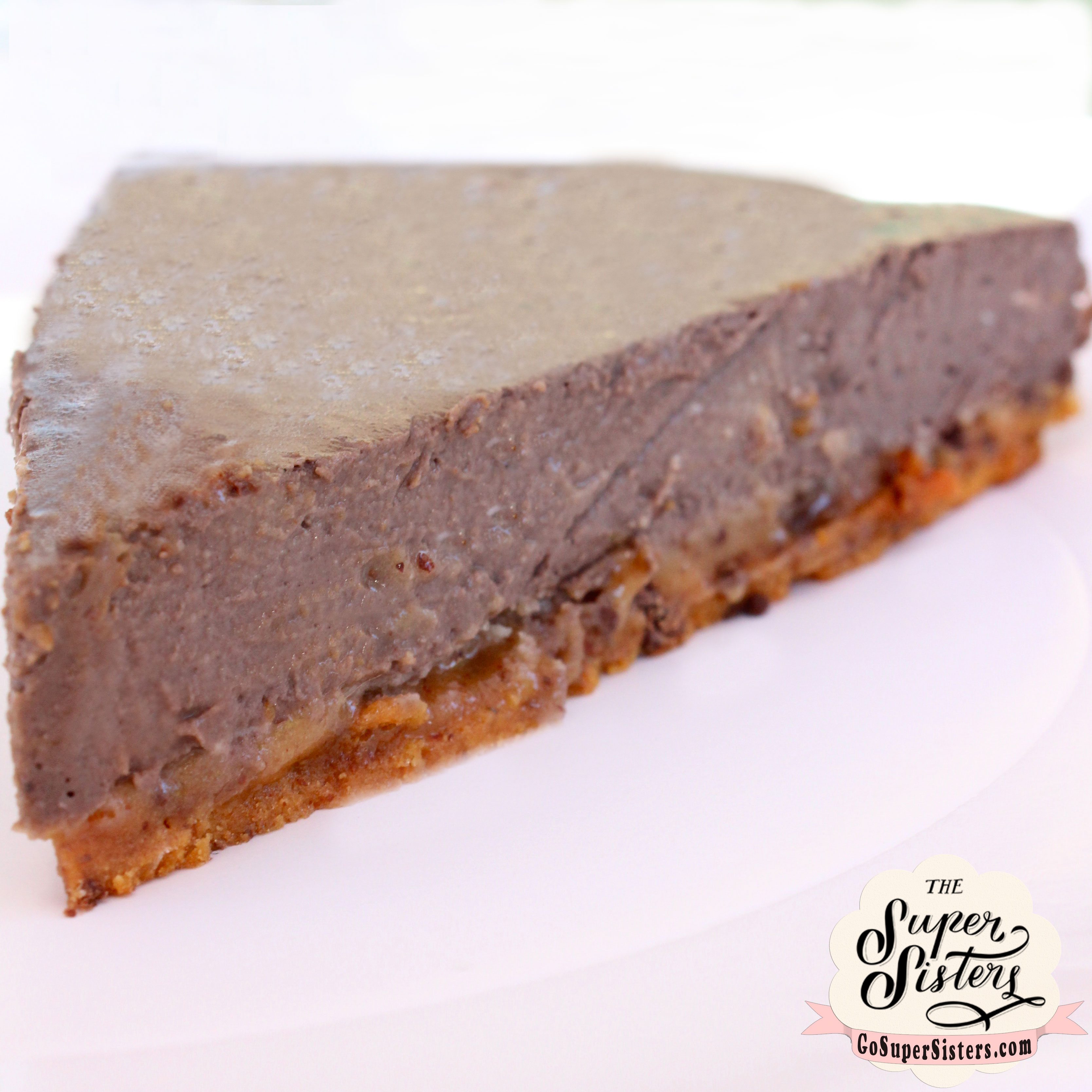 One of Sara's ultimate weaknesses is Chocolate Chip Cookie Dough. Growing up, she went ballistic over going to Dairy Queen to get their Chocolate Chip Cookie Dough Blizzard. Sadly, this was FULL of sugar and had her bouncing off the walls for hours afterward. Now that she's older, she's found a great replacement that doesn't make her hyper from sugar overload – Quest's Chocolate Chip Cookie Dough bars. If you haven't tried Quest bars yet, what are you waiting for?! They are the only protein bar we recommend to our clients and fans because they are high in protein and fiber, contain only a few ingredients, and they are absolutely delicious! Now, we definitely don't eat these on a daily basis, but we love to use them to create all sorts of fun recipes like this Chocolate Cheesecake with a Chocolate Cookie Dough Crust! Can you say YUM?! Enjoy this delicious treat complete without guilt and only 140 calories per slice with 18 gram of protein and 9 grams of fiber.
Chocolate Chocolate Chip Cookie Dough Cheesecake
Makes 8 servings
3 chocolate chip cookie dough quest bars
1 egg
1/2 cup greek yogurt
8 oz fat free cream cheese
1 cup unsweetened almond milk
1/2 cup protein powder (we used Trutein Chocolate)
1/2 cup baking stevia
1/4 cup cacao powder or unsweetened cocoa powder
1 tsp vanilla extract
Preheat oven to 300 degrees and spray a 8″ springform pan with nonstick spray. Using a rolling pin, roll out quest bars until 1/4″ thick. Press into the bottom of your prepared pan to form an even crust. In a medium bowl, beat egg well then add your yogurt, cream cheese, vanilla and mik, and beat until smooth. Add in all other ingredients and mix until smooth. Pour batter on top of your chocolate chip cookie dough crust. Bake for 45-55 minutes or until cheesecake is firm. Let cool and refrigerate overnight or at least 4 hours before serving. Enjoy!
Servings: 8
Calories: 140
Fat: 3.5 g
Carbs: 14 g
Fiber: 9 g
Protein: 18 g
https://supersisterfitness.com/wp-content/uploads/2013/09/choccheesecake.jpg
3337
3336
Liz
https://supersisterfitness.com/wp-content/uploads/2017/09/SSF-logo-plain-pink.png
Liz
2013-09-26 08:44:59
2014-02-11 17:43:54
Chocolate-Chocolate Chip Cookie Dough Cheesecake