Alright, I'm letting the cat outta the bag – I've gone completely gluten-free!
Yep, that's right – I made the big decision to let go of gluten and all it's little friends (bread, wheat, rye, barley, oats*, etc).
*side note: not all oats contain gluten, you just have to make sure you find a brand without it 🙂
So, I've been getting a little creative finding new ways to make healthier treats without gluten ingredients.
And lemme tell ya – it's been hard. I've definitely had more failures than successes, but I'm learning new tricks in the kitchen that I can't wait to share with you all fall & winter long.
Now, you might be wondering why I made the switch to a gluten-free, plant-based diet…
The answer is pretty simple – I was noticing signs and symptoms of gluten-intolerance (more on this later since I'm going in to get an allergy blood test next week).
Hopefully you enjoy this fun gluten-free sugar cookie recipe that makes the perfect halloween treat for your little ones and friends alike!
xo,
Sara
---
Gluten-Free Monster Cookies
A healthier alternative to the traditional sugar cookie, using only a handful of ingredients.
Yields: 16
Prep Time: 10 mins | Bake Time: 15 mins | Total Time: A few hours (to allow for cooling)
Ingredients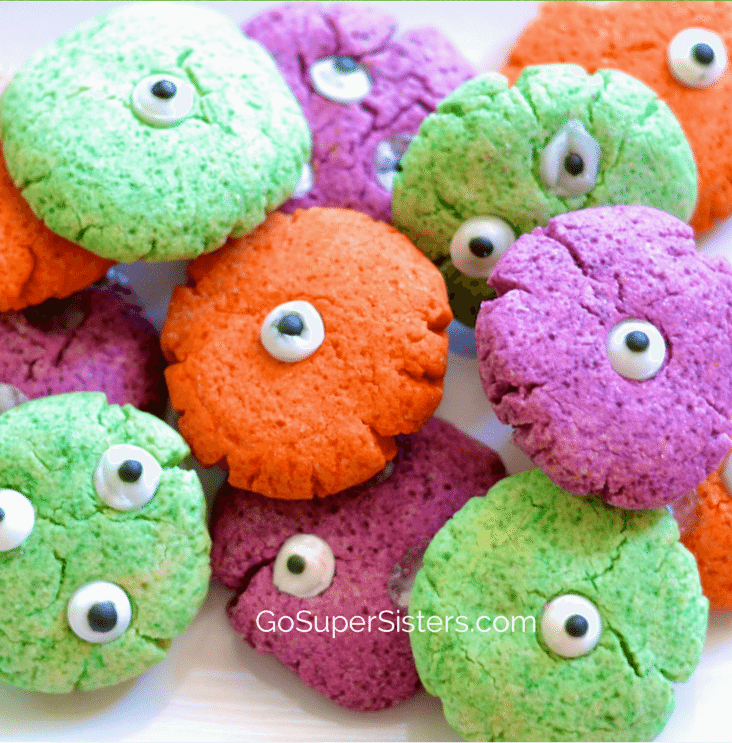 2 cups gluten-free flour
⅓ cup unsalted butter
½ cup sweetener that measures like sugar (stevia, raw cane sugar, coconut sugar etc)
½ tsp vanilla extract
½ tsp salt
food coloring
"eyeball" sprinkles
Instructions
In a large bowl, whisk melted butter and sugar together.
Add in vanilla and salt and mix well.
Slowly add in flour until well combined and dough is thick (you may need a little more or less flour depending on what kind you use), then separate into three equal parts.
Place each piece of dough in separate bowls and mix in food colorings of choice until thoroughly combined.
Cover with plastic wrap and place in the refrigerator for 1-2 hours.
Preheat oven to 350 degrees and line a baking sheet with parchment paper.
Roll teaspoon sized balls then flatten and place on your prepared cookie sheet.
Bake for 10-15 minutes or until golden, then quickly remove cookies from the oven and press eyeball sprinkles on top.
https://supersisterfitness.com/wp-content/uploads/2014/09/2-minute-11-e1413485290849.png
743
732
Liz
https://supersisterfitness.com/wp-content/uploads/2017/09/SSF-logo-plain-pink.png
Liz
2014-10-17 07:36:05
2016-10-24 12:17:28
Healthy Halloween Series ~ Monster Sugar Cookies