Looking for more healthy salad recipes to try?
Okay, cool. Then you NEED this Vegan Kale Salad recipe in your life… Like, yesterday.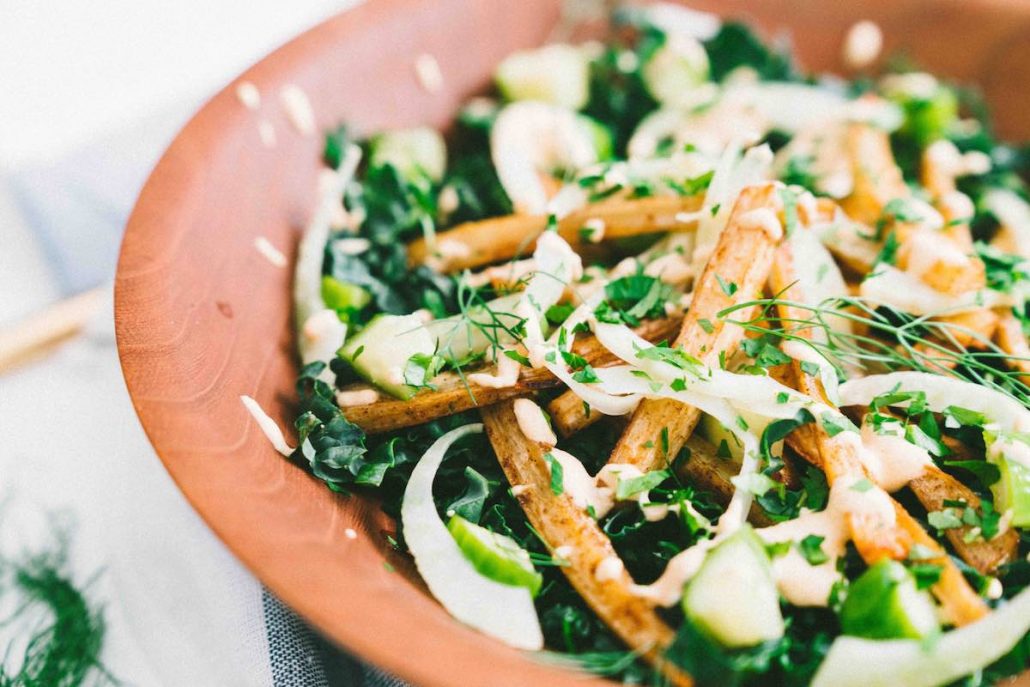 When I was in NYC for International Yoga Day this summer, I met one of the most talented dietitian/nutritionists EVER, Carlene Thomas RDN from healthfullyeverafter.co 🙂 She taught us how to use the snack squares in an easy, healthy post-workout recipe there, and as I was chatting with her backstage, I learned about her other recipes too.
I just recently finished an interview about Women In Food with her here, and she shared this recipe with me so I could share it with YOU 🙂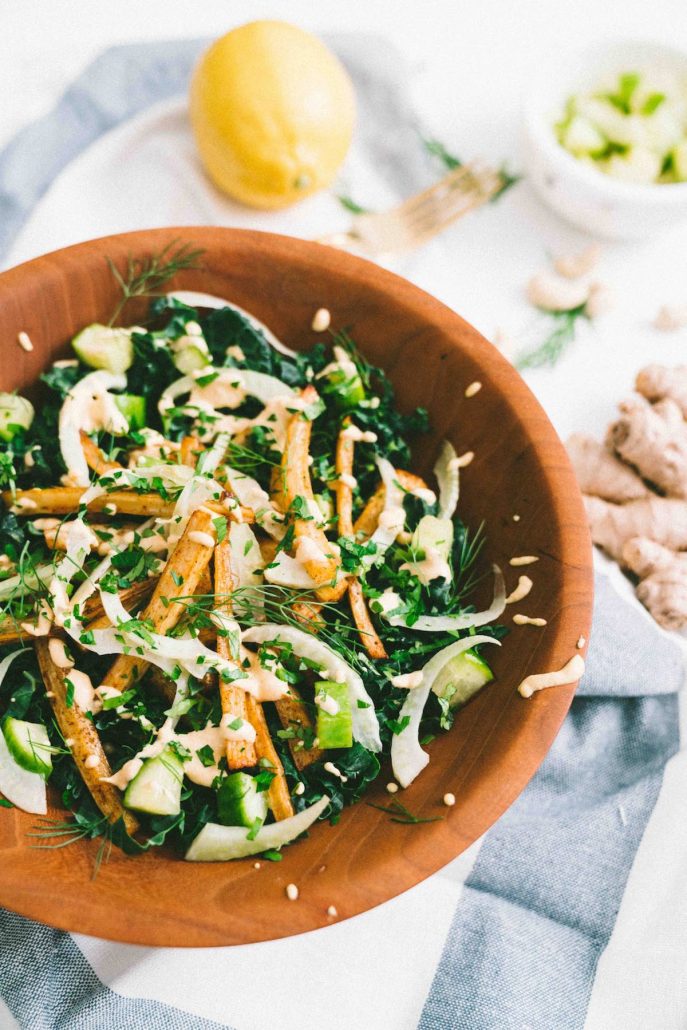 When I came across this Vegan Kale Salad, I almost fainted.
I used to hate kale, so knowing how simple it is to actually make it taste good (and I mean really good) is so refreshing.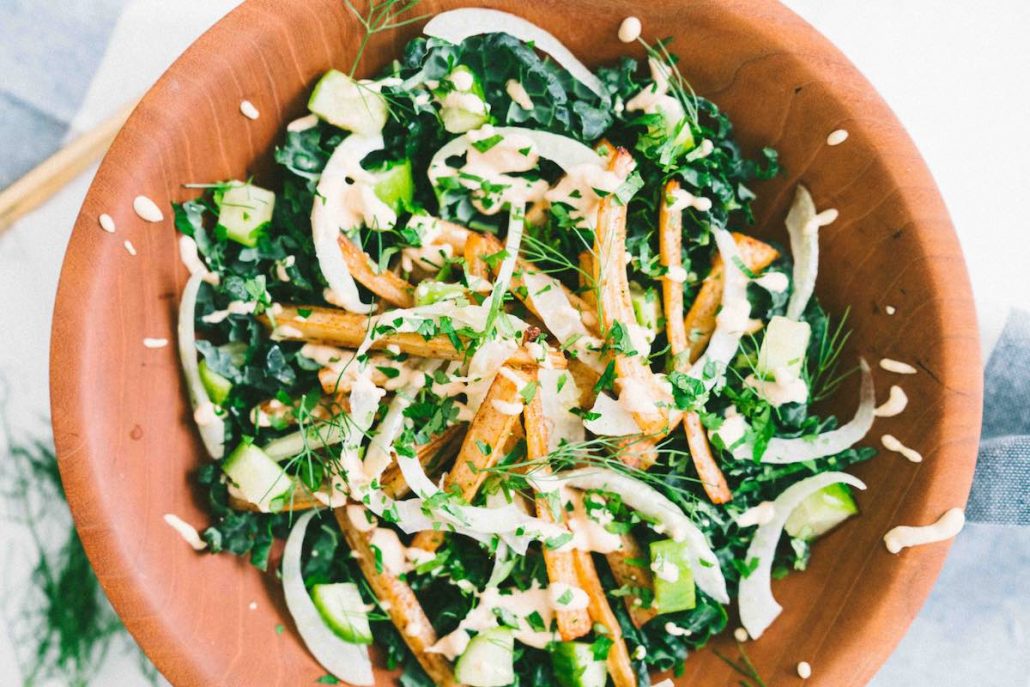 I feel like I owe women like Carlene a little piece of my soul, because making healthy food taste this amazing is a true talent!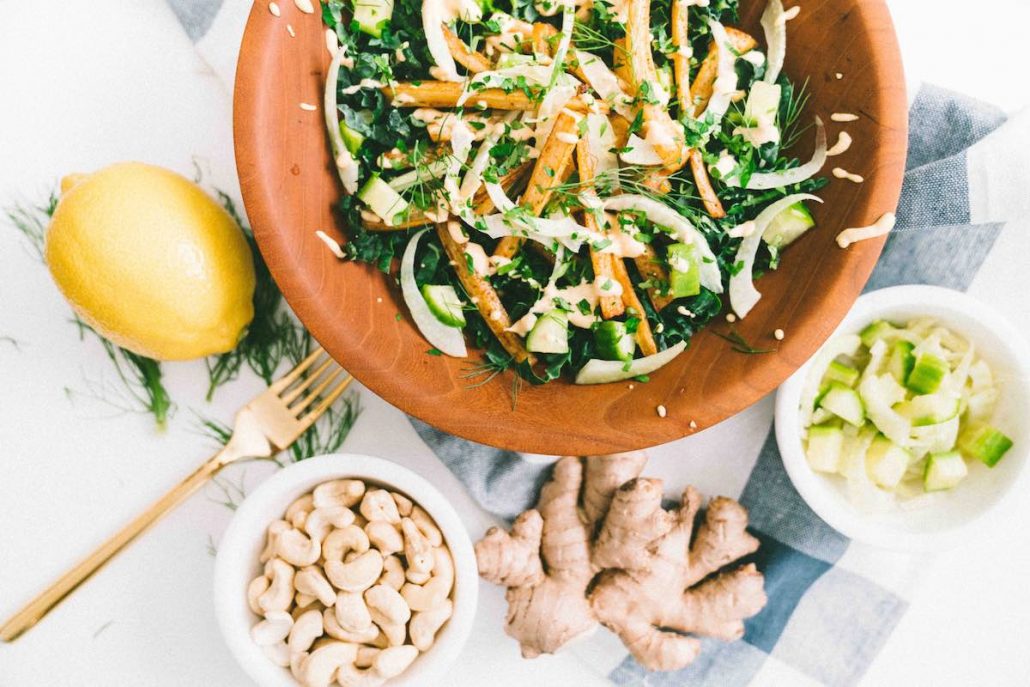 I'm so excited to share this recipe with you today, and if you're looking for more, make sure you check out her other recipes too. You can find her on Instagram here, Facebook here, and over on her site at healthfullyeverafter.co
Enjoy!
---
Vegan Parsnip French Fry Kale Salad with Turmeric Cashew Dressing
by Carlene Thomas RDN
dietitian nutritionist
**serves 2 entreé salads**
With cooler weather coming in, it's time to rethink your salad game. When we build salads we like a variety of textures, colors and flavors. This kale salad features parsnip french fries which are nice and nutty. Paired with a spice coating they're going to be your fall crave-worthy oven veggie. The salad also makes quick pickles out of cucumbers and fennel to add some brightness to the mix. And of course, don't forget the turmeric cashew dressing which we highly recommend with some football game watching snacks later this season.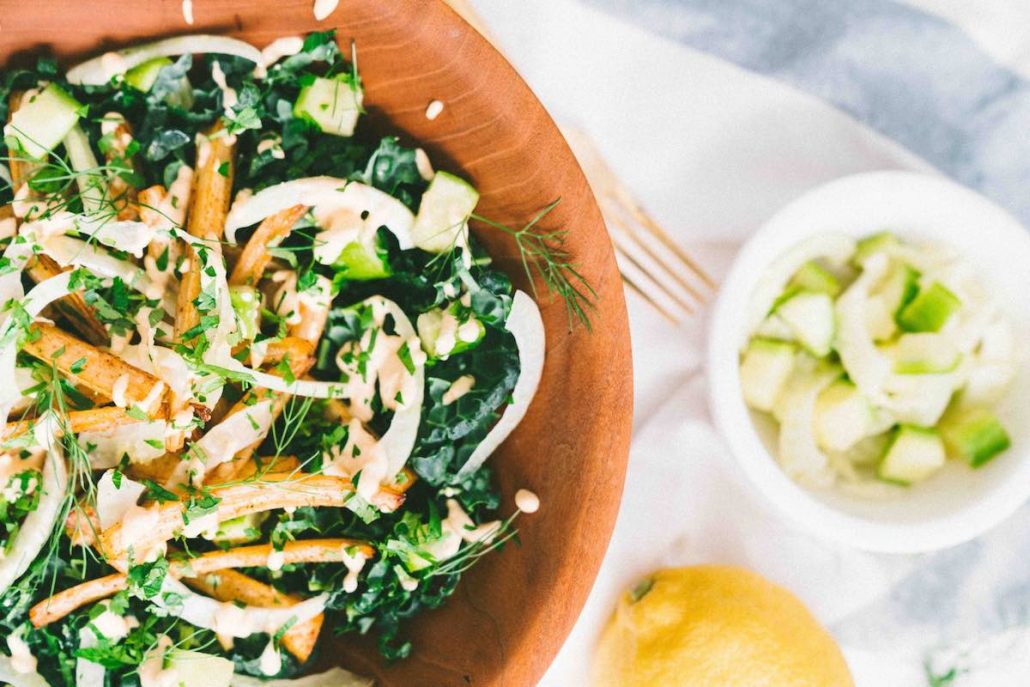 Ingredients
parsnips:
2 large, cut into strips
1 tablespoon evoo
1/2 teaspoon cumin
1/4 teaspoon paprika
1/8 teaspoon cayenne pepper
1/4 teaspoon table salt
dressing:
1/4 teaspoon turmeric powder
3/4 cup raw whole cashews
1 clove of garlic
juice of 1/2 a lemon
1/4 cup EVOO
1/4 teaspoon black pepper
1/4 cup water
1 tablespoon cider vinegar
pickles
1/4 cup cider vinegar
1 tablespoon granulated sugar
1/2 fennel bulb, sliced thinly
1/2 inch fresh ginger, peeled and finely grated
1 small english cucumber, chopped (roughly 1 cup)
other:
2.5 cups shredded tuscan/dino kale
2 tablespoons freshly chopped cilantro and parsley
Instructions
To make dressing soak cashews in a bowl with water to cover for an hour. Drain the water. Add cashews to blender with remaining dressing ingredients except turmeric and puree until smooth with body. Put in a bowl and stir in turmeric to avoid any stains. To make pickles cut fennel and cucumber. In a bowl mix remaining ingredients and pour over fennel and cucumber. Toss to combine. Refrigerate until salad is ready.
To make parsnips, peel and cut parsnips. Toss in a bowl with olive oil and spices to coat. Preheat oven to 425 F. Place parsnips on foil lined baking sheet. Flip occasionally. Cook for 30 minutes.
Chiffonade kale. Build salad with kale base topped with pickles and parsnips and drizzle with dressing. Enjoy!
https://supersisterfitness.com/wp-content/uploads/2017/09/HEA-ParsnipSalad-9.jpeg
800
1200
Liz
https://supersisterfitness.com/wp-content/uploads/2017/09/SSF-logo-plain-pink.png
Liz
2017-09-13 11:54:08
2017-09-14 14:40:01
Vegan Parsnip French Fry Kale Salad