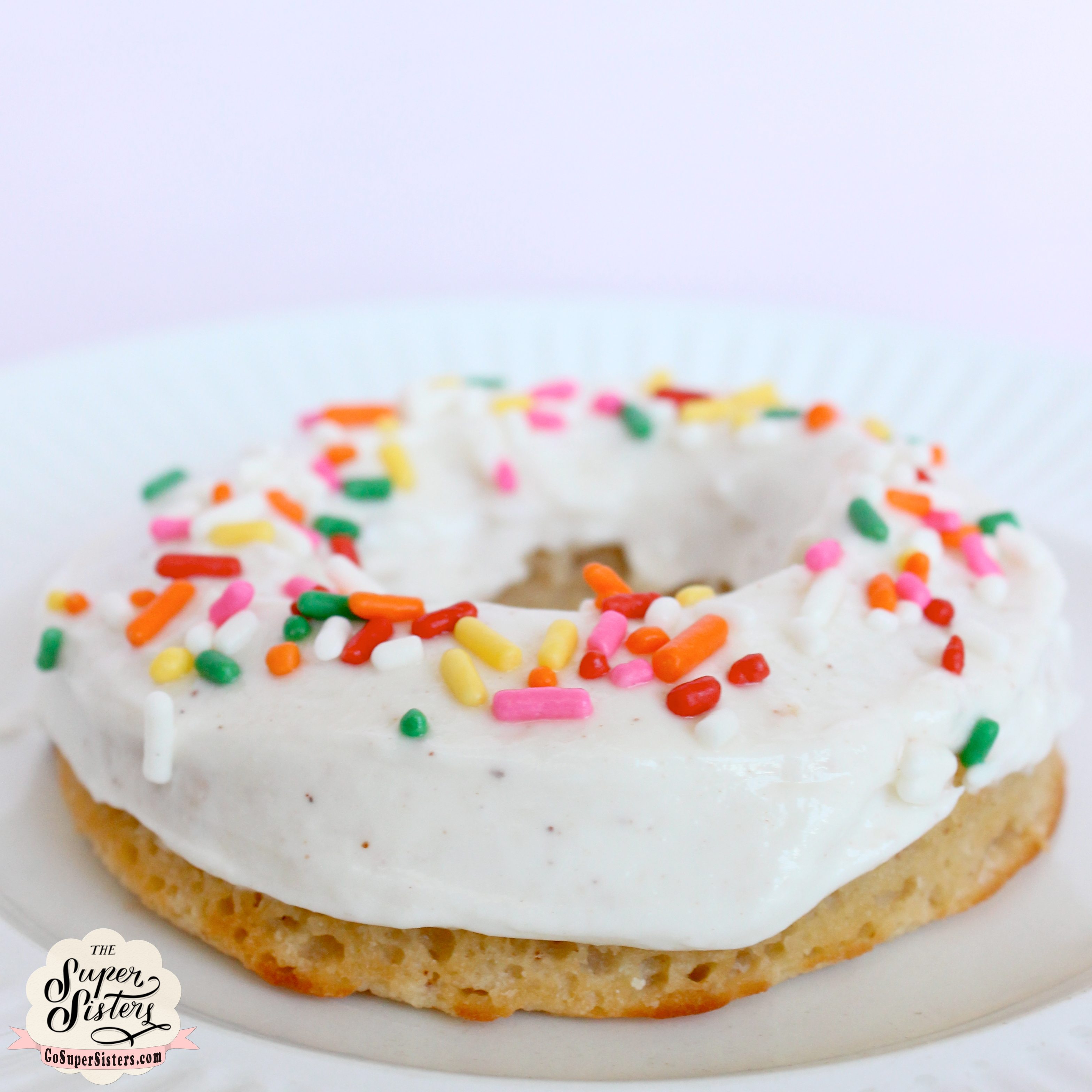 Oh, the memories of growing up and going to the bakery! No matter what, donuts will always have a special place in our hearts – they remind us of exciting mornings where our mom would wake us up to surprise us with big boxes of fresh donuts she would pick up at the local bakery or mornings when we'd ride along with her to pick out our favorite flavors. Sara's fav? Powdered. Liz's top pick? Chocolate frosting with sprinkles. Too many weekends went by scarfing down on those round little diet-busters and too many stomach aches came after eating one too many mini Hostess minis.
We plan to revamp this family tradition in the future by baking these healthy, delicious homemade donuts instead. We sort of combined our two favorite flavors and out came this amazing concoction. Kids could have just as much fun making these, especially when they get to put their own sprinkles on, and they won't be able to tell it's a healthy version. 😉 Enjoy your donuts guilt- and sugar-crash-free from now on!
Vanilla Cake Protein Donuts
Makes 6 donuts
1/3 cup coconut flour
1/4 cup protein powder (we highly recommend Trutein Cinnabun)
1 whole egg
2 egg whites
1/3 cup unsweetened almond milk
2 tbs unsweetened applesauce
1/3 cup sweetener that measures like sugar (we use Truvia)
1 tsp baking powder
1 tsp vanilla extract
1/4 tsp salt
For the frosting
3/4 cup nonfat greek yogurt
2 packets stevia
1/4 cup protein powder
1/4 tsp vanilla extract
optional: sprinkles
Preheat oven to 325 degrees and spray a donut pan well with nonstick spray. In a medium bowl, beat egg and egg whites well. Add all other wet ingredients and mix well. Then add all dry ingredients and mix until smooth. Pour batter into prepared pan and bake for 25-30 minutes or until a toothpick comes out clean.
For the frosting – mix all ingredients well and frost donuts once cool. Store in refrigerator for 3-4 days. Enjoy!
Servings: 6
Calories: 85 / 60 without frosting
Fat: 1.9 g / 1.9 g
Carbs: 6 g / 5 g
Fiber: 2.8 g / 2.5 g
Protein: 10 g / 5.5 g
https://supersisterfitness.com/wp-content/uploads/2013/05/DONUTS.jpg
3136
3136
Liz
https://supersisterfitness.com/wp-content/uploads/2017/09/SSF-logo-plain-pink.png
Liz
2013-05-25 09:35:00
2014-02-12 12:55:41
Vanilla Cake Protein Donuts