Do you think you have to cut out carbs like potatoes and rice to lose weight?
Well, good news for you – that's completely false!
One of the perks of taking a "real food first" approach is that you can still eat the foods you really enjoy. Focus on eating as many fresh fruits, vegetables and greens as you like and then fill in the rest with carbohydrates, protein and healthy fat.
I've eaten more potatoes, pizza, donuts and drank more beer than I ever have in my life and I've actually LOST weight.
Does that seem totally unbelievable?!
Sometimes it honestly surprises me that I've been able to find such balance in my life after struggling with an eating disorder that completely ran my life for over 4 years.
But I can honestly say I found balance and moderation in my lifestyle.
No longer is exercise a "punishment" for eating too much. No longer is "going on a diet" even in my vocabulary. No longer to I obsess over numbers on the back of a box or on a scale.
Balance means eating an abundance of fruits & veggies, but enjoying a beer or two in the evening with a large salad or having a donut for breakfast on the weekend then balancing it out with healthy eating the rest of the day.
I'm not saying you should gorge on junk, but allow yourself to enjoy the things you like without feeling guilty about it…
For me, potatoes is definitely on the list! Growing up in the Midwest potatoes and sweet corn were a huge staple of my childhood.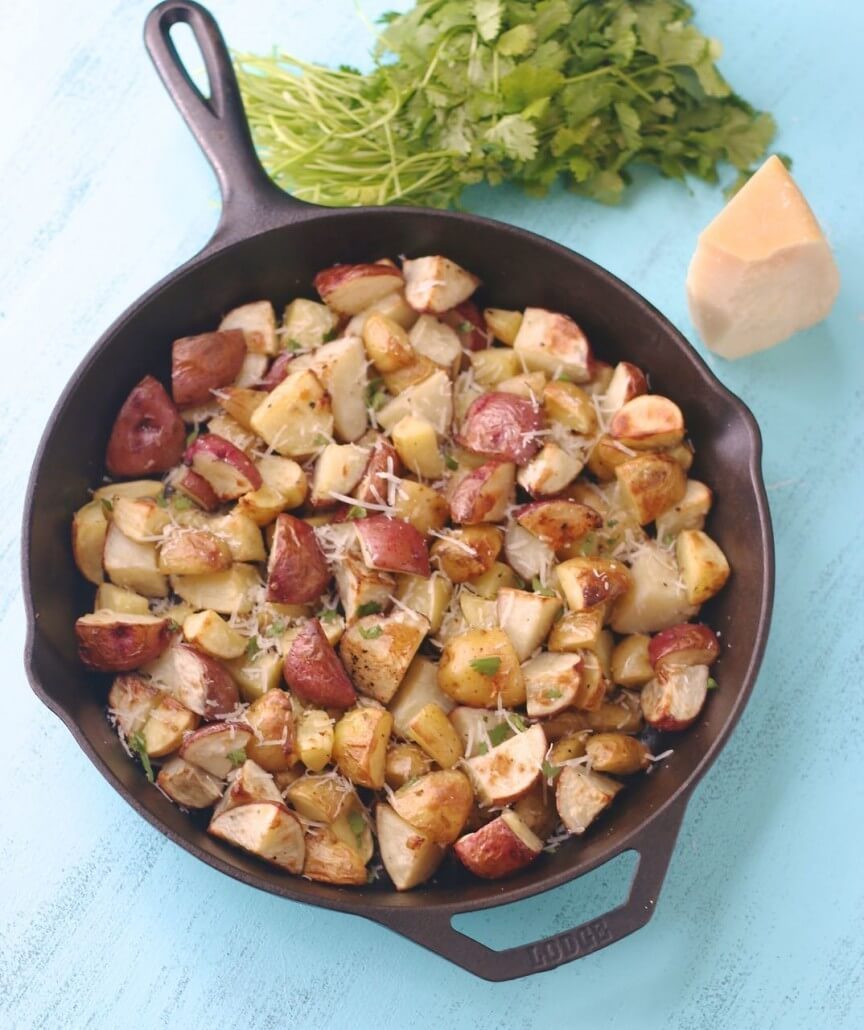 And these potatoes are SO good. I promise you aren't going to get fat by eating them either 😉
We highly recommend using a cast iron skillet for this recipe. Not only does cast iron make your food taste better and give you a boost of iron, cast iron is free of harmful chemicals that are found in nonstick pans.
The repellent coating that keeps food from sticking to nonstick pots and pans contains PFCs (perfluorocarbons), a chemical that's linked to liver damage, cancer, developmental problems and, according to one 2011 study in the Journal of Clinical Endocrinology & Metabolism, early menopause.
PFCs are released as fumes from nonstick pans when they heated, and can be ingested when the surface of the pan get scratched.
One skillet – one meal. Just serve with protein and a large salad or veggies, and you've got a meal the whole family will love.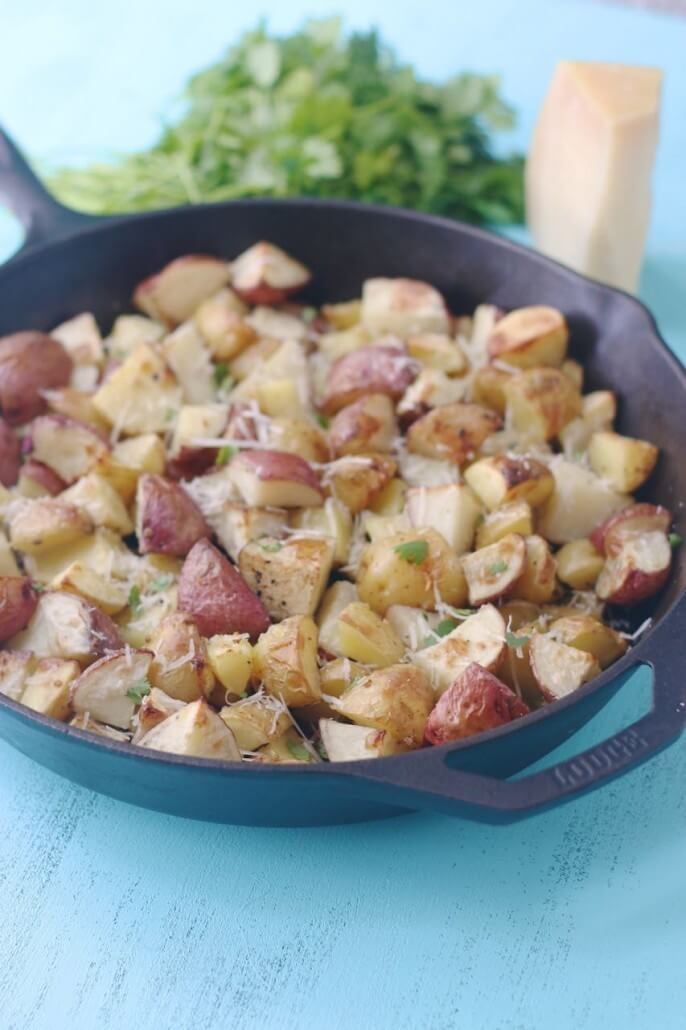 Or make these as part of your meal prepping for the week. Toss the extras in a Tupperware container and heat 'em up whenever you're ready to eat.
---
Iron Skillet Potatoes
Serves: 4
Prep Time: 5 min | Cook Time: 1 hr
Ingredients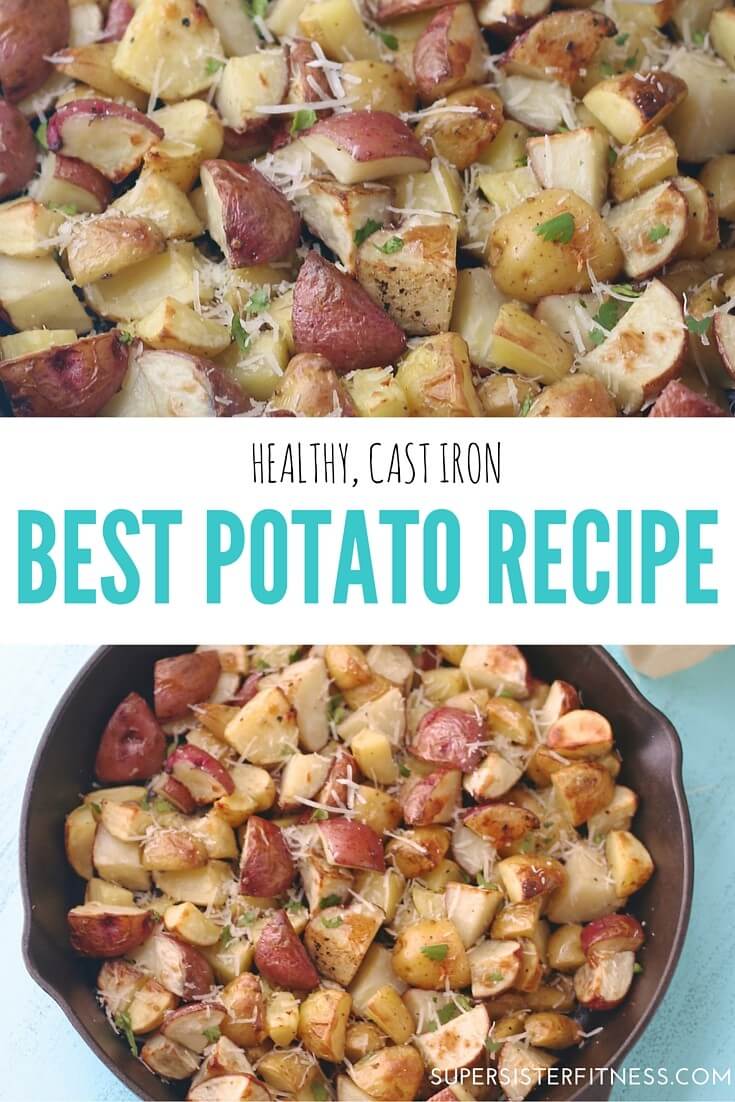 4 lbs baby red & yellow potatoes
1 tablespoon cornstarch
3 tablespoons olive oil
1-2 tsp salt
1 tsp fresh ground pepper
2-3 cloves garlic, minced
1/4 cup freshly grated parmesan cheese
Instructions
Preheat oven to 400 degrees.
Wash and thoroughly dry potatoes, then cut in half (or in wedges).
Place the potatoes in a large ziploc bag and sprinkle cornstarch. Seal the bag and shake until all potatoes are coated.
Pour potatoes into a bowl, then add olive oil, salt, pepper and garlic. Mix until potatoes are coated well.
Pour potatoes into your cast iron skillet.
Bake for 60 minutes, stirring the potatoes occasionally to keep them from burning.
Remove from the oven and sprinkle evenly with the parmesan cheese.
Place the potatoes back into the oven for 3-5 minutes on broil or until the potatoes are golden and cheese is melted.
Enjoy!
[yumprint-recipe id='66']
https://supersisterfitness.com/wp-content/uploads/2015/10/CAST-IRON-POTATO.jpg
1102
735
Liz
https://supersisterfitness.com/wp-content/uploads/2017/09/SSF-logo-plain-pink.png
Liz
2015-10-08 07:55:53
2016-09-25 06:27:12
Easy Skillet Potatoes | Cast Iron Cooking