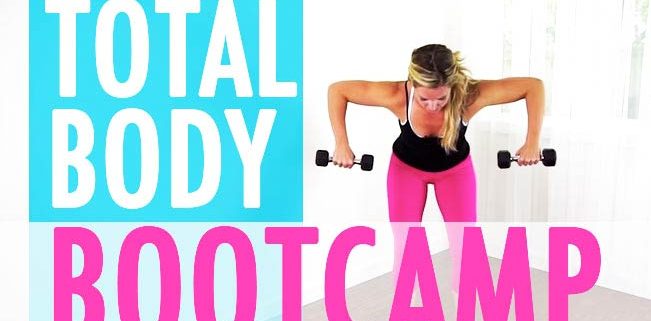 Total Body Workout Time!
Today's total body workout will save you time and burn more calories by using what we call "CFMs" – read more about CFMs below.
You can do this workout whether you're at home or at the gym. All you need is one set of dumbbells for this bootcamp class.
Click the video below to get started and don't forget to subscribe for more new workouts every week!
This bootcamp style class is a "follow along" workout, so give it a shot and feel free to get a friend involved!
Working the body functionally using CFMs is one of the best things you can do for total body fitness and fat loss.
What is a CFM?
CFM stands for Compound Functional Movement. These types of exercise encompass any movement that challenges the body as a whole, rather than as isolated muscle groups.
By using your upper body, lower body and core at the same time you will end up saving time and pushing your results to a higher level. However, we only recommend adding in CFM workouts like this 3 times per week.
Doing too much can have the counter effect, so make sure you balance out your workout routines appropriately.
If you need help with laying this out for yourself, check out the Bikini Bootcamp program which does it all for you.
Now go get your sweat on!
Your trainer,
Liz
https://supersisterfitness.com/wp-content/uploads/2016/09/small-total-body-bootcamp-cover.jpg
436
651
Liz
https://supersisterfitness.com/wp-content/uploads/2017/09/SSF-logo-plain-pink.png
Liz
2016-09-30 10:44:43
2016-10-28 10:31:35
Total Body Workout with Weights | Save Time + Burn More Calories!