The 5 Best Healthy Holiday Drink Recipes
Low Calorie Cocktails For All Your Fitgirl Holiday Parties!
Today we've teamed up with some of our favorite fitness & foodie blogger friends in southern California to bring you the Ultimate Fitgirl's Compilation of Low Calorie Cocktails!
Can I get a CHEERS, ladies?! 😉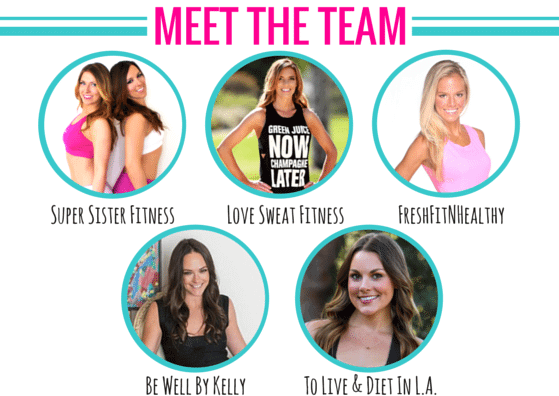 Whether you're looking for fizzy, fruity, or just plain fun, we've got you covered in this mega post!
Every drink you'll find below is specially crafted to let you get a little "loose" this winter, without actually making those Lulus any tighter. 😉
Catch our drift? Good!
Let's get started girls!!
---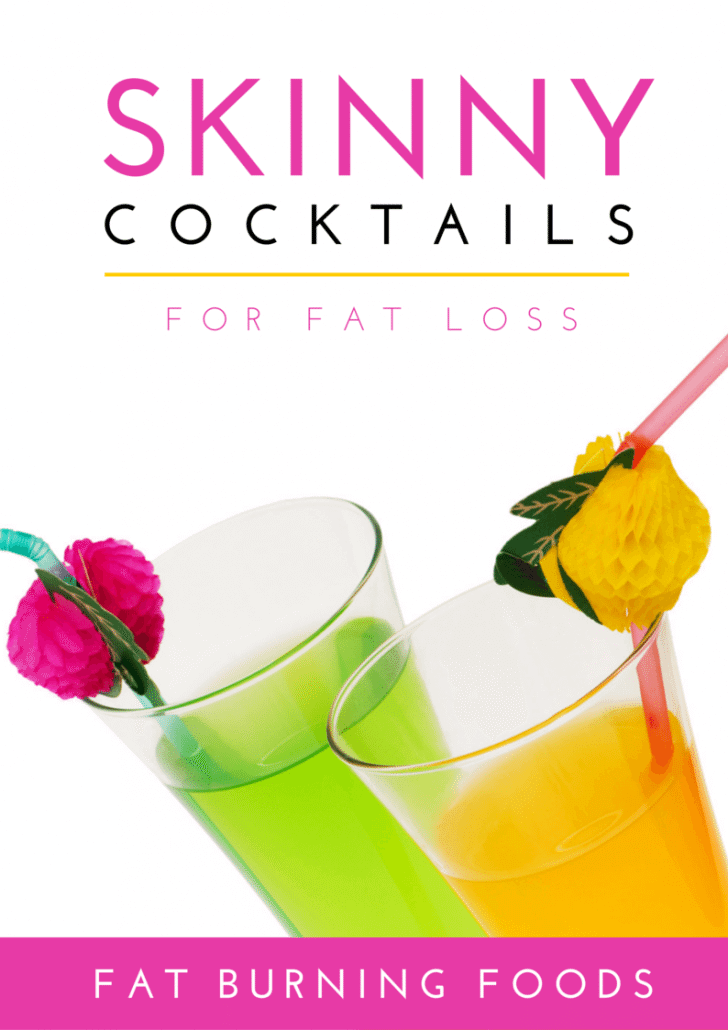 Oh, before we forget and just in case you haven't seen this yet…
If you want even more healthy drinks recipes, make sure you check out this Skinny Apple Fizz recipe and/or grab your Skinny Cocktails recipe guide!
Inside the guide you'll find 26 additional healthy cocktail recipes for effortless fat loss all year round.
These are all the skinny drinks recipes we use to stay naturally lean without ever "dieting" or going through yo-yo cycles of weight loss ups and downs.
This drinks guide is part of the Fat Burning Foods series and we threw it together as a big thank you gift to our SSF community! Thank you so much for being YOU and being beautiful.
If you make any of our recipes, we would LOVE to see them on Instagram.
That's the best part of being a food blogger. We absolutely love hearing from you! Just tag us in the pics using @supersisterfitness and make sure your profile is "public" so we can see your creations!
xoxo
Happy holidays,
Liz & Sara
---
THE BEST SKINNY DRINKS
---
1. The Naughty Reindeer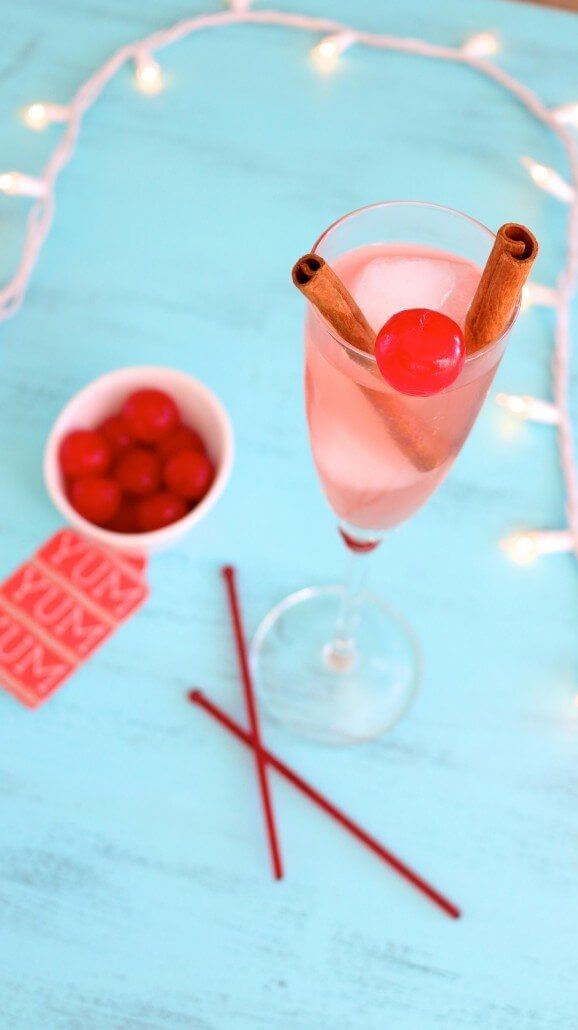 We'll start things off here with our very own low calorie cocktail recipe!
We crafted up what we like to call "The Naughty Reindeer" for this healthy holiday drinks collab.
It's a deliciously sweet yet subtly fizzy drink with hints of warm oranges and cinnamon spice.
Plus, how adorable does this one look?
Serve your Naughty Reindeers in a tall champagne glass to simulate the long slender faces of Santa's real reindeer crew. 😉
This cutesy cocktail is sure to please a crowd, or just get you and your bestie in the spirit of Christmas together!
Enjoy!
For this recipe, you will need:
2 cinnamon sticks
1 maraschino cherry
juice from 2-3 blood oranges (use regular oranges with a splash of cherry juice if you don't have blood oranges)
sparkling water
1.5 oz vodka
1-2 ice cubes
Directions:
Step 1
Put 1-2 ice cubes in your champagne flute, then pour 1.5 oz. chilled vodka on top.
Step 2
Add in your fresh squeezed blood orange juice (or regular orange juice with a splash of cherry juice if you don't have blood oranges on hand).
Step 3
Top your glass to the brim with sparkling water. We use the Soda Stream and ladies, let me tell you… It is a GAME CHANGER!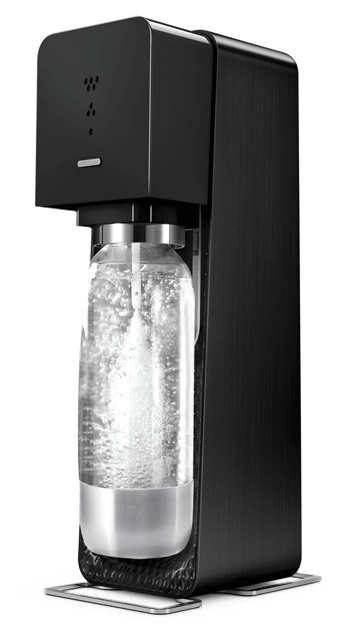 If you don't have one of these yet and you're anything like us, meaning you practically use sparkling water in every beverage you ever make… You need to get one of these bad boy Soda Streams asap.
We used to waste sooo much money, not to mention many plastic bottles and cans, by buying all our sparkling water from the store. What a dumb idea!!
Now we have an endless supply of the stuff, and it's as simple as filling up a bottle then pressing down a big fat button.
Sara and I joke that it sounds like a train coming into the station which it genuinely does. You'll see what I mean LOL!
Anyway, I had to throw this in there for anyone who doesn't have one yet because thanks to the Soda Stream, we now have an endless supply of bubbly goodness.
And we're staying green by avoiding making all that extra bottle waste. WIN!
Pssst… This is a wonderful gift idea this holiday, just FYI! 🙂
Step 4
Back on track here… Step 4 is simple. Just stir those ingredients together!

Step 5
This is the fun part. Garnish your glass with a cute cherry nose! I like to slice a little cut halfway through the cherry to preserve its roundness and smoothness.
It will stay on your glass easier if you cut a little sliver halfway through which makes it super easy to attach it to the glass.
Step 6
Place two cinnamon sticks around the cherry nose and position them so that they make a "triangle" shaped face frame.
Step 7
Have yourself a merry little cheers and enjoy your very own adorable, festive cocktail creation! Here's a toast to your good health and staying fit this holiday season.
[yumprint-recipe id='88']
---
2. Kombucha Cranberry Mules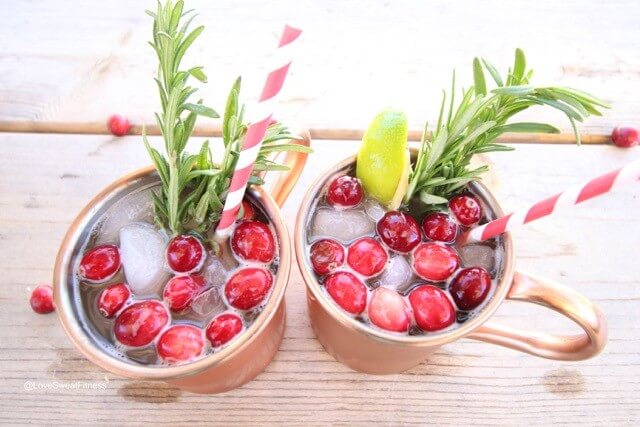 This next recipe is from our friend Katie from LoveSweatFitness.com!
Put a little holiday cheer in your glass with this skinny take on a Moscow Mule. The LSF version uses Gingerade Kombucha, making it only 120 calories & less than 2g of sugar per cocktail.
Yes Please! How cute are they too?! I swear Katie knocked it out of the park with this one… YUM!
---
3. Skinny Strawberry Jello Shots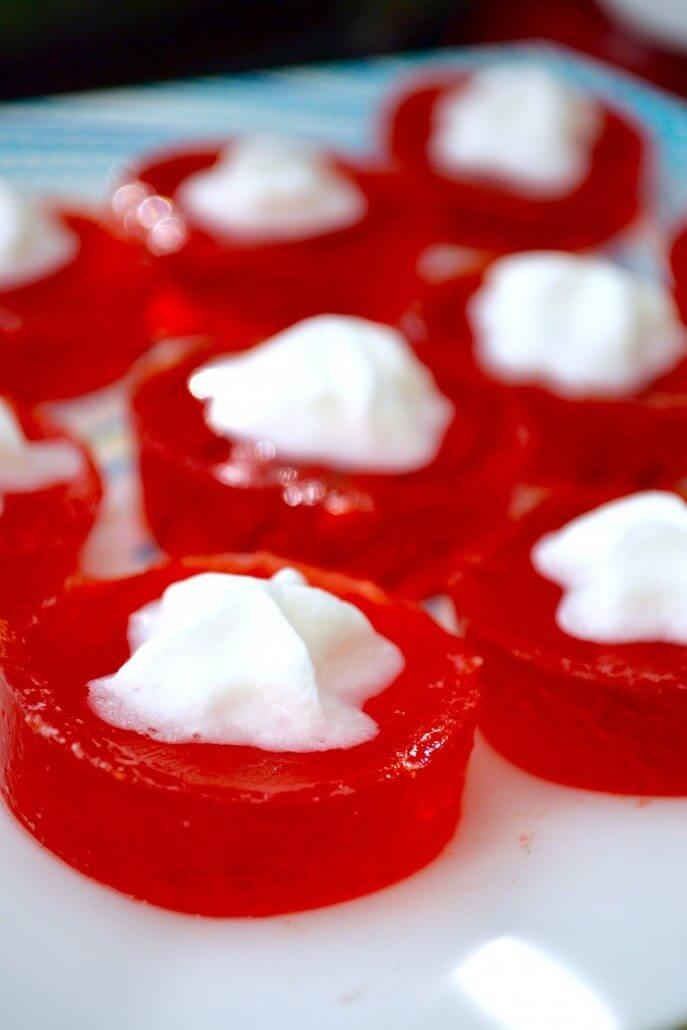 Can anyone say J-E-L-L-Omg?!
This Skinny Strawberry Jello Shots recipe comes straight from our friend Sarah Grace at FreshFitnHealthy.com who we absolutely adore.
Typically holiday cocktails use creamy, high fat or sugar mixers, but these little guys use only low sugar, fat-free gelatin and water as the "mixer," keeping the calories and fat WAY down!
Served in a carved out strawberry or on their own, these festive cuties make a #freshfitnhealthy tabletop addition to any holiday party.
Not only are they totally portable (hence perfect for parties), they've also got portion control built right in! Love!!
---
4. Spiced N' Spiked Pumpkin Punch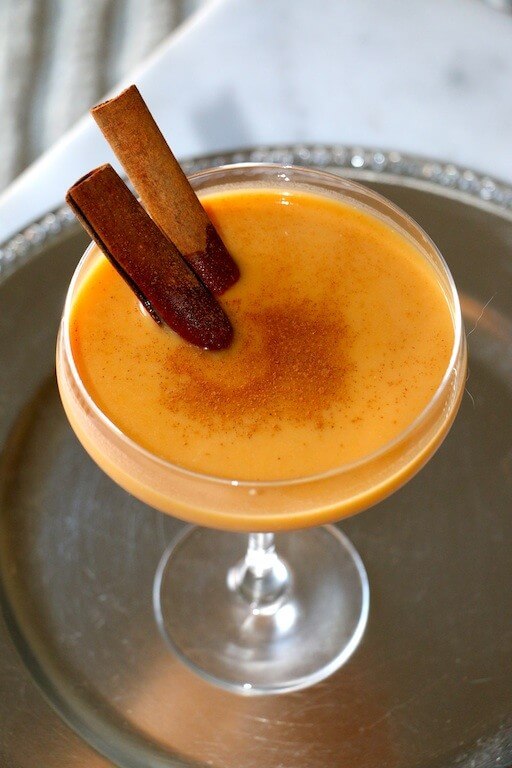 You already know we are OBSESSED with any and everything pumpkin flavored, which is exactly why this Pumpkin Rum Punch made the list of best skinny holiday cocktails!
If you're a pumpkin lover, you have to try our friend Whitney's simple healthy recipe from To Live & Diet in L.A.
This healthy holiday cocktail is full of antioxidant-packed pumpkin and metabolism-boosting cinnamon, and with only 90 calories a glass and 1 gram of sugar it totally falls on Santa's "nice" list.
Made with spiced whiskey or rum, it's a "skinny" drink that even your manly beau will love.
---
5. The "Brentwood" – Healthy White Russian Recipe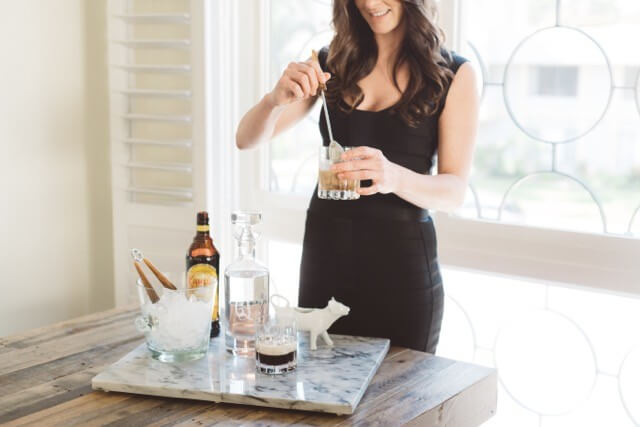 So first you should probably know that our friend Kelly is Jessica Alba's nutritionist. Um, hello?! Free recipes from J. Alb's go to girl?
Sign us up! The Brentwood Russian by our friend Kelly at Be Well By Kelly is a new twist on an old cocktail.
An after dinner cocktail doesn't need to full of sugar and empty calories. Created by a loving group of friends on a cold night, this low sugar alternative won't disappoint.
Looking for even less sugar and the same flavor? Just swap out Kahlua for cold pressed coffee instead. Mmm toasty!!
---
Like these recipes?
Be a doll and share them with a friend, would you? 🙂
https://supersisterfitness.com/wp-content/uploads/2015/12/Vegan-Dessert-Coconut-Snowballs-1.png
768
1024
Liz
https://supersisterfitness.com/wp-content/uploads/2017/09/SSF-logo-plain-pink.png
Liz
2015-12-15 08:00:03
2015-12-16 08:12:23
The Best Healthy Holiday Drink Recipes | Skinny, Low Calorie Cocktails