Healthy Halloween Recipe for Easy Meal Prep
Spooky Turkey & Veggie Stuffed Bell Peppers
Have you carved your pumpkin yet? If your answer is no, it's okay.
You can carve these cute little bell peppers out instead!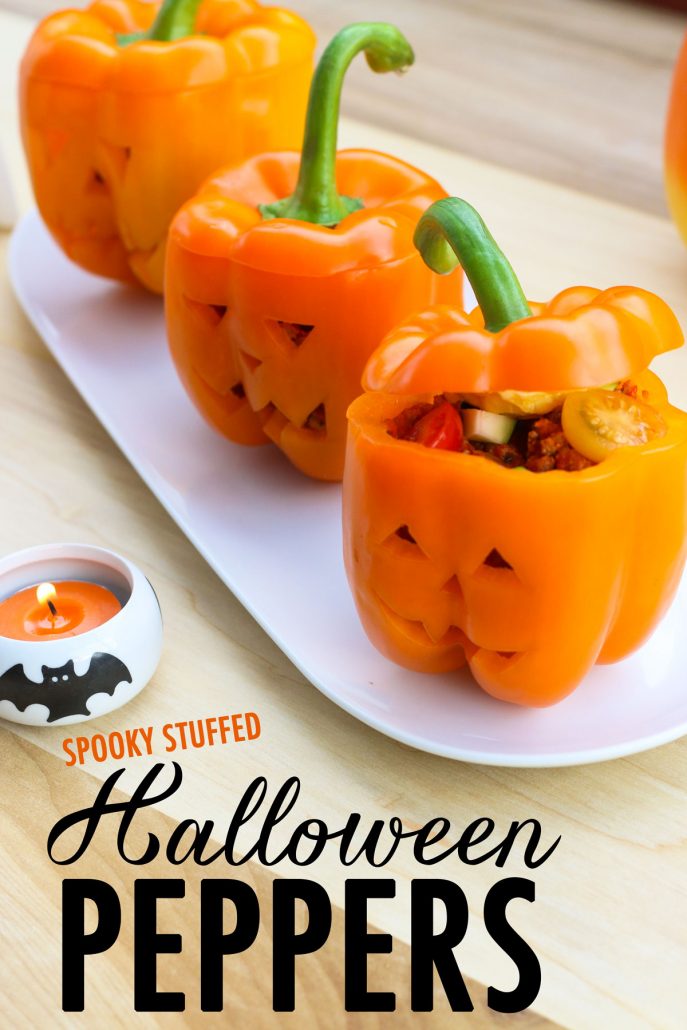 These easy stuffed bell peppers are spooky, healthy and so tasty your tastebuds won't know what hit them. In about 30-40 minutes, you can devour a healthy Halloween recipe that'll satisfy you and your whole family.
The best part?
They're super easy to make ahead of time and save in the fridge for lunches and leftovers. Talk about easy meal prep! They're also ultra filling and packed with vitamins, minerals, and healthy proteins.
Check out the recipe below and share it if you dare! 😉
And if you're looking for more Healthy Halloween recipes, don't forget to check out this mega post here which compiles our best healthy Halloween recipes, all in one spot:
Last but not least, this is worth a mention here… We're about to head into the holiday season, which means lots of sweet and savory foods will be on the menu everywhere you go.
With colder temperatures and higher calorie foods lurking around every corner, sometimes fat loss and fitness can become more of a challenge for people. You may be looking for new and better ways to stay fit this holiday season.
If that's the case and you want an effective way to cut holiday bloating fast and get your fat loss back on track, try the 7-day Real Food Reset.
It'll instantly jumpstart your fat burning metabolism and help you get back on track any time you need it. The Real Food Reset is meant to be used only as a short term detox plan to specifically get rid of excess bloating and drop inches off your belly in just one week.
Don't believe us? Try it for yourself. The results speak for themselves. We hope this helps! If you'd like more nutrition guidance or are looking for 1-on-1 food coaching, feel free to apply for our private coaching programs.
Happy Halloween!
Liz
---

Spooky Stuffed Bell Peppers
A healthy dinner recipe for the Halloween season that everyone will enjoy!
Serves 4
Prep Time: 10 mins | Cook Time: 30 mins | Total Time: 1 hour
Ingredients
4 bell peppers
1/2 lb. ground turkey (optional)
1/3 cup chopped zucchini
1/4 cup chopped broccoli
1/4 cup chopped tomatoes
2 cups tomato sauce (sugar free)
2 cloves garlic
1/2 diced onion
1/2 tsp garlic powder
1/2 tsp oregeno
1/2 tsp basil
Instructions
Sautee garlic and onion in coconut oil on the stovetop over medium high heat. Add in ground turkey and veggies, then stir in sauce and other herbs. Cook until turkey is medium done, meanwhile carving out 4 orange bell peppers.
Carve jack-o-lantern faces into your bell peppers and save the tops for decoration (optional). Scoop the pepper filling into each carved out pepper. Spoon a tsp parmesan cheese on top of each pepper (optional), then top with its "lid." Bake at 425-430 degrees for 35 mins.
Let cool 5-10 mins, then enjoy!
Servings: 4
Calories (per serving): 189
Fat: 7 g
Carbs: 18 g
Protein: 14 g

https://supersisterfitness.com/wp-content/uploads/2016/10/stuffed-pepper-jackolanterns.jpg
800
1200
Liz
https://supersisterfitness.com/wp-content/uploads/2017/09/SSF-logo-plain-pink.png
Liz
2016-10-24 11:27:48
2016-10-28 08:30:11
Healthy Halloween Recipes | Spooky Stuffed Peppers!