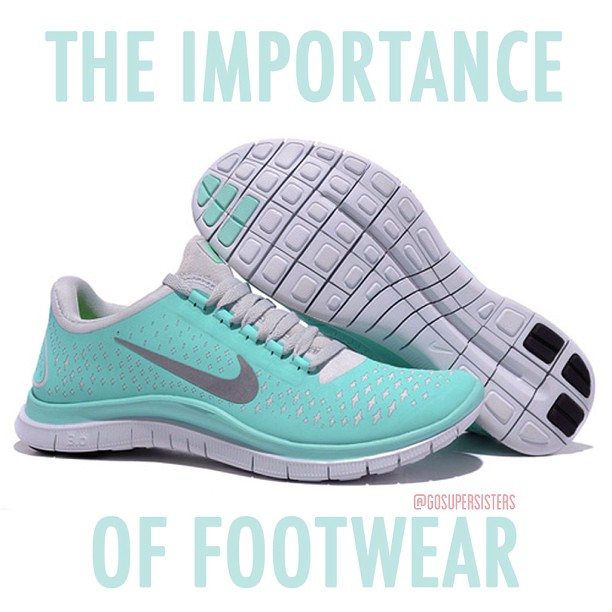 Do you workout often? Are you a runner? Are you sure you have the right footwear? It's extremely important to choose the right shoes to support your exercise and lifestyle needs. You've probably heard about the barefoot trend going around now and there's no doubt you've heard lots of shoe companies touting to have the "best" shoe out there, but do you really know how to pick a shoe that's right for you? Keep reading to find out.
If you are a runner, you want some level of support in your shoe but ironically the trouble is, the more unnatural support you have the less safe the shoe actually is. Try to avoid shoes with a huge heel that will throw your natural step out of balance. There have actually been more running injuries since the introduction of the "running shoe," believe it or not. Avoid clobber-heels and look out for shoes that mimic the natural curves of your foot instead. We like Nike Frees or Merrells for that purpose.
If you're sprinting however, you'll want a harder, thinner sole for your shoe — something that can withstand the force of your foot strike without wobbling. Look at track shoes for an example of what to look for. If you're playing squash, tennis or other activities where you'll be moving side-to-side a lot, make sure your shoe has good lateral support. Lateral support is important to help avoid twisted ankles (which explains why basketball shoes have such high and stiff ankle support).
When you are lifting weights, you want as minimal of a heel/sole as possible in your shoe so that your chain of command from the floor up has the least amount of interference possible. We prefer Merrells, Vans Classics or even going barefoot for this type of training. Barefoot is definitely preferred during barbell exercises since it's important to find your balance and activate the muscles in the feet and lower body correctly; this is very hard to do when you're wearing shoes with a thick sole.
No matter the activity, it's important to replace your shoes often since impact over time will wear down your shoes. If you prefer being barefoot, that's great but just be careful of modern day hazards if you choose to take it outside. We personally wouldn't, but different strokes for different folks!
https://supersisterfitness.com/wp-content/uploads/2013/09/554658_574313885937747_818166260_n.jpg
612
612
Liz
https://supersisterfitness.com/wp-content/uploads/2017/09/SSF-logo-plain-pink.png
Liz
2013-09-20 11:39:51
2014-02-11 17:47:02
The Importance of Proper Footwear