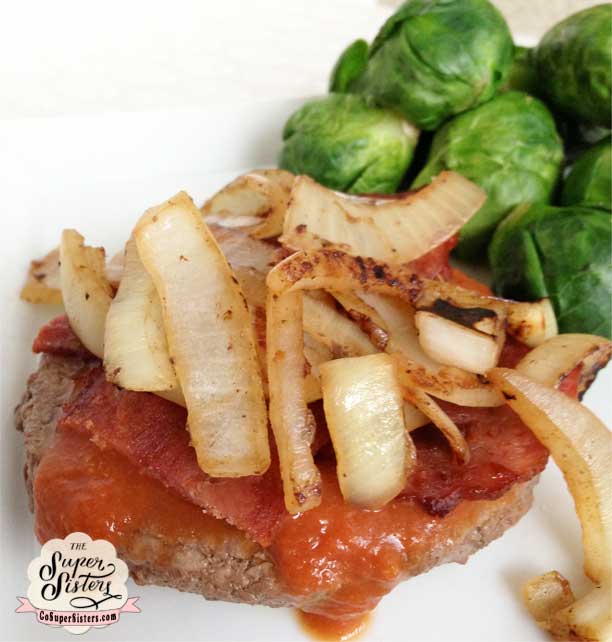 We used to go to Arby's on every road trip. And for lunch sometimes. And as an after-school activity every once in a while. Sara's old order was the "Arby's 5-for-5" and Liz's was the Beef N Cheddar, all day every day. What can we say, we just loved the meat.
Something about those meaty meals really did it for us, and it probably had something to do with the special sauce they added on top. Liz is a self-proclaimed barbeque sauce FIEND. You know when you go to the drive through sometimes and they only give you one sauce packet? That would NEVER fly in our family.
But guess what? Surprise, surprise — all that stuff is nowhere near good for you. We've since completely eliminated fast food out of the equation. Though we've always loved anything barbeque, one day we realized that store bought (and drive through) barbeque sauces are completely loaded with sugar. So what did we do? Made an alternative of course.
We decided to try sweetening ours with stevia instead and it came out so delicious. We usually make a batch of this sauce at least once a week and put it on everything from veggies to eggs to burgers. Our homemade barbeque sauce is completely healthy, guilt-free and to-die-for! The sauce is really what does it in our own personal combo meal of BBQ Bacon Hamburgers. Try it out! It tastes just like that Arby's sauce we once coveted so we don't even miss those days one bit.
BBQ Bacon Burgers
Makes 4 servings
16 oz 96% lean ground beef (formed into 4 hamburger patties)
4 slices turkey bacon
optional: 1 yellow onion, chopped
For the BBQ sauce:
1 (15 oz) can tomato sauce
2 tbs yellow mustard
2 tbs apple cider vinegar
2 tbs soy sauce
1 tbs honey
2 packets stevia
1/2 tsp garlic power
1/2 tsp salt
1/2 tsp pepper
In a large nonstick pan, cook the hamburger patties until browned. Remove from pan and drain off about half of the grease left in the pan. Add onion to the same pan you cooked the burgers in and cook until soft. At the same time in another nonstick pan, cook the turkey bacon until crispy, and mix all the ingredients in a small bowl for the BBQ sauce.
Top cooked hamburgers with BBQ sauce, a slice of turkey bacon and onions! Enjoy!
Hamburgers
Servings: 4
Calories (per serving): 180
Fat: 6.5 g
Carbs: 1 g
Protein: 30 g
BBQ Sauce
Servings: 5 (1/4 cup per serving)
Calories (per serving): 30
Fat: 0 g
Carbs: 8 g
Fiber: 1 g
Protein: 1 g
https://supersisterfitness.com/wp-content/uploads/2013/05/bbqhamburger.jpg
642
612
Liz
https://supersisterfitness.com/wp-content/uploads/2017/09/SSF-logo-plain-pink.png
Liz
2013-05-08 10:16:51
2014-02-12 13:15:37
Homemade BBQ Bacon Burgers