This post is sponsored by Natural Delights Medjool Dates. All comments and opinions are my own. 

The BEST Healthy Ice Cream Recipe – Top 3 Flavors
Using Just 2 Simple, Real Food Ingredients!
A Vegan, Paleo, Gluten Free, All Natural + Nutrient-Packed Tasty Treat
---
Looking for a healthy, all-natural dessert that the whole family will love?
This homemade 2-ingredient "Nice" Cream recipe is so simple and stores easily in the freezer for a week – but I bet you won't even be able to keep it around that long, it's THAT good.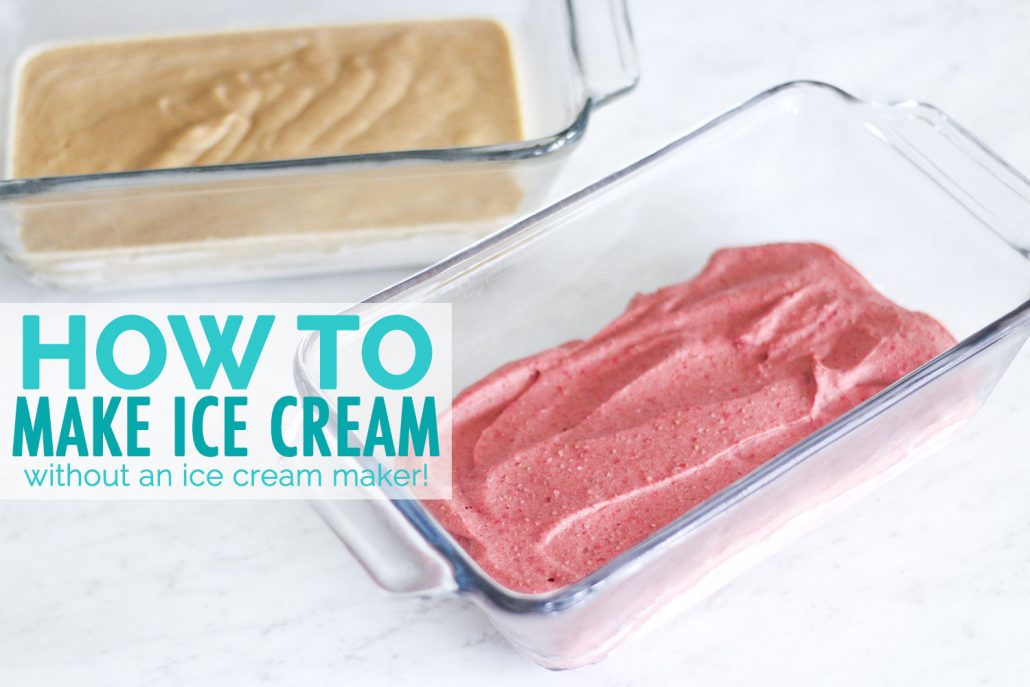 With only two simple ingredients – coconut milk and Medjool dates (yes, that's it, I promise) – I absolutely love making this simple healthy ice cream recipe for my friends and family, especially in the summer season! It's also great to keep on hand if you're just craving a sweet treat but don't want to worry about whether or not your dessert is good for you.
Rest assured, this recipe's nutrition profile is straight up phenomenal. Made from just full fat coconut milk and a small army of Medjool dates, the ingredient list cannot be beat.
Go ahead. I dare you to try. 😉
But wait, I haven't even gotten to the good part yet… Get this — You don't even need an ice cream maker to make this ice cream recipe.
I'm going to show you exactly how to make delicious creations like this…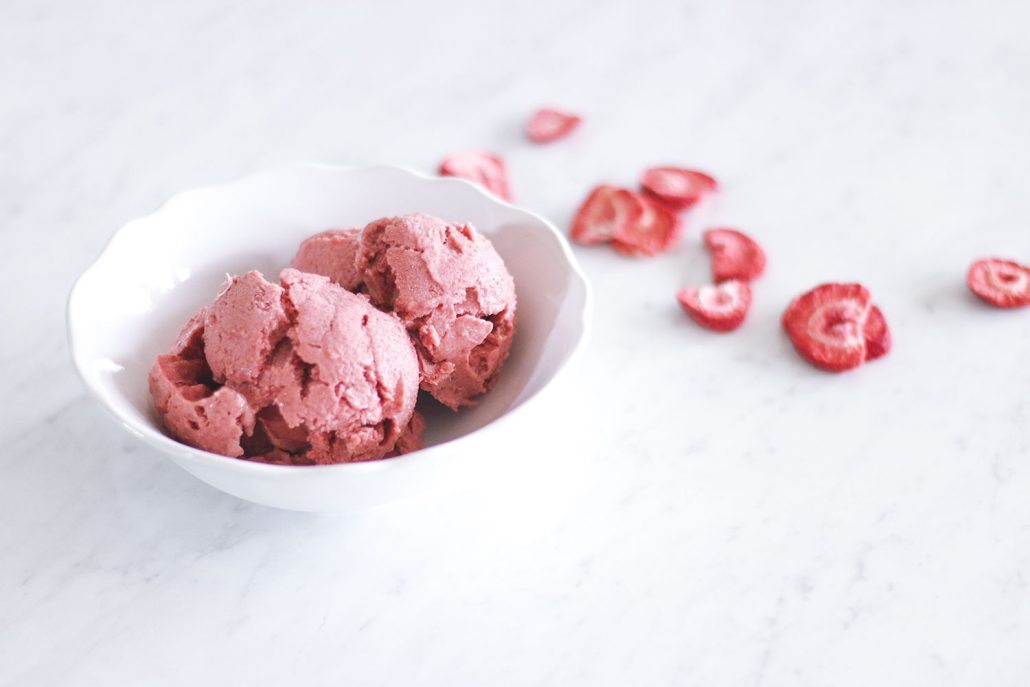 Or this…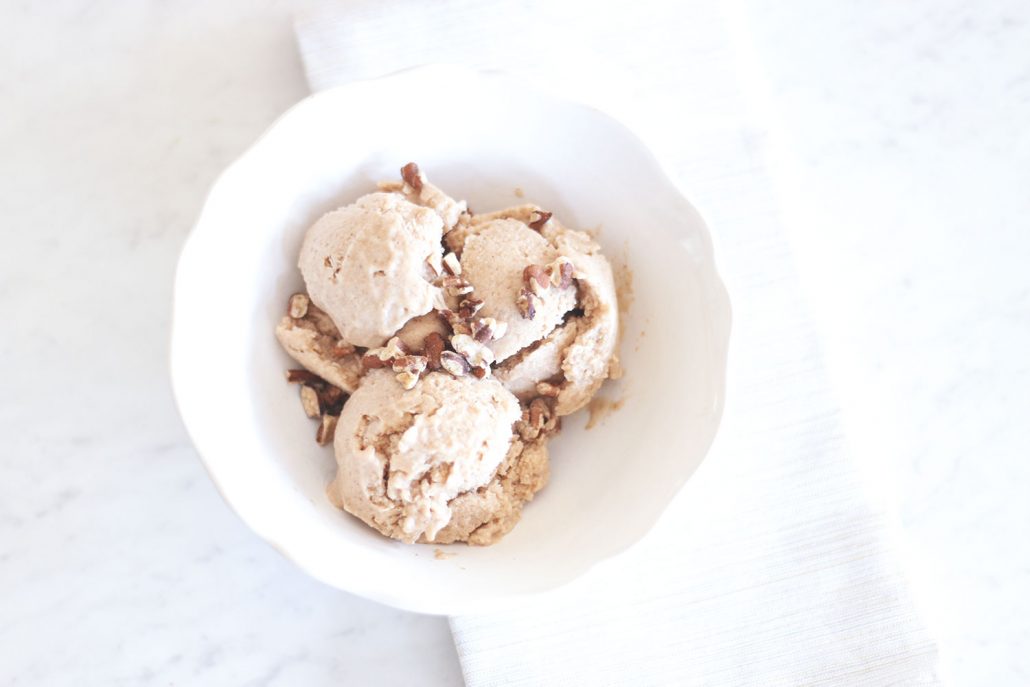 And for all you chocolate lovers out there, get a napkin ready.
I saved the best one for you…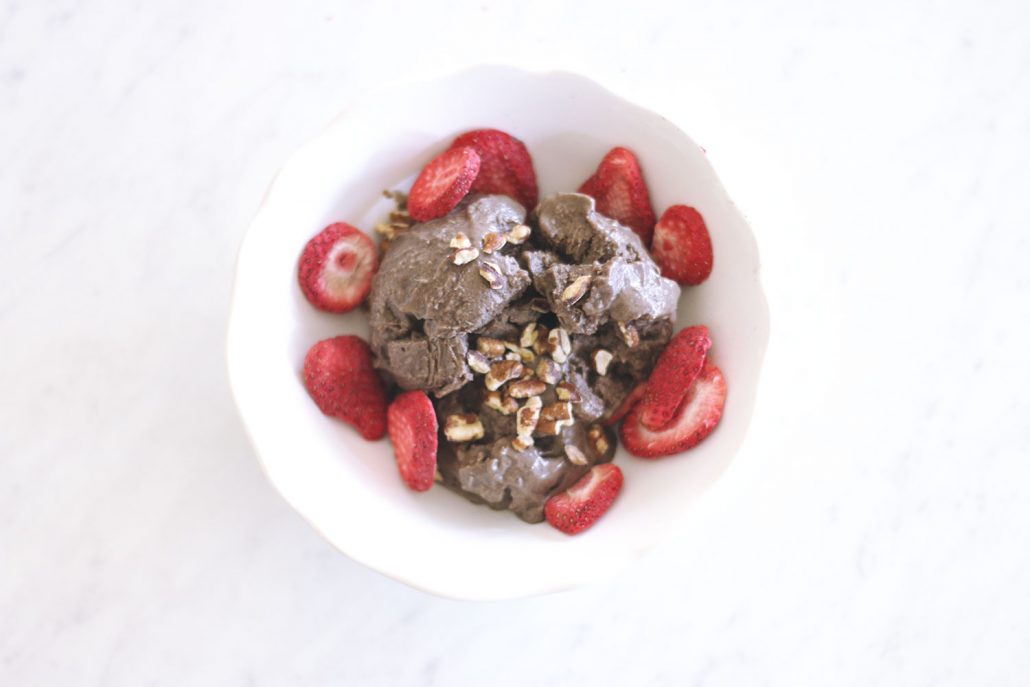 So before we dive in to the actual recipes (feel free to skip ahead if you'd like), let's have a little chat about what goes into these!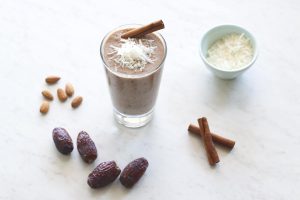 The vanilla base itself only has 2 ingredients – coconut milk and Medjool dates. Last month I made an Easy Date Smoothie (pictured left), and since I love using these little guys instead of bananas in my treat recipes, I felt inspired to teach others how to use them to make healthy ice cream too.
Medjool dates, the first half of this dynamic flavor duo, contain a host of other nutritional benefits that make this "Nice" Cream really, really nice.
These Natural Delights Medjool dates are a low­-glycemic food, meaning they have no added sugars. You can find them in the produce section of the grocery store and they're packed with potassium and magnesium – two things every woman needs!
Medjool dates are also a great source of:
Vitamin A – Helps protect the eyes and helps maintain healthy skin and mucus membranes
Vitamin K
Tannins – Flavonoids and polyphenolic antioxidants which help fight infection and inflammation
Copper
Magnesium
Manganese
Vitamin B6 (pyridoxine)
Lutein and Zeaxanthin – Absorb into the retina to maintain optimal light-filtering functions and protect against macular degeneration
Niacin
Pantothenic acid
Riboflavin
Potassium – An electrolyte that helps control heart rate and blood pressure

Coconut milk is another great source of:
Vitamins C, E, B1, B3, B5 and B6
Iron, selenium, sodium, calcium, magnesium and phosphorous
Coconuts may also help:
Reduce inflammation: Animal studies found that coconut extract and coconut oil reduced inflammation and swelling in injured rats and mice (21, 22, 23).
Decrease ulcer size: In one study, coconut milk reduced stomach ulcer size in rats by 54% — a result comparable to the effect of an anti-ulcer drug (24).
Source: https://authoritynutrition.com/coconut-milk/
So now that you know why this recipe is so good for you, here's how to make it!
---
Ingredients
Plain "Vanilla" Base Flavor
20 Medjool dates
2 cans full fat coconut milk
1/2 tsp sea salt (optional)
1/2 tsp vanilla extract (optional)
Strawberry Flavor
20 Medjool dates
2 cans full fat coconut milk
1 bag freeze dried strawberries
Chocolate Almond Butter Flavor
20 Medjool dates
2 cans full fat coconut milk1 Tbsp dark cocoa powder
1-2 Tbsp creamy almond butter (unsalted)
Toppings (optional)
Chopped pecans
Strawberries
Coconut flakes
Bananas
etc.
Instructions
Blend pitted Medjool dates with coconut milk until mixture is completely smooth. Pour mixture into a freezer bag and freeze *flat* for at least 2 hours or until completely firm.
Once frozen, break up the frozen block and put it into your food processor (or back in the blender if you don't have a food processor). Pulse and mix it in the food processor until creamy and smooth, adding 1/4-1/2 cup of unsweetened almond milk or coconut milk as needed to blend.
Divide your base flavor "Nice" Cream up into 3 parts, or however many different flavors you'd like to make today. Pour 1/3 of the base flavor into a freezer-safe container, then refreeze for at least 2-3 hours or until solid.
For the Strawberry Flavor
Add 2-3 cups of freeze dried strawberries and mix thoroughly before pouring into a freezer-safe container and refreezing for at least 2-3 hours or until solid.
For the Chocolate Almond Butter Flavor
Add in the dark cocoa powder and almond butter and blend until smooth. Then pour your flavors into their own freezer-safe containers (uncovered is okay) and refreeze for at least 2-3 hours or until solid.
Scoop out into a bowl, then add toppings as desired! Serve cold and enjoy!
https://supersisterfitness.com/wp-content/uploads/2017/05/how-to-make-ice-cream.jpg
1000
1500
Liz
https://supersisterfitness.com/wp-content/uploads/2017/09/SSF-logo-plain-pink.png
Liz
2017-05-24 15:51:44
2017-05-30 11:04:02
How To Make Healthy, 2 Ingredient Ice Cream - NO Ice Cream Maker Needed!