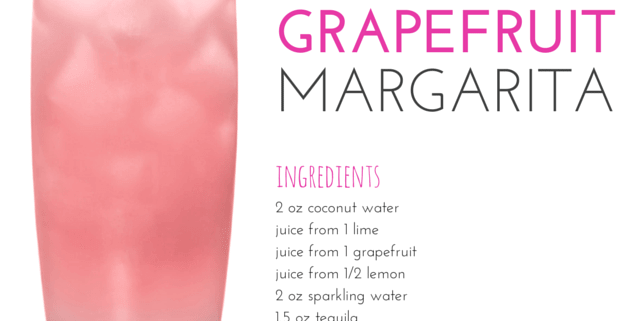 In the honor of the weekend and the FINAL week of the Bikini Bootcamp Contest (eek!!), we're sharing some of our tips for making skinny drinks!
Liz and I used to have a zero tolerance policy when it came to drinking. Because of our old restrictive eating behaviors, we thought that drinking was completely out of the question because it would lead to massive weight gain.
Even if we went to a get together or party, we were often the fitness "weirdos" who wouldn't even take a sip of alcohol. Talk about NO FUN!
Now, we both have found an amazing balance with food and fitness while still having fun (and keeping our ideal physiques). And sometimes that means celebrating with friends and family with a couple of cocktails or glasses of wine.
The biggest reason why most people gain weight from drinking is the calorie and sugar content because they have NO idea how much sugar is in one drink…
An average margarita at a restaurant has between 500 and 800 calories!!!!
That's like eating a king size candy bar with literally zero nutrition… I don't know about you but I'll pass!
So, Liz and I have been experimenting in the kitchen to come up with healthier drink recipes and skinny cocktails.
We discovered that sweetening drinks with fresh fruits and fruit juice is WAY better than the sugary mixed drinks that are just empty calories.
Not only do fresh fruits make drinks taste better, they also provide a kick of vitamins, minerals, antioxidants and a boost of hydration that will leave you feelin' good.
Before we share this ah-mazing recipe for our Skinny Grapefruit Margarita, here are a few benefits of grapefruits:
Grapefruit can help to lose weight. A recent study at the Scripps Clinic in La Jolla (published in the Journal of Medicinal Food) of 91 obese patients showed that those who included grapefruit as part of their diet lost significantly more weight than their counterparts. In the study, group #1 got grapefruit capsules, group #2 got grapefruit juice, group #3 got half a grapefruit and group #4 got a placebo. At the end on average, group #1 lost 1.1 pounds, group #2 lost 1.3 pounds, group #3 lost 1.5 pounds, and the placebo group lost 0.33 pounds.
Grapefruit can help reduce the risk of colon cancer and cancer in smokers
Grapefruit can help reduce cholesterol and triglycerides, blood fat that is a risk factor for heart disease.
Grapefruit contain limonoids, which inhibit the development of breast cancer cells
Grapefruit is low in calories and contains vitamin C, vitamin, A, beta-carotene, potassium, magnesium, and calcium.
Now that you got the facts, here's the recipe…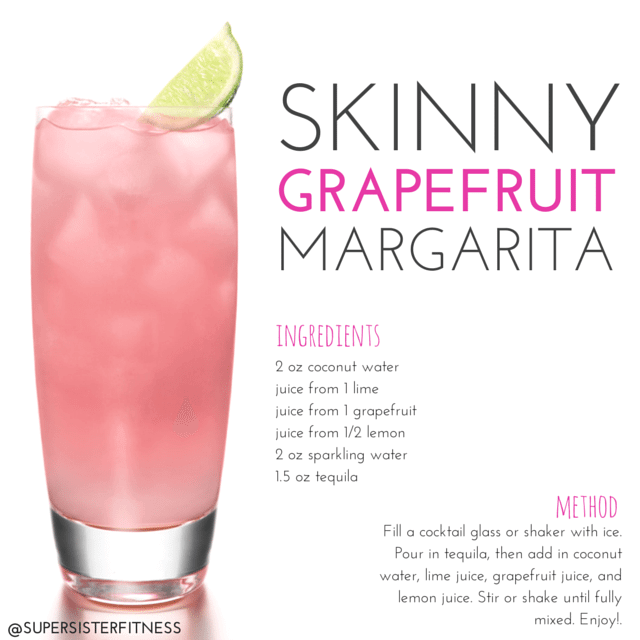 For this recipe, we used Vita Coco Coconut Water but feel free to use any coconut water you like.
Enjoy this margarita with friends & family this weekend or as a celebration to completing all 6 weeks of Bikini Bootcamp!
xoxo,
Sara
P.S. If you're looking for more low calorie drink and cocktail recipes as well as our simple rules to avoid weight gain from drinking, check out our Skinny Drinks Guide here
https://supersisterfitness.com/wp-content/uploads/2015/05/GRAPEFRUIT-MARG.png
640
640
Liz
https://supersisterfitness.com/wp-content/uploads/2017/09/SSF-logo-plain-pink.png
Liz
2015-05-15 11:24:35
2015-05-15 11:48:09
Skinny Grapefruit Margarita | Benefits of Grapefruit