BEST 7 min Kettlebell Workout for Women
with Megan Looney
---
Thinking of adding Kettlebells to your workout routine? Kettlebells are known for its cast-iron or cast steel weight that looks like a cannonball shape with a handle. It can help improve your balance and build strength on different body parts.
For today's workout, Megan Looney will show us how to do kettlebell workout that will get your heart rate up and help you burn fat! Make sure you do a quick warmup before you start. Let's do this ladies!
Kettlebell Clean with Reverse Lunge Alternating Sides – Grab the kettlebell, put it right in between your feet. Pull it up, using left hand, to your left shoulder and step your left foot back. Tap the knee, bending it down, touching the floor. Then stand back up and put back the kettlebell on the floor in between your feet and switch side. Repeating the same steps on your right side, doing it alternately.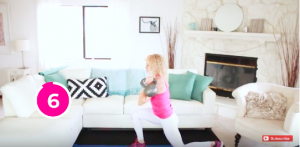 Goblet Squat into Romanian Deadlift – Put the kettlebell right in front your toes, keep your flat back for your Romania Deadlift. Get the kettlebell and pull it to your chest, fast pull! Then, squat. Stand up, then bend down by lowering the kettlebell against the floor.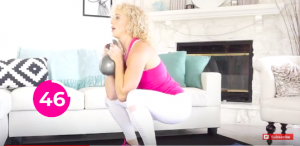 Kettlebell Crunches – Lay your back on the floor, hold the kettlebell straight up to the ceiling using both hands. Push your lower back into the mat as you lift your shoulder blades up off the ground while maintaining the kettlebell up towards the ceiling. Try not to push the head forward and focus more on pulling the belly button down.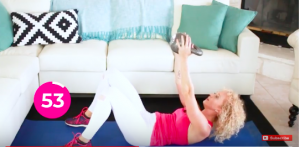 Alternating Row to Plank – Place the kettlebell out in front of your toes, you're going to alternate sides on this one. First, take the kettlebell off the floor using one hand moving it towards your chest and put it back on the floor. Repeat this using your other hand. Then down to a plank position, jumping back and repeat from the first step.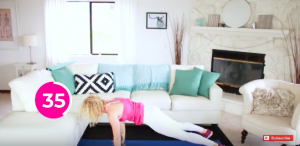 Sumo Squat with Bicep Curl – On this part, place the kettlebell in between your toes, while your feet wide open. Bend down, grabbing the kettlebell by the outside of the handle using both hands so that you can get right into your curl. Squat and grab the kettlebell. Curl up to your chest and straighten your arms then sumo squat. Repeat.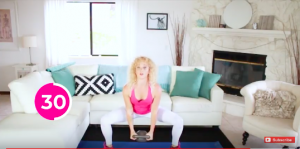 And we're done! Congratulations you made it through the first round! Don't forget to rest for a minute before repeating these steps for 2 to 3 more times. Well done ladies!
Once complete, check in with us over on Instagram! We want to hear from you. You can let us know you're done by tagging #SSFsweatsquad and/or @supersisterfitness
---
Want to really take your "Kettlebell Workout" next level?
Then you need a FULL 12 week workout program. Because just doing one workout here and there isn't going to actually cut it…
You need consistency, the right plan, and to make sure you're using heavy enough weights.
What's heavy enough for you? What's not? I explain everything inside the Bootcamp Community, which includes all your workout materials, tracking calendars, a huge recipe library and more, all geared towards helping you build that booty and sculpt those abs without ever questioning if what you're doing is working.
You will KNOW it's working, because you'll start to see results in just 2-3 weeks, and you'll FEEL the results almost immediately.
It's worked for dozens of women, and if you're ready to go next level, let me help you navigate the way.
See you inside!
Your trainer,
Liz