What Others Have to Say about the Super Sisters…
Interested in working with the Super Sisters for : Nutrition, Weight Loss and Support? Look HERE
"Before I started the system I was a cardio bunny because I didn't know what to do around the weights not mention the fact that I felt so awkward in a gym where they push the personal training onto everyone… I'm a student and obviously couldn't afford that. So I bought the program, hung up the calendar, read through all the #gosystem info and went to the gym. Two months later I am feeling stronger, confident and smart about the fact that I bought this program and along with it came my favorite part: the support! I love seeing how others take on the program and how we cheer each other along." ~ Caroline L., Puerto Rico
Jessica P.
"Before I started this program I was working out with cardio and little strength training 2-3 times per week and lost 15 lbs. in 3 months. Then of course doing the same thing after a while my body hit a plateau. 
 Looking for help I found The Super System. I knew that it was perfect for me… I was looking to become more lean, tone, build muscle and endurance. The program has given me the structure, education and motivation that I need to reach my fitness goals and to continue with my fitness program. This has become a lifestyle for me… each workout just seems to brighten my days. The support has also been a great help and watching all the members get through each day with you makes it so much easier. I am very grateful for joining this program and becoming a member. It has been a life-changing experience." ~ Jessica P.
Jennie
"My favorite part is that I actually have goals set. Before this I had goals but they were lame. They were usually just to finish my cardio programs that were mapped out on a calendar. I was spending hundreds of dollars buying the newest cardio workouts… disappointed to find that I was at a dead need! So what would I do? Buy the latest and greatest… spend more money with yet another dead end. I was going crazy!! The Super System has taught me how to set realistic goals, how to still incorporate the cardio I love and focus on getting stronger each day! My goals are more realistic and measurable. I now know that I don't have a finish line, this is for life. ALSO the #gosystem community is AMAZING! I have the most wonderful fit friends that are now a major part of my fit life. Love, love, love!!" ~ Jennie
@tmcgilp
"The biggest thing that I have gotten out of this program so far is confidence. I have always been self conscious of my body and myself. Using The Super System and following The Super Sisters has increased my physical strength and also my mental strength. I am a happier person overall, I feel better about myself and I have way more confidence in myself. I now believe in the goals I set for myself and that one day I can reach them. My favorite part of the system is definitely the community. I don't have any friends that are huge fitness addicts like me and I can't count my boyfriend because he works out so differently! I want people to see that changing your lifestyle is a possibility for anyone and I above all want to inspire others to be great." ~ Instagram User "tmcgilp"
Renee
"I have brought into my life the 3 D's — dedication, discipline and a dream. I am now even more dedicated with the #gosystem plan. I actually have a plan and that is something I've never had before and I'm dedicated to working out and making this system work for me. I have become more disciplined, I am learning that my food is my body's fuel and that what I eat is crucial to my progress, and I dream of being stronger, fitter and happier. Thank you sisters." ~Renee
"I hung out with the Super Sisters for 6 weeks (Bikini Bootcamp) and these are my progress pictures. The left was taken 4-28-2013. Waist was 36.5 inches. Hips were 39.5. The right was taken 6-16-2013. Waist is now 31.5 inches. Hips are now 37.5. I loved this program and was inspired and motivated by all the great women I met along the way!!! @GoSuperSisters thank you and lots of love to ya two!!! 
This was so much fun!!!!!!! What an AWESOME program, this has been a huge kickstart and my husband called you girls super heros!!! I really enjoyed seeing the progress! Thanks so much!" — Rhonda B.
Lacie M.
"I love seeing my improvement through periodic fitness tests – I would have never thought I could do 100 pushups! I'm focusing more on eating healthy/fueling my body, getting enough protein at the right times. I feel stronger and in even better shape than I was when I started (I thought I was in pretty good shape!). I feel encouraged, but challenged and I am always surprised at how far I can push myself. I really enjoy the environment/vibe created by The Super Sisters. THANK YOU! Joining was one of the best decisions I've made!" — Lacie M., Culver City, CA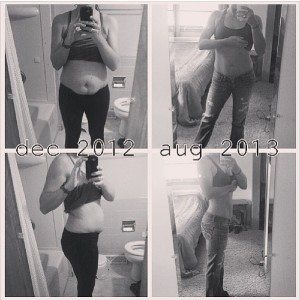 "Changes may not be visible but I feel the changes physically. Thank you @gosupersisters for such an awesome program and to help me on my way to a better fitness journey. I'm for sure not done. I have some long term goals that I want to full fill so nothing is going to stop me. Here's to the new me forever changing! "  ~Instagram user "clodi_fit"
"I was a cardio bunny too. I wouldn't ever touch weights. I thought cardio was the best way to get fit and lose weight. Boy was I wrong. I love this program and the fact that it makes me feel strong. It challenges me. You would have never caught me doing pull-ups or burpees before. I love the community that it's built. I love the ladies that are there to encourage me. I love seeing their daily check-ins and being able to comment or ask them questions! The whole program is just awesome." ~ Jasmine T.
Erika M.
"I love following you sisters and being a part of The Super System. You keep me on track and motivated. I'm seeing the changes and loving them. It's been a really hard year for me. But without giving my sob story, fitness has been the healthy outlet for stress that I needed. I'm at a point where I'm proud to say I've inspired friends, family and strangers to start their health journey and that is an incredible feeling. I'm thankful to have found you both. Thank you for caring about others health and wellness enough to do this. I'm a busy nurse with a new passion for fitness. It's changed my life. My favorite part is that you ladies are so creative and organized. I love having my plan set and knowing that I just need to get it done. Thanks for being amazing!" ~ Erika M.
"Best part about The Super System – Apart from the awesome support both from the members as well as the @gosupersisters, I appreciate the fact that this is something I can keep doing for a long time because it gives me the freedom to adjust my routines. I have enough restrictions in my life as it is. Also, can I add how much relaxed I feel after#weightlifting? yeah I love it!" ~ Caroline
"Just over 3 weeks in and I'm AMAZED at how quickly my body is changing!! THANK YOU for opening my eyes to clean eating and  structured weight lifting routine!! It's been SO much easier than I expected, and I have NEVER had so much energy and felt so great in my life!! Can't wait to see my body change over the next 3 weeks." — Instagram user doranchta