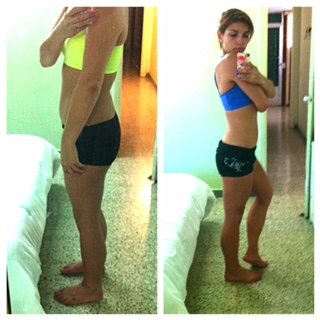 How are your #leanhalloween meals and workouts progressing? We'd love to know! Keep us posted on things you like, things you wish you had more of, what you're struggling with and what you're kicking butt on.
Have you asked a friend to join you yet? Fitness is better when we do it together. Send them here so can get caught up with you! 🙂
Before we announce the #leanhalloween winners this week, we're long overdue in announcing our Slim for Summer #gosystem Contest winners! We are big proponents of the philosophy that IT PAYS to be fit. For members of The Super System, this is taken quite literally. When we run contests for members, they're in the running to win cash prizes too!
Shhh here comes an Insider Secret! This year we'll be running a 2014 New Year's members-only contest and we want you to get in on the fun. Cost of membership is going up soon, so if you're interested at all in participating, we're giving you the heads up now before prices go up. You won't be able to get lifetime access for the same low price anymore once the new year rolls around, so read more now about what membership entails by clicking here.
ANYHOODLES… Let's continue.
For the summer contest Grand Prize of $200 cash, we have chosen …
[drumroll please] … Caroline L. (@clodi_fit) for the progress she made! From July to September, she lost 1.5 inches in her waist, 2 inches in the hips, 2.5 inches in the chest and dropped 10 pounds overall by following The Super System. Such amazing progress and we couldn't be more proud!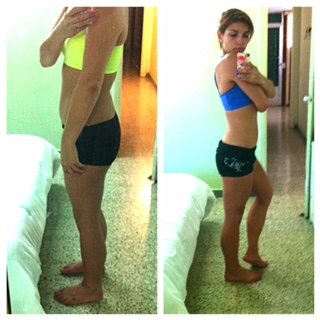 Congrats Caroline!
Anddd the second place prize of $75 cash goes to…
[drumroll please]… Jasmine T. (@momstaysfit) for her continued hard work and dedication! Both these girls are incredible and have inspired us all summer long. Jasmine is a mother who gets the job done no matter what!
We admire her hard work and positive attitude so much. She has come so far, and in her own words, despite having "Lots of failed attempts in the wrong direction before I finally became pregnant, had my son and soon figured out the RIGHT way thanks to @gosupersisters programs. Weight lifting was DEFINITELY something I needed!"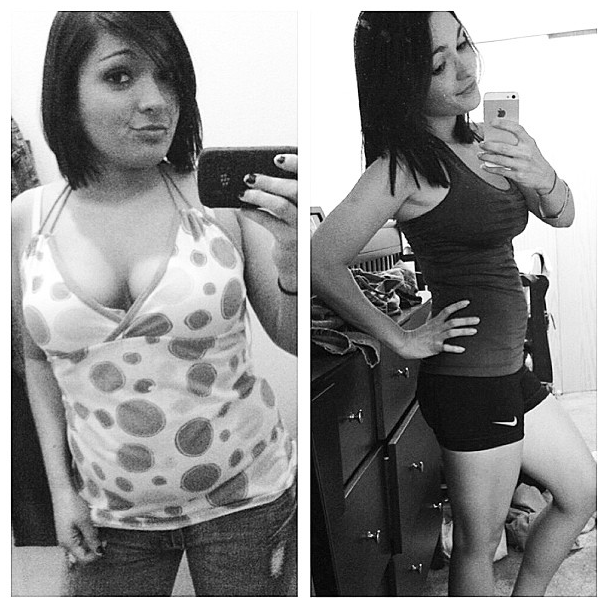 You both look (and probably feel) amazing!! You've come so far, learned so much, and continue to grow and improve. It's very fun for us to watch! Congrats to both of you and THANK YOU for inspiring other system members daily with your updates and progress pictures. It's so much more fun to be getting happier and healthier together. 🙂
Now finally… the moment you've been waiting for… this week's #leanhalloween winner!!!
We loved reading everyone's contest submissions this week. Such a job well done everyone! We hope these challenges are keeping you motivated throughout the week and inspiring you to make your daily fitness routine more fun. This week's winner was chosen based on creativity, consistent check-ins, encouragement to others, positivity and overall dedication to having a super #leanhalloween this year. 😀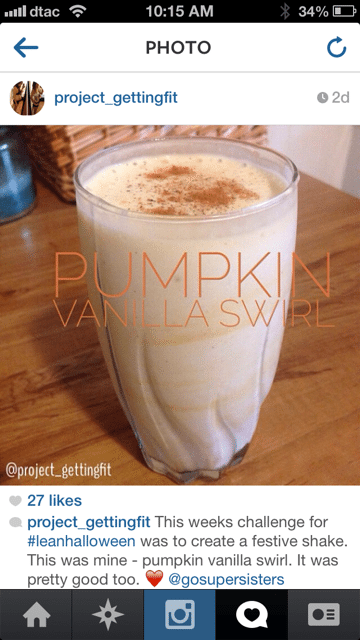 Congrats Erika M. (project_gettingfit)! This shake looks so delicious! Please email us your full name and best shipping address at contact@supersisterfitness.com so we can send you your prize. This week's Challenge winners will receive our goodie bag of "FITNESS MUST-HAVES," including some Quest bars, a lacrosse ball for myofasical release, headband from Violet Love Headbands, and a free tub of Trutein proprietary blend protein (use discount code "SUPERSIS10" for 10% off all future orders).
Thanks again to everyone else who submitted entires. You'll all receive your new weekly challenge each Wednesday, so watch out for that coming soon. Don't forget to submit your entries each week by the following Tuesday when we will announce each winner!
Keep the check-ins coming, we are loving your Halloween-inspired posts and all the love that's being shared!!
Stay sweet,
Liz & Sara
https://supersisterfitness.com/wp-content/uploads/2013/10/clodi_fit.jpg
320
320
Liz
https://supersisterfitness.com/wp-content/uploads/2017/01/SSF-logo-plain-white.png
Liz
2013-10-07 20:29:16
2014-02-11 16:55:43
This Week's Winners! #leanhalloween & #gosystem Contests