Here it is!
March's free fitness challenge calendar!
Print out your Healthy Habits tracker and hang it on your wall, refrigerator, bathroom mirror or somewhere else you'll see it daily.
Cross each day off as you go and watch your small habits add up to big changes!
For BEST results we recommend doing this calendar with one of our Nutrition Plans. Use code "WCAL10" to save 10% off our Nutrition Jumpstart plan for the next 5 days when you CLICK HERE.
Click the image below to print: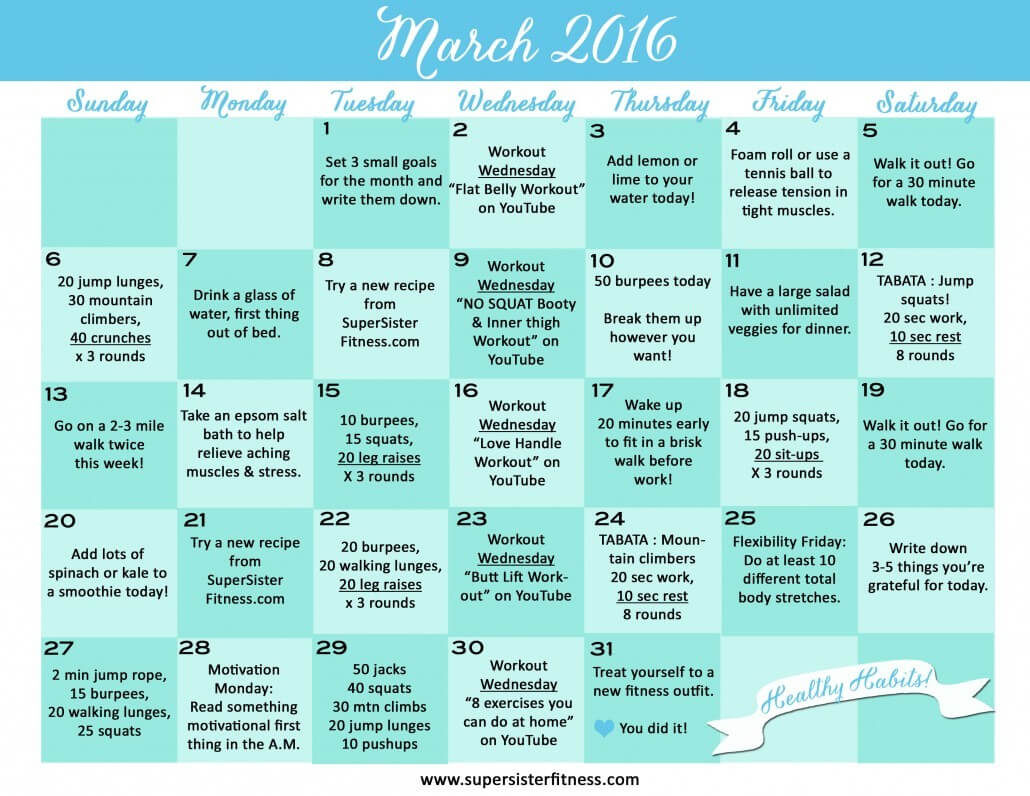 Want a CUSTOM nutrition program that will work specifically for you?
We have slots for 3 new clients this month. If you're interested in working 1-on-1 with us, please fill out this interest form to schedule your free 15-min. Nutrition Consultation call.
I wanted to share this story of a friend who follows the same nutrition systems we've been using with clients lately. THIS is what good nutrition & cellular cleansing can do for you.
Slow and steady wins the race ladies, so DON'T GIVE UP!
34 pounds are gone! So inspired by what Natalie H. has to say about her experience with this nutrition plan:
"I am in love with my life. I'm proud of my figure again! I have so much energy. I'm so happy. I work with who I want to when I want to, 12-15 hours per week and make a full time income.
I share my story to help inspire others because 5 months ago, I was pretty discouraged. All I did was change the nutrition I was taking in and start periodic cleansing to jumpstart my system.
***I was eating clean before, as well as working out. I haven't changed my workout routine much during this process.***
This system has taken me to another level and I don't feel like I'm fighting an uphill battle. It's so much fun to see the way my body continues to change and improve."
Week 1: 184.4 pounds of woman
Week 20: 150 pounds of awesomeness!
If you want to know more about what Natalie did, PLEASE FILL OUT THIS INTEREST FORM and we'll set up a 15-min. call with you to share her secrets and see if it's a good fit for you too.
https://supersisterfitness.com/wp-content/uploads/2016/03/March-2016.jpg
1583
2048
Liz
https://supersisterfitness.com/wp-content/uploads/2017/01/SSF-logo-plain-white.png
Liz
2016-03-01 14:14:14
2016-03-01 14:16:53
Free Fitness Challenge Calendar - March 2016