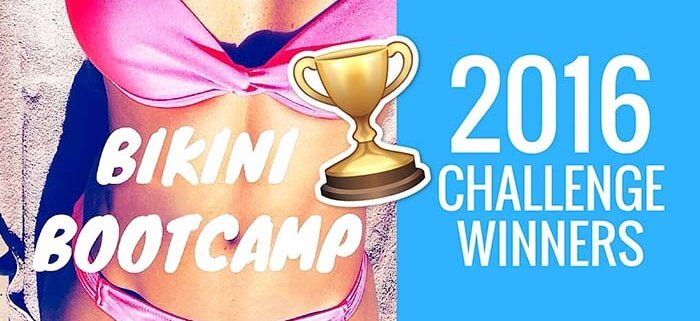 What an AWESOME 12 weeks we've shared together bootcamp crew!
Every single person that participated in the Bikini Bootcamp Challenge this year has totally knocked it out of the park.
This challenge is not just about making physical changes, it's also about making mindset shifts, major breakthroughs and creating long term healthy lifestyle habits that can carry over for decades to come.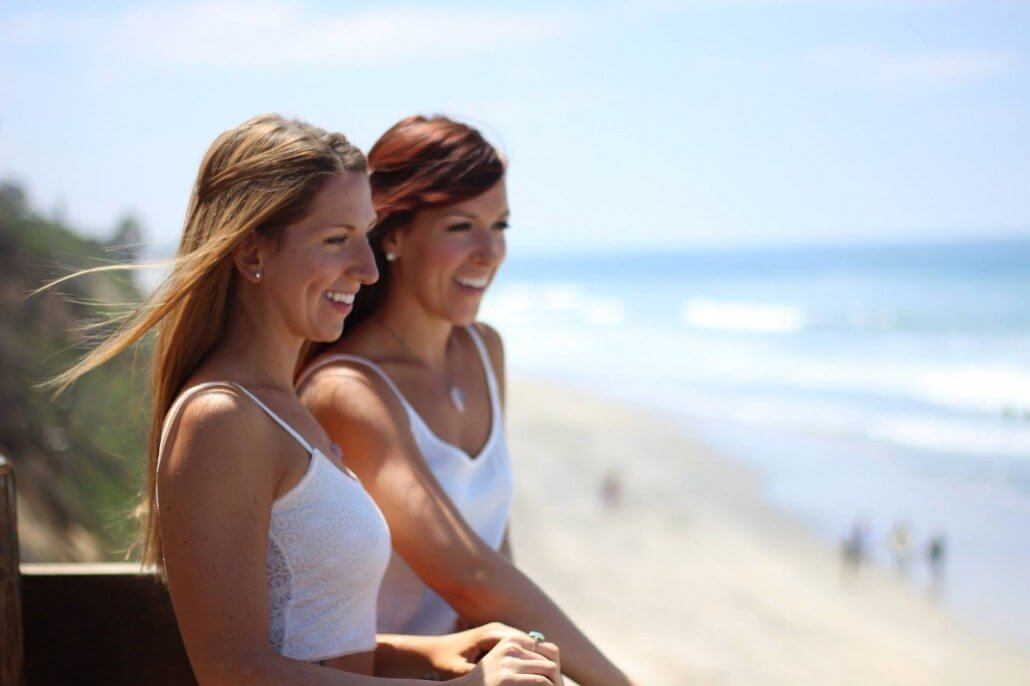 If you completed the new and improved 12-week Bikini Bootcamp workout program start to finish, guess what? You're already a winner.
As we were pouring through all of this year's entries, reading transformation after transformation, we had big smiles on our faces the entire time.
Thank you for that!
For most, this has become a lifestyle habit that won't end just because this year's challenge is over.
So without further ado, we'd like to share with you some of our favorite transformation stories…

Make sure you read to the very end and see who won this year's challenge prize packs with over $700 in gifts and swag from Super Sister Fitness, MixCaLa Paddleboards, Arctic Zero, Quest Nutrition, Lebert Fitness, Bulletproof Coffee, Kini Bands, Renegade Silver, Voxerity Apparel and more.
---
2nd runner up – Mariah B.
I learned so much about myself and I was able to finish it STRONG! Girls thank you, I am just so grateful that I choose the SuperSisters program. There are many to choose from and I know I made the right choice for ME.
I came from a "Cardio only" fitness background which got me no where because I am not really a huge fan of running. I was skeptical about doing shorter workouts and barely any cardio…. but the results were there, hard to deny and I'm so happy with them!
My favorite part about the last 12 weeks was that I was constantly motivated. Whether is was by the Super Sisters, or the Awesome ladies in the FB group, or whether it was my own family cheering me on, I never lost my will to finish.
THAT IS A HUGE DEAL FOR THIS MOMMA OF 3 GIRLS.
I am famous (in my house) for starting a "diet" or "health plan" and failing miserably days later! With this challenge, I rocked the full 12 weeks- missing only 4 workouts total…. and I call that a MAJOR win!
I am most proud of losing belly fat. It had to go, and I'm PROUD of my before and after pics. It shows how awesome nutrition and strength training is. Even though I didn't "see" a huge change, I KNOW that I've changed my body from the inside out- which in my opinion is much more important.
I sleep better, I eat better, I have more energy/endurance, I'm happier, and my skin is glowing… WIN WIN WIN!!!!
Thank you both so much for all of your hard work and dedication, thank you for creating this place for women to come together to encourage each other and lift one another.
It has been amazing! I'm grateful to you both!" — Mariah
---
1st runner up – Lisa K.
"I really loved the idea of how your diet and workout plan was a life long change, creating a long term healthy lifestyle. For the most part I have been a relatively healthy eater, and very active, until I got pregnant.
After recovering from my cesarean I had a really hard time getting the motivation to jump back into my old life, with the goals of an even healthier lifestyle. I began slowly working out in January and in April decided to join the bikini challenge. Once all said and done I have lost 10 pounds, An inch off of each leg, an inch off each arm, 2 & 1/2 inches off my waist and 2 inches off of my hips since the bikini challenge started!
But most importantly I feel amazing and have a ton of energy.
I want to thank you both very much for your program, as well as your supportive emails, they truly seemed to come at a time when I needed them the most!
Thanks again you have truly changed my outlook on a healthy lifestyle!" — Lisa
---
GRAND PRIZE WINNER – Amanda H.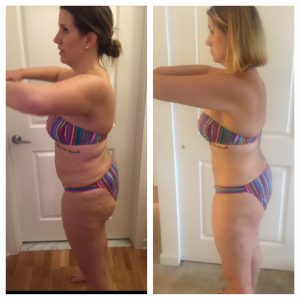 "I'm a busy mom; I commute to Manhattan every day and my work week is about 60 hours, plus the time once I come home to prep my toddler for school, care for the house,etc.
This program showed me that I could achieve max results without hours of working out a day.
It amazed me that all of the stuff I heard about strength training was actually true. For some reason the way you guys said it resonated better than anyone else!!
But more importantly, once I started finding 18 minutes a day to work out, I WANTED to find more. Now, my husband and I have a set weekly workout schedule, and we work out as a family on weekends!!
I have achieved a level of self care that far exceeds working out alone, but I have the program to thank for it.
Because I started taking care of my body, it made me realize that it is so, so immensely important to take care of ALL of me. I have since started a nightly regimen of moisturizing, brushing and flossing, vitamins, I went and got a dental exam and cleaning, a dermatologist exam to make sure my skin is cancer free.
I love yoga and meditation now, and I practice a lot of mental exercises to limit self-deprecating and maximize self-love.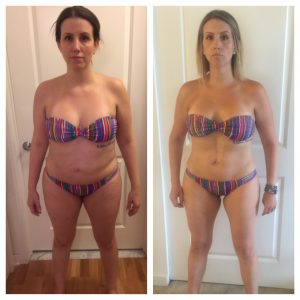 All of the things to ensure I am around for a LONG time formy family. Not to mention my AMAZING haircut!!!!!
And again, it all started with working out.
Thank you, Sara and Liz, for changing my life. I have told so many people about your program because I believe wholeheartedly in every aspect of it. Your methods, your active involvement with us, your positive messages….YOU ROCK!!!
My measurements:
BEFORE
waist: 34.5
Hips: 44
Chest: 41
Arms: 13.5 each
Legs: 25 each
AFTER
Waist: 29
Hips: 41
Chest: 37.5
Arms: 11.5 each
Legs: 22.5 each
Total lost: 21 inches!!!!" — Amanda H.
---
Keep up the great work ladies, you all have inspired the pants off both of us.
We're totally blown away and still can't believe some of the results you all got this year. We could not be more proud of you and know this is just the start for you.
12 weeks is a great way to get started, but it doesn't stop here. If you're wondering what to do next, we have a new workout platform coming soon with monthly schedules/calendars, real-time classes with us, and more for you.
You can get on the early bird VIP list for the Supercharged Community here.
And if you didn't win anything this year, DO NOT WORRY!!!!
DO NOT get down on yourself. You already are a winner, and guess what else…
We host challenges a few times per year so there are always more chances to win.
In fact, we're doing a surprise Snapchat giveaway today too!
If you were following along this weekend, you know you can send us your favorite motivational quote by the end of TODAY, Monday July 25 and we'll announce a random favesie at the end of the day.
If you have Snapchat, cool! Head over there now and enter to win a $50 veggie spiralizer from us. If you don't have the app yet or you weren't following along this weekend, go download it and enter now!
We'll be doing monthly giveaways JUST for our Snappers 😉 You won't wanna miss these freebies.
The SSF community is here to help keep you motivated whether you feel like working out or not. Our mission is to get you to see how fun and transformational fitness and a healthy lifestyle really can be.
And we hope you'll make a new friend (or several) and have a good laugh along the way.
In summary — you don't have to eat cardboard or toss around thousand pound barbells in the weight room to get great results.
You just need to find a community of supportive women to help cheer you on so you keep going, and that's exactly what this program provides.
Thank you so much to everyone who participated this year!
If you see your name above, please email us to claim your prizes. One last time — you all rocked it, and we look forward to the next chapter with you.
Have an AWESOME week and we'll see you over on Snapchat for the last chance to win something today… 😉
SO MANY HUGS & SO MUCH LOVE FOR YOU ALL!!!
Your trainers,
Liz & Sara
/wp-content/uploads/2016/07/YouTube-thumbnails-5.jpg
394
700
Liz
/wp-content/uploads/2017/01/SSF-logo-plain-white.png
Liz
2016-07-25 13:15:27
2016-07-25 13:19:36
Super Sister Fitness Bikini Bootcamp 2016 | Transformation Stories & Prize Winners!