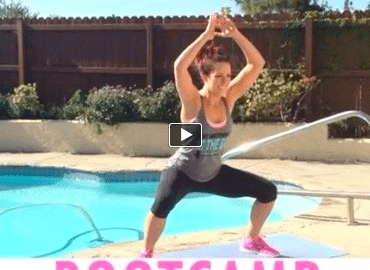 [video_player type="youtube" width="560″ height="315″ align="center" margin_top="0″ margin_bottom="20″]aHR0cDovL3lvdXR1LmJlLzA4QWo3OUtScVZn[/video_player]
ARE YOU READY?! It's Bootcamp time baby! Try this Tabata sequence first thing out of bed Monday morning. We DARE you to challenge your friends too. 😉 😉
Get your booty in gear because it's about to be GO TIME!!
First thing outta bed!! ☀️☀️ #noexcuses
1 or 2 rounds TABATA: Alternate exercises as follows…
-20 sec Squat Jacks
-10 sec Rest
-20 sec Mtn Climbers
-10 sec Rest
REPEAT that sequence 4 times at max effort with safe form
This is a sneak peek from our bonus Add-On this year, and FYI it's the last week to register for the 2nd Annual Bikini Bootcamp Contest beginning April 1 so don't delay.
The Bikini Bootcamp Contest is 100% free, but you do need to get your program materials ready. Visithttp://GoSuperSisters.com/2nd-annual-bikini-Bootcamp-contest to read more details and register now.
6-weeks to summer bodies, let's do this! We'd be honored if you tag your friends!!
Can. Not. Wait!!! Tons of awesome prizes this year, you gals are in for a real treat! ☺️☀️
https://supersisterfitness.com/wp-content/uploads/2014/03/Screen-Shot-2014-03-25-at-8.44.17-AM.png
370
370
Liz
https://supersisterfitness.com/wp-content/uploads/2017/01/SSF-logo-plain-white.png
Liz
2014-03-25 08:43:20
2014-03-25 08:43:20
6 Wk Bikini Bootcamp HIIT Add-On